Incognito mode or private mode is mostly a thing on web browsers that lets people hide their internet history. Mostly it's hidden from their spouses and bosses peaking on the computer screen, not ISPs and maybe companies like Google.
The main idea behind private browsing or incognito mode is to avoid recording a user's web history and delete all sorts of cookies when the mode is closed.
The existence of incognito mode for YouTube was known earlier this year. It allows users to disable their watching and YouTube search history, thus, preventing embarrassing content from appearing in the recommended section.
YouTube incognito mode has started to appear on Android devices. For the users of iOS devices and YouTube's web version, the incognito mode is yet to arrive.
How to enable YouTube Incognito Mode on your Android smartphone?
1. Make sure you have the latest YouTube update installed on your Android smartphone.
2. To turn on YouTube Incognito mode, tap on your profile picture in the top-right corner of the screen. Now, tap on "Turn on Incognito" option.
3. A message will appear next telling you the consequences of what would happen if you turn it off. Just like it's the case, YouTube incognito mode also can't hide your YouTube activity from your ISP or your organization monitoring your internet.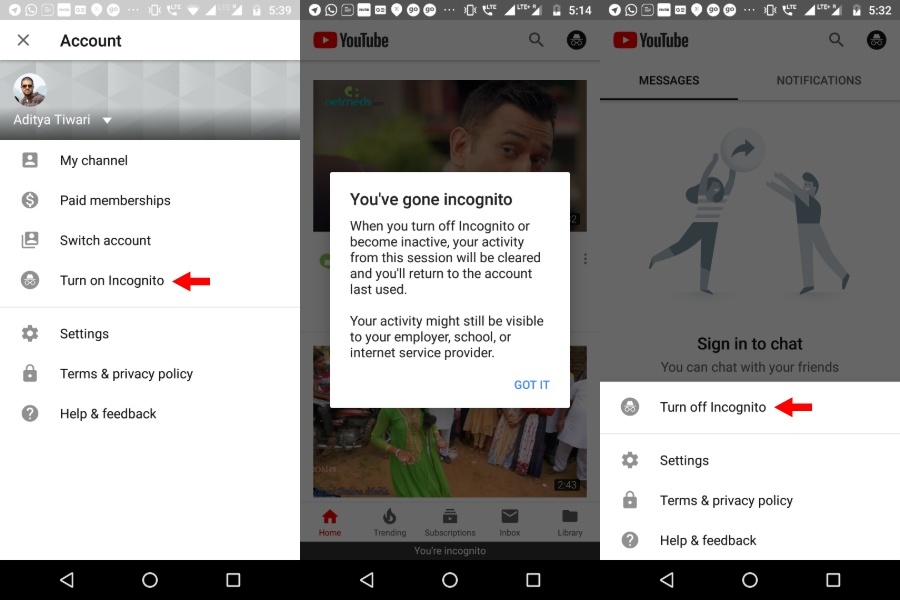 Turn off YouTube incognito mode
To disable it, tap on the Incognito button in the top-right corner. Then tap on "Turn off incognito" option.
Things you need to know
While having YouTube's incognito mode at hand sounds satisfying, it comes with a few drawbacks. For instance, you can't access your subscriptions, YouTube chats, and notifications while the mode is in action. That's because, when the mode is enabled, you're signed out of your Google account.
As a workaround, you can individually disable YouTube's Watch and View history in the Settings to use the app normally. It's something I prefer during the daily YouTube usage.
Give YouTube's incognito mode a try and tell us your experience in the comments. If you something to add, don't forget to drop your thoughts.