Google has announced its plans to roll out mandatory 2-step verification for Google users by the end of 2021. According to a Google blog post, the feature will be made available to 150 million Google users. The company will also ask 2 million YouTube creators to turn on the service.
Aside from the 2SV rollout, Google Password Manager is also getting better functionality to work with iOS devices. Google says you'll soon be able to use Chrome's password generation to create passwords for iOS apps. The Google app will also get an update that'll let you see all your passwords from the Google app menu.
What Is Google 2-Step Verification?
Google's 2-step verification is a combination of what you know (your password) and what you have (your phone). It means if you want to log into your Google account, you need to input your password and then allow the new device to access your Google account by tapping on the verification screen that comes up on your phone.
If someone else tries to log into your account, you'll get the same screen on your phone and you can lock your account and secure it. What makes Google 2-step verification better than 2-factor authentication is that you don't need to wait for an OTP or manually enter a pin onto the new device. You can simply tap the authentication screen on your verified device and sign in to a new one.
Google first announced the plans for 2SV auto-enrolment back in May. Now, the company is working towards it and rolling out the feature for 150 million Google users. For now, the auto-enrolling would be limited to the accounts with proper backup mechanisms enabled.
How To Turn On 2-Step Verification On Your Google Account?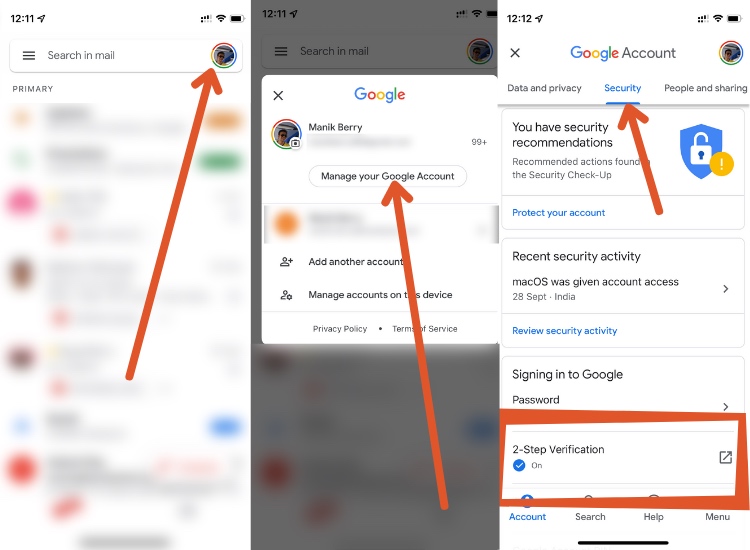 If you don't get automatically enrolled into Google 2SV, you should perform a security checkup on your account. Once that is complete, follow these steps to manually turn on Google 2-Step verification –
1. Open the Gmail app on your phone
2. Tap on your profile picture on the top-right corner
3. Select "Manage your Google account"
4. Look for the "Security" tab in the horizontal navigation pane at the top
5. Click on "2-Step Verification" and follow the on-screen instructions.
You can also turn on two-factor authentication for your Apple ID and your Twitter account through the linked tutorials. Methods like 2-factor authentication and 2-step verification provide additional security to your accounts. Having these enabled means you'll get a notification if someone tries to access your account, which can save you a lot of trouble.