Ahead of the upcoming Ubuntu 20.04 LTS-based next Elementary OS 6, the current v5.1 Hera gets several new updates with the third point release v5.1.3. Concluding the update for March and early April, Cassidy James Blaede, Co-founder and CXO of Elementary OS, also revealed a new tool to track each package release.
Elementary OS 5.1.3: What's New?
The latest point release includes the majority of changes in software such as code editor, system settings, desktops, and files. So, let's discuss the improvements and bug fixes for each component —
The long file name always adds difficulty while reading it from the project sidebar of Code editor. Hence, the new update brings a tooltip that will now help you to read the Git status by just hovering the mouse over the file in the project sidebar.
Moreover, you can also find/replace in Code editor with a case-sensitive option to differentiate the word "input" and "Input."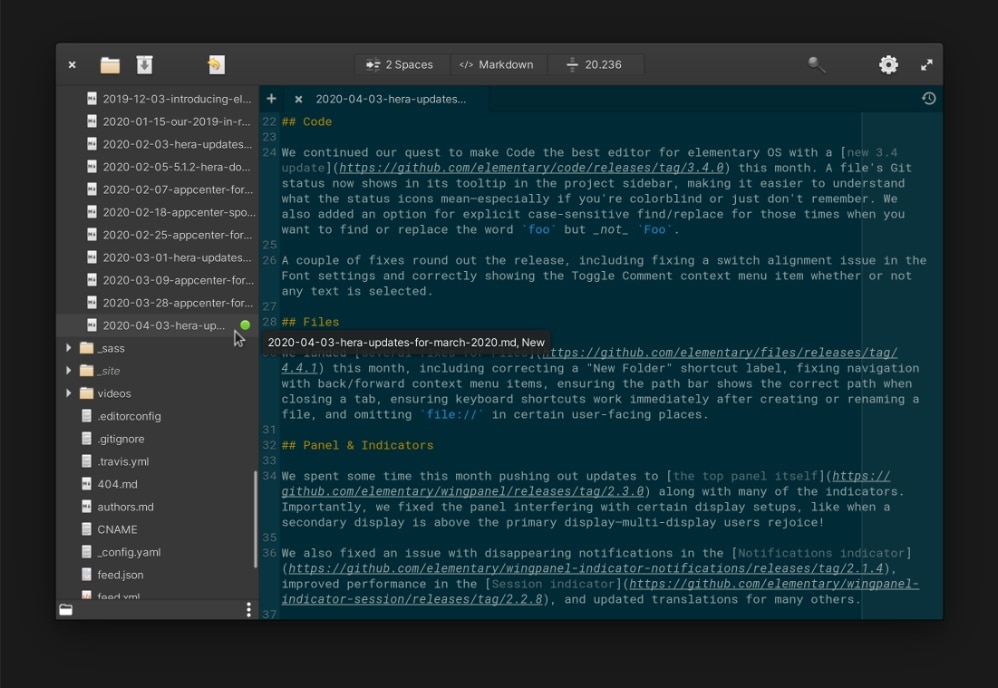 Many times you may have found the same setting option at various places owing to duplication. This sometimes brings a lot of confusion and redundant options.
Therefore, the Universal Access setting now eliminates some settings present at multiple locations. For instance, you can find dwell clicking only in the Mouse & Touchpad settings, and transparency and text size in Desktop settings.
Also, in the network settings, the wireless page gets redesigned, making it clearer and easier to manage and configure Wi-Fi networks.
Here is the list of other new features and bug fixes for Elementary OS 5.1.3:
Fixing rare freezes and crashes in Files
Fixing panel interfering with certain display setups
Notifications with no artist data replaced with "Unknown Title" or "Unknown Artist"
Improving performance and reducing memory usage of the Panel and indicators
New "Workplace" icon
Keyboard shortcuts in Gala window manager
Resolving long shutdown times
Removal of old desktop component Cerbere
New -t command line option to open a new tab
For complete details, head over to the latest blog here.
Lastly, if you're already using elementary OS 5.1 Hera, just hit Update All to sync with the latest updates. For a fresh installation, you will have to wait until the elementary OS 5.1.3 ISO is available at the official site here.