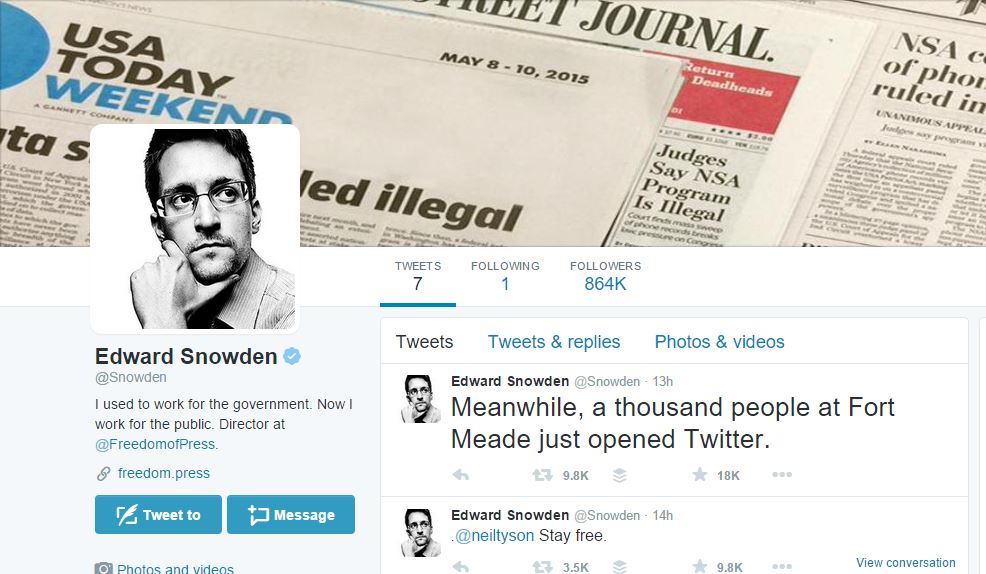 Short Bytes: Whistleblower and former NSA contractor Edward Snowden has just joined Twitter and he's gaining followers at a very fast pace.
E
dward Snowden has come out in the open and joined the microblogging website Twitter using the handle
@Snowden
.
His account was verified just within two hours of joining. Currently, he follows just 1 Twitter account and it's none other than @NSAGov. Surprised?
Mr. Snowden has currently 864k followers and you can follow him too. The former NSA contractor posted his first tweet and wrote: "Can you hear me now?"
Can you hear me now?

— Edward Snowden (@Snowden) September 29, 2015
Perfect.
The bio of Edward Snowden's verified Twitter profile says: "I used to work for the government. Now I work for the public. Director @FreedomOfThePress."
He has been hiding in Russia since 2013 and he's continuously trying to contact other countries. On the other hand, US government has recently rejected his pardon requested and announced that he must be prosecuted for carrying out anti-American activities.
The Intercept reports that Snowden is running the Twitter account himself and in a recent interview, he talked about this possibility.
His tweets and other developments will be an interesting activity to observe. Stay tuned with fossBytes, we'll be bringing the latest news to you.
Also read: U.S. Government Wants to Send Edward Snowden to Prison, Rejects Pardon Request