We come across different types of files every day during work and play. While some of them are used for audio and video playback, others deal with different types of documents. Out of all the document file-types, PDF files are one of the most common ones. Most of you must be knowing that PDF stands for Portable Document Format.
When we use PDF files for reading ebooks, saving important bills, etc., we don't realize the need for editing a PDF document. However, in an office setting, the need for editing a PDF file is very common. Few of you might be knowing that a PDF file can be edited with the same ease of a Microsoft Word file in case you have an efficient PDF editor software.
In this article, I'll be telling you how to solve this problem using Wondershare PDFelement 6. It's a popular software that can perform various PDF-related functions and help you make your job easier.
How to edit PDF text on Mac using PDFelement?
Before going ahead and explaining the whole process, let me tell you that PDFelement is a cross-platform software that runs on macOS 10.7 or higher and Windows 10, 8.1, 7, etc. To use it on your machine, it's recommended to have 1GHz or more processor and 512MB RAM. Wondershare says that its software offers the easiest method to edit PDF documents. Well, let's find out the validity of these claims.
You can visit this link to download the latest version of this PDF editing software for Mac. Once you've installed the tool, you'll be presented with a blue-themed software with different tabs. The software's appears to be following a flat design, and it's good to eyes.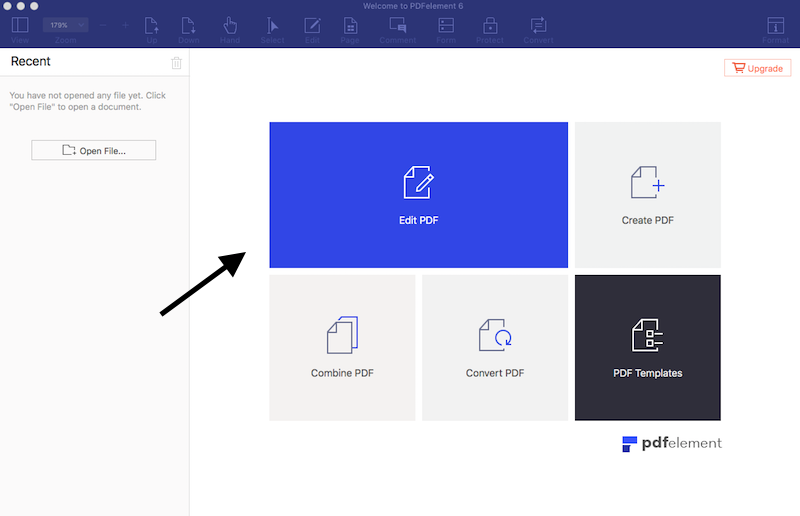 The left pane of the software host the recently opened PDF files. You can also click on the Open File button to load any PDF file from your local disk. You can also click the Edit PDF button to open an existing file. Upon doing so, the selected PDF file will be loaded in the software. You can take a look at the same below: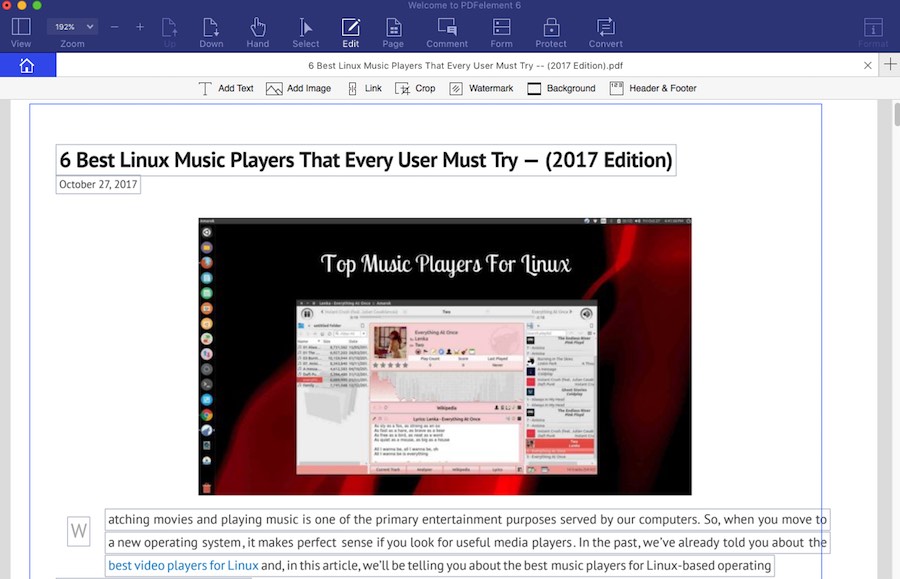 Once the PDF file is opened in the tool, the Edit option is selected by default. From the button in top-left corner, you can also change the view of the file and see the thumbnail view. Clicking on this option also shows bookmarks, comments, and presents the search box.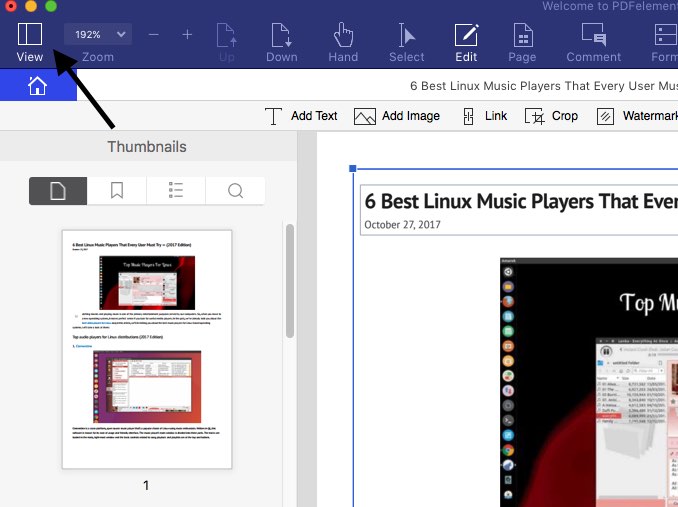 Coming back to the editing part, you'll be able to spot a toolbar just above the PDF file. It'll have options like Add Text, Add Image, Link, Crop, etc. You can either directly click on the text in the PDF file and start editing or click on the Add Text option to make the required changes.

Clicking on the Add Text option will reveal a new, right sidebar with different options like fonts, font size, color, etc. At the bottom, you'll spot two different modes of editing — Paragraph and Line. You can try out these two modes and choose one as per your convenience. The Line Mode is my preferred mode of adding text to a file.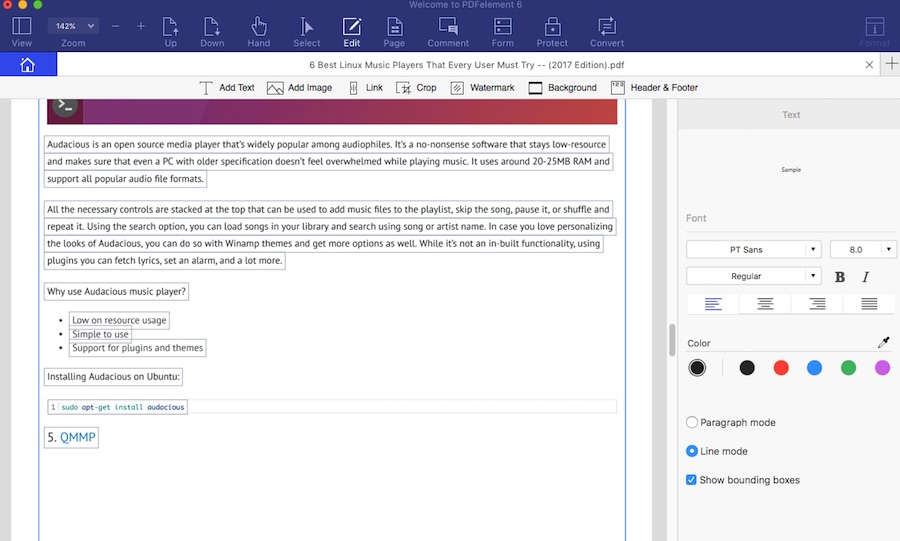 There are other options like Add Image and Link. Using them, you can add a new image to an existing PDF file. After choosing the image file, inside the PDFelement itself, you can resize and rotate the image. Using the Extract option, you can save all the existing images in a PDF file as well.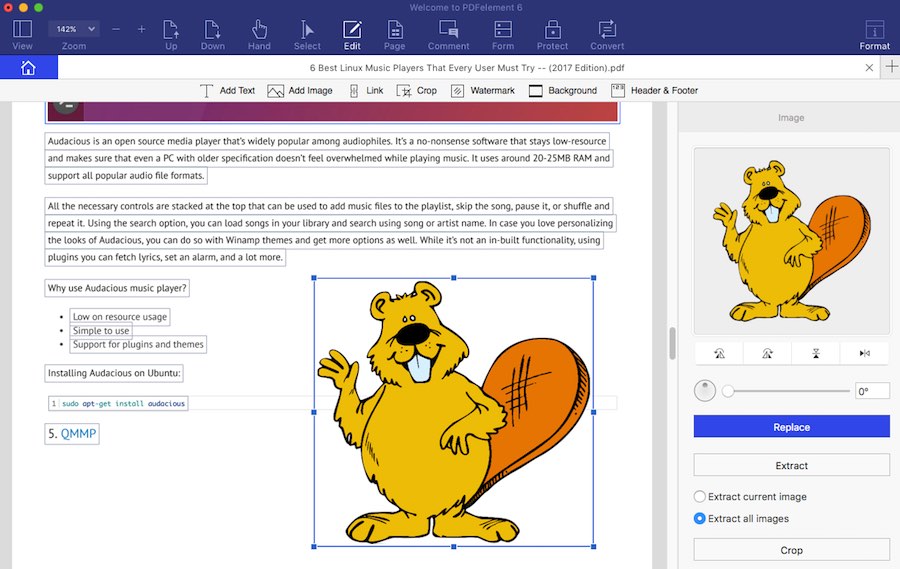 There are a number of options like Cropping, removing/adding watermark, inserting background and header/footer, etc. Using these easy-to-use options you can make sure that your PDF file is edited properly and things turn out to be the way you wanted.
From the top toolbar, after editing the PDF file, you can protect the same using password protection. This tool also gives you the option to choose the type of encryption for better security.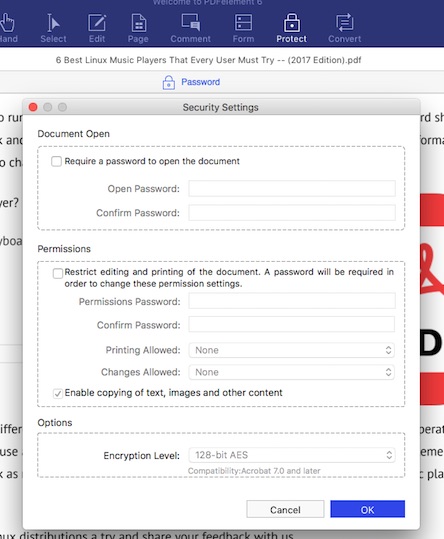 But, what if you wish to convert the edited file to some other format? What if your boss has asked for the documents in Word or Excel? Well, PDFelement has got you covered by providing the ability to convert a PDF file to Word, Excel, PowerPoint, and Image formats. You can access this conversion option from the home screen itself.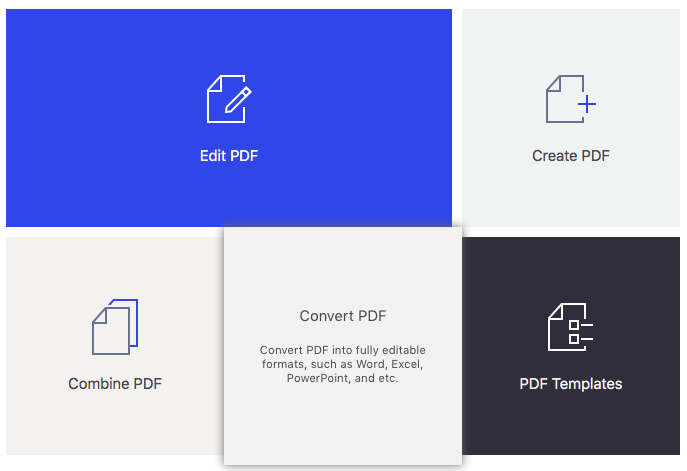 The other useful option provided in this tool is for creating a new PDF file with images, HTML, or other text file formats. Using the Combine PDF option, you can combine two PDF files as well.
Contest: Win $1000 scholarship or MacBook Pro
It's also worth highlighting that Wondershare is running a hot contest on its website. To take part in the contest and win a $1000 scholarship or MacBook Pro, you just need to submit your review for PDFelement on a school-related website and submit a form given on Wondershare's website. Also, every eligible participant will receive a FREE license of PDFelement 6 for Mac. ($60 value). Hurry, join now!
Get Wondershare PDFelement 6 here.
Please note that the contest is only open to students, professors, and full-time employees of educational institutions.
This article is brought to you by Wondershare