Creator of EasyOS Barry Kauler has released a new point version, EasyOS 2.4, of the 2.0 "buster" series. EasyOS version 2.4 is built from Debian 10 "Buster" and includes exciting new features.
For those who don't know, Barry Kauler is also the creator and former project lead of one of the best lightweight distros Puppy Linux and discontinued Quirky Linux. He started EasyOS in 2017, inheriting features from Puppy and Quirky Linux.
Hence, it's a unique Linux distro that offers features like container-friendly, session-save capability, frugal mode, menu-hierarchy, SFS layered filesystem, and JWM-ROX desktop.
However, EasyOS is an experimental distribution as some of its features are still work-in-progress. It is designed from scratch to support and run apps in containers. EasyOS is also known as "Easy Linux" or "Easy."
Now, let's see what the new release Easy 2.4 has to offer:
Easy Linux 2.4: What's New?
Based on Debian GNU/Linux, Easy 2.4 has included the new Linux kernel 5.4.59 and many package changes built from the latest Debian point version 10.5.
It has updated its applications such as SeaMonkey, Pupradio, fftag, ffplay-gtk, Pmcputemp, and EasyDD, along with the addition of new apps like MATE Calc (replacing Galculator) and iotop.
Furthermore, Easy 2.4 has also added enhancements to "lockdown in RAM." In other words, it has now turned on 'lockdown' kernel boot parameter inside the 'init' script in the initrd.
Going further, version 2.4 now gives you a new window to keep some settings while erasing the working session using the "Erase" button in Easy Version Control dialog.
As you can see in the picture below, you get options to check the settings like browser history and bookmarks you may want to keep after working session will be erased.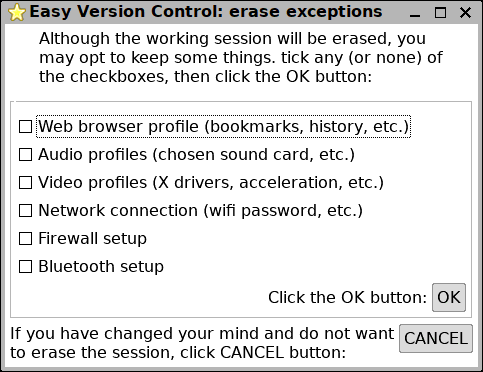 Another major improvement in Easy Linux is the menu style changes from inline to cascading. Even though it will take extra mouse clicks to get to a particular app, Easy 2.4 has adopted a cascading menu system to categorize the sub-menus neatly.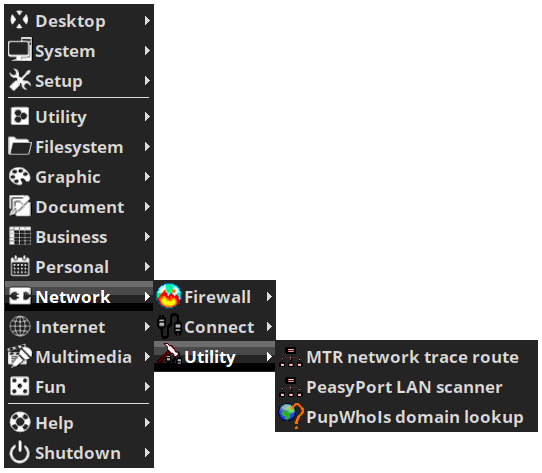 Additionally, it has also added new choices to the Shutdown menu and cascaded sub-menus with "Special.." and "Debug…" titles.

For complete details, you can read the release notes of Easy Linux 2.4.
How To Download Or Upgrade To Easy 2.4?
If you're already using EasyOS, you can easily upgrade your system to a new version. Thanks to its unique feature, you can even rollback it to older versions, snapshots, and roll-forward again.
However, if you want a fresh installation from scratch, download the ".img" file available here. Then flash the image to your USB-stick or SD card and boot it on your PC. If you don't know how to install it, follow the official installation instructions here.