Be it office work, gaming, or any other activity on your laptop, screen recording software is an essential tool to create and capture content. And EaseUS RecExperts is a Windows screen recorder that is perfect for these purposes. It is a powerful tool and fully-featured for making professional-grade videos while being lightweight at the same time.
With this screen recorder, you can capture the entire screen, a specific screen, and webcam as per your requirements. EaseUS RecExperts also lets you record system sounds and narrator voice with a microphone. To take things one notch higher, you can even enhance the video in real time by adding text, lines, arrows, images while recording.
Let's take a closer look at what this Windows screen recorder is capable of:
EaseUS RecExperts: Features
1. Flexible Capture
You can flexibly capture your full screen, a selected area of the screen, or a single window of any size with ease by just dragging the cursor. It also lets you do a couple of other things such as:
Zoom Function: Zoom-in on any section by using default shortcut key F10 and enlarge a specific portion of the video
Locked Windows Recording: Record a specific window or program, irrespective of the applications or programs you move in front of it
Spotlight Recording: Use default shortcut key F4 to emphasize any important parts or detail
2. Record Video and Audio Simultaneously
This Windows screen recorder also lets you record audio both from the background and the voice via microphone at the same time.
3. Record Webcam
You can record webcam or as a webcam overlay to increase engagement and help viewers to connect via your content.
4. Game Recording Mode
There is also a dedicated Game Recording Mode to record various high-quality gameplays of 2D/3D games in 4K UHD resolution.
5. Task Scheduler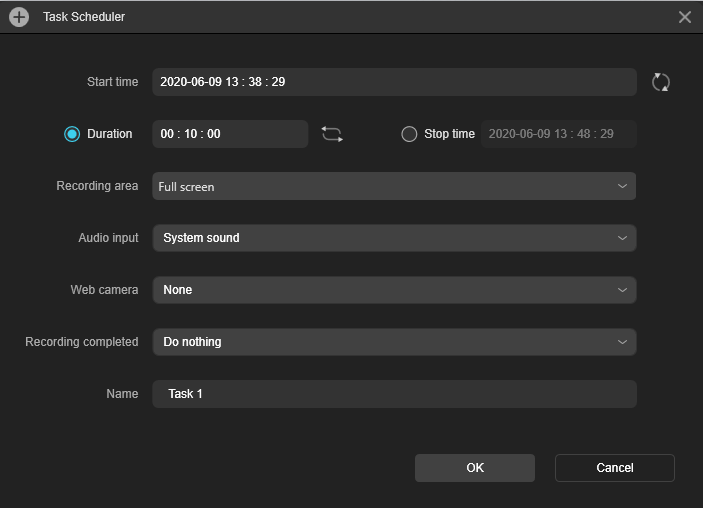 With EaseUS RecExperts you can even create recording tasks automatically. Just set a specific time beforehand and it will start recording even when you are not there. And it gets even better when you can schedule multiple tasks simultaneously.
6. Advanced Editing
This feature singlehandedly improves your overall experience with this Windows screen recorder. It lets you add texts, lines, arrows, and other real-time editing works including trimming video length, adding a watermark, removing background noise, and boosting your audio, etc.
7. Easy Sharing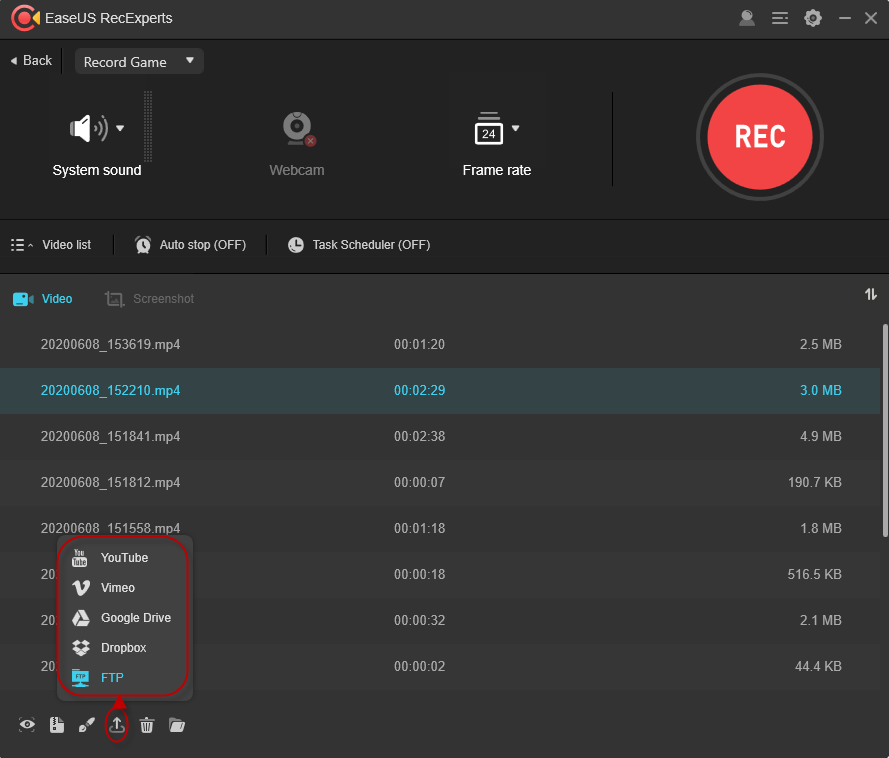 You can export your recording and share it directly to popular video platforms like YouTube, Vimeo and directly download your videos to Google Drive or Dropbox.
System Requirements
Here are the system requirements for Windows PCs to run EaseUS RecExperts:
System requirement: Windows 7/Windows 8.1/Windows 10
Supported video/audio formats

Video – mp4, wmv, avi, FLV, mpeg, vob
Audio – wav, mp3, aac

Supported image formats: bmp, jpg, png, gif, tiff
EaseUS RecExperts Price
EaseUS RecExperts for Windows offers a free trial initially, which comes with a limit of 2 minutes recording and watermark. But if you choose to upgrade to the paid plan, you get unlimited recording hours features like no watermark, video editing, compressing, and other advanced features. With the paid plan you also get regular upgrades and technical support.
The pricing plans are currently available at a discount and are as follows :
1-Month: $11.97 $19.95
1-Year: $23.97 $39.95
Lifetime: $69.95
Final Words
EaseUS RecExperts is a full-featured but lightweight Windows screen recorder that will cater to all your requirements while recording screen, audio, webcam, and gameplay. What I liked about this software in particular is the extent of customization options it offers. For instance, you can choose which camera, frame rate, and aspect ratio should be used for recording. This saves a lot of trouble in the editing phase.
There are also small things that have been taken care of such as making sure that the recorded picture is not reversed by switching on Mirror Record before recording. However, the pricing could be a concern, especially if you are going to use it for a month or two. But for those looking for a long term usage, opting for one year or lifetime plan, this deal is an actually good one!