In another move to protect your privacy, DuckDuckGo has announced a new beta feature for its Android browser app. It's meant to nullify the trackers placed by certain companies, such as Google and Facebook, in third-party apps.
These trackers monitor your app usage and use that data to show targeted ads the next time you go online. Blocking these means that the ads you see online won't derive from your actions in other apps.
In its official post, DuckDuckGo also revealed that you'd be able to toggle the App Tracking Protection from the browser setting itself. Interested users can apply to join the private waitlist for testing this feature once its beta releases.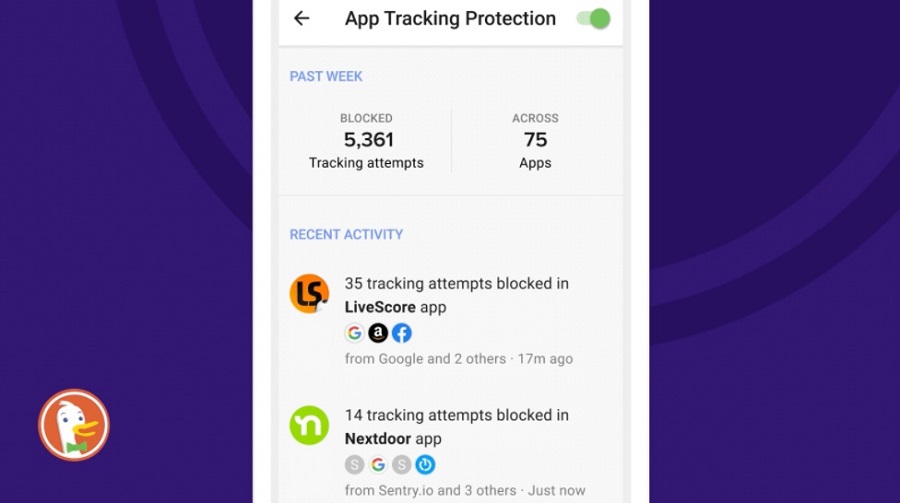 Unlike iOS, Android doesn't give you an option to disable third-party app tracking. DuckDuckGo stated that this is one of the reasons ad companies are investing in Android way more than on iOS.
According to the DuckDuckGo, these trackers trace your location, phone activity, and even your sleeping routine. This tracking also happens in the background after you put your phone down. The search engine company also mentioned that this sort of data is traded to advertisers, government agencies, and data brokers as well.
To safeguard your privacy better, DuckDuckGo's App Tracking Protection will run in the background and prevent third-party apps from sending data to tracking companies. The service will make use of its app tracker dataset to identify such companies.
If you want to join the waiting list for this feature, simply follow these steps:
Open DuckDuckGo browser and make sure you're running the latest version.
Tap on the three dots in the top-right corner and select "Settings."
Scroll down and tap on "App Tracking Protection."
Tap on "Join the Private Waitlist."
That's it. You'll now be able to use App Tracking Protection once it rolls out. Tell us in the comments if you think this feature would make you re-evaluate which browser you use as the default one.