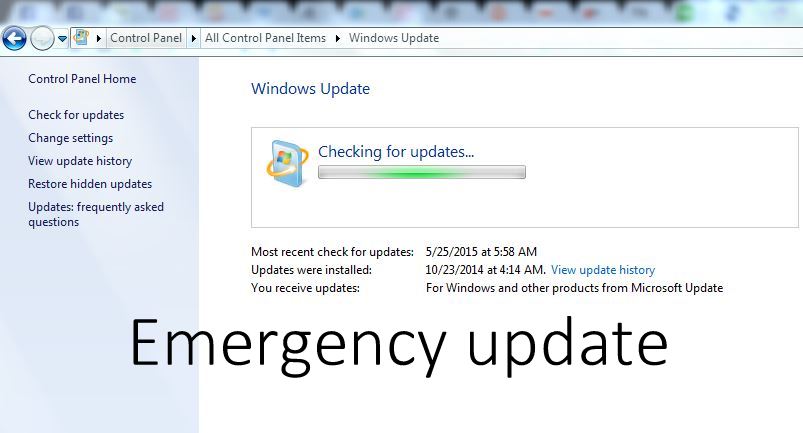 A newly discovered vulnerability can allow hackers to remotely execute codes and take over your entire system. A user could be tricked into this by making him/her open some specially crafted document, or when someone visits an untrusted web page with embedded OpenType fonts. Microsoft has released an emergency and critical Windows update for all versions.
T
his flaw affects Windows Vista, 7, 8, 8.1, RT, RT 8.1, and systems running Windows Server 2008 and later. The latest version i.e. Windows 10 Insider Preview users too must download this critical Windows update. Microsoft generally issues patches and bug fixes on its Patch Tuesday.
The critical Windows update advisory at Microsoft's website said that this update corrects how Windows Adobe Type Manager Library handles OpenType fonts. Due to this, the possibility of a remote code execution exists and the attacker can install programs, delete data, change, view, or create new login accounts with full rights.
While issuing this critical Windows update, Microsoft said that it doesn't have any information to confirm any attacks using this vulnerability.
The company said that Windows versions that are past the support cycle like Windows XP may also be affected, but they won't be getting this critical Windows update.
The security researchers from FireEye and Google's Project Zero were given the credits for finding this vulnerability.
You can download his update over Windows updates.
Windows 10 News:
Microsoft is releasing Windows 10 on July 29. You can avail the free upgrade offer if you are running a genuine copy of Windows 7 or 8.1. This offer is valid if you perform the upgrade in the first year. Redmond has also made clear that your upgraded PC will be getting 10 years of updates and security fixes. Read more.
Did you find this post helpful? Tell us in comments.
Subscribe to fossBytes newsletter for latest Windows and security news.[newsletter_signup_form id=1]