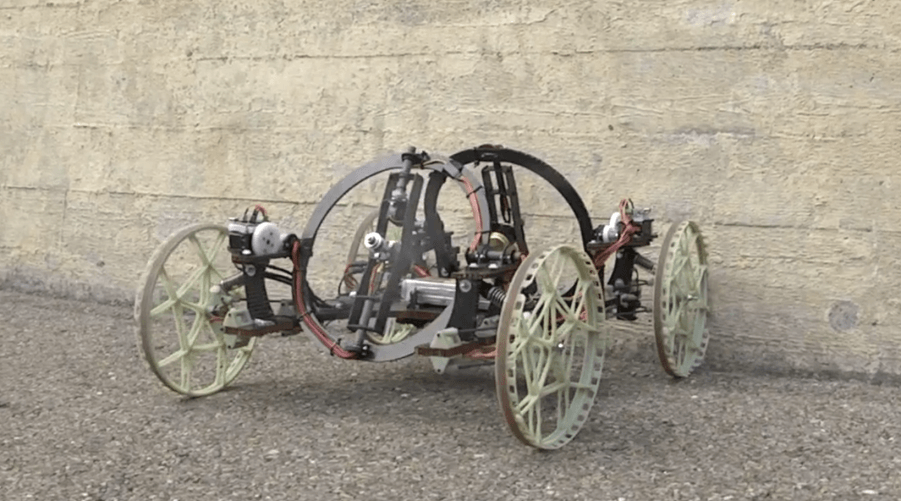 Short Bytes: Vertigo, a Disney made robot, can climb a wall on wheels with agility and again return to the ground to show its capability of running through urban as well as natural environment. Know more about the robot and watch the video below.
B
elieve me or not when I read this news, the first thing that came into my mind was Vertigo movie from 1950s by Alfred Hitchcock, starring James Stewart. Then, I saw Disney and another eye on Vertigo robot climbing the wall and that made my day.
Well, Vertigo can literally transform into a robot just like seen in the Transformer movies from the ground when it comes to climbing the wall. Vertigo has been created in collaboration of Disney Research Zurich and ETH. No wonder, people from Switzerland rank number one on innovation chart.
Vertigo has two tiltable propellers that provide thrust onto the wall. Out of four wheels, one pair of wheels is steerable, and each propeller has two degrees of freedom for adjusting the direction of thrust.
Also read: Yamaha Builds A Robot That Drives Motorcycles and Challenges World Champion Rossi
The choice of two propellers rather than one enables a floor-to-wall transition – thrust is applied both towards the wall using the rear propeller and in an upward direction using the front propeller, resulting in a flip onto the wall.
By transitioning from the ground to a wall and back again. This whole capability makes Vertigo extend its capability to travel through urban and indoor environments.
Watch the video below:
https://youtu.be/e9P9_QM8cN8
Add your views about this amazing wall climbing video in the comments below.
Also read: China Just Made These Anti-Terror Robots Armed With "Guns And Grenades"