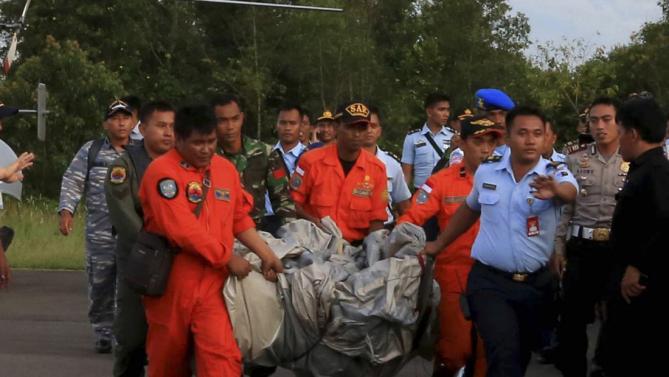 An AirAsia jet with total 162 people on board crashed Sunday morning. The jet was flying from Surabaya, Indonesia to Singapore on its scheduled fight of two hours duration.
Here are some latest developments in AirAsia Jet crash search:
The search and rescue operation is being performed on full-scale, and according to the latest official information, six bodies have been recovered and identified. The search operation resumed in the Java Sea on Wednesday morning. The bodies recovered included one flight attendant who was identified by her trademark. According to Indonesia's Search and Rescue Agency chief Henry Bambang Soelistyo, three bodies were found on Tuesday and rest on Wednesday morning.
On Tuesday, searchers found the debris of jet in the form of an emergency exit door and a suitcase about 10 miles away from the last known coordinates before AirAsia Jet crash.
AirAsia Jet crash (Image – The Hindu)
The Hindu reported that the bodies were located 100 miles away from the Central Kalimantan province. According to National Search and Rescue Director SB Supriyadi, rescue efforts were hindered by 6-foot waves accompanied with strong winds. The television channels of Indonesia showed the images of the recovered bodies from AirAsia Jet crash and it created a havoc among the relatives of missing passengers.
Toronto Star reported that many other countries are helping in AirAsia Jet crash search mission. The United States announced on Tuesday that it is sending the USS Sampson Destroyer, joining 30s ships, 14 aircraft and 7 helicopters in the search. A Chinese frigate is also expected to arrive soon. Malaysia, Thailand and Australia are already involved in the search operation.
AirAsia Berhad is a Malaysian low-cost airline headquartered near Kuala Lumpur, Malaysia. AirAsia group operates scheduled domestic and international flights to 100 destinations spanning 22 countries.
---