There are tons of programming languages out there; hence, it's difficult to know the stats of every language and what developers think about them. Thankfully, we have surveys that keep us updated and help us understand what's happening in the computer science industry.
A survey was conducted by JetBrains, a Czech software company that makes tools for developers. It was conducted in 183 countries where over 31,743 developers had answered the questions. This article will break up the results to show you what the community has adapted to since last year.
The State of Developer Ecosystem Survey 2021 Survey By JetBrains
JavaScript is the most popular language: Surprised?
I wasn't either. JavaScript's popularity has skyrocketed over the past few years thanks to runtime, libraries, and frameworks such as NodeJS and React. For those who don't know, NodeJS redefined the way websites were made by incorporating JavaScript in the Front-end, Back-end, and middleware. NodeJS can be used to both route the web pages on the server and serve webpages on the front-end.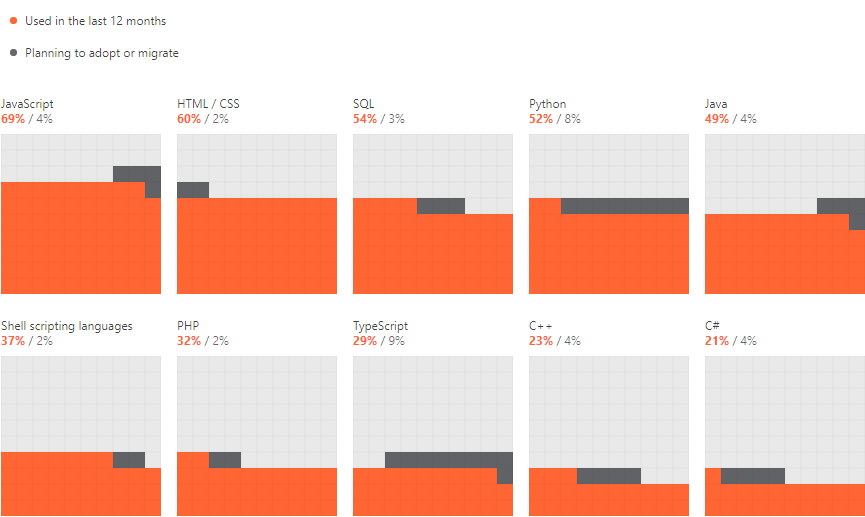 Similarly, Facebook's ReactJS is a library used for building mouthwatering UIs using components. Tons of other frameworks helped JavaScript reach the top spot. Today, over 69% of developers use JavaScript, with around 4% of developers reporting that they're thinking of switching to the same.
On the second spot was, you guessed it, HTML/CSS. We know that these are not programming languages; hence we included them in the JavaScript section since both are web development-related. Over 60% of developers use HTML/CSS, and around 2% are willing to switch to the same. Most votes for HTML/CSS could be from the JavaScript devs themselves because they use the same and HTML/CSS together.
People who want to migrate to JavaScript from other languages in the next 12 months use Python (10%), Kotlin (9%), TypeScript (14%), Go (13%), and Rust (7%). The future of JavaScript looks bright, and it is still one of the best languages to learn to land a perfect career opportunity with promising salaries.
SQL, Python, and Java: Not much has changed
In the 2020 survey, SQL was in third place, followed by Python and Java. This year, usage numbers have changed, but the positions haven't. SQL retains the third spot, with over 54% of developers using it and 3% thinking of switch to the same.
Python is at 52%, but 8% are planning to adopt it. It's possible that we might see it beating SQL in the future. Java is at 49%, with 4% thinking of migrating. Here's a table of what languages people want to switch to.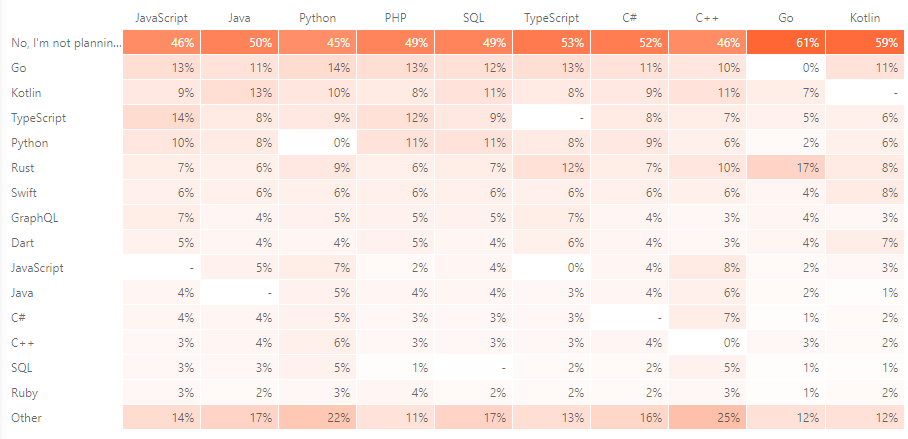 There's also region-wise popularity data, gender-wise data, career position-wise data, and a lot more enough to make this article neverending. Hence, make sure to check it out on the official JetBrains Developer Ecosystem 2021 website.
What programming languages do you use? Which ones are you planning on switching to? Let us know your thoughts and opinions in the comments section below.