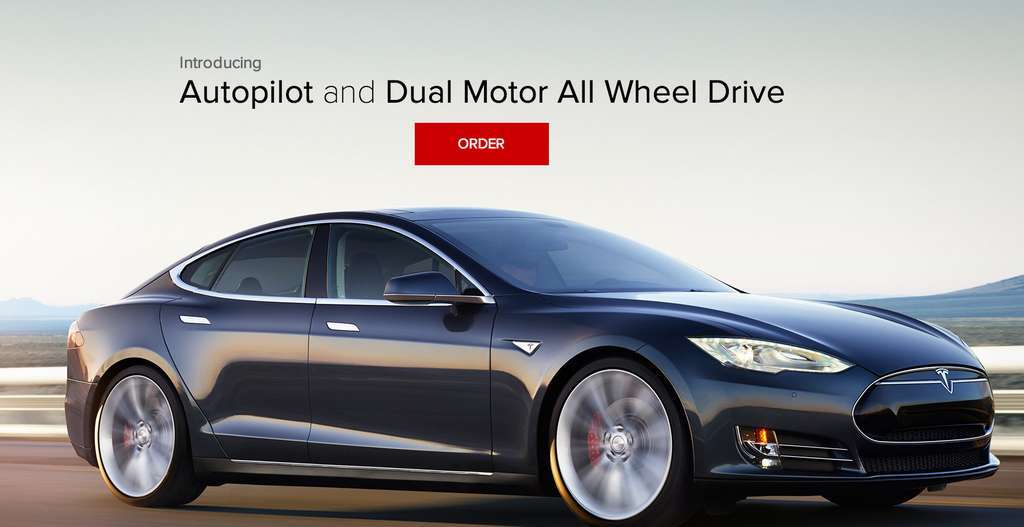 At a flashy event at the Hawthorne airport in Los Angeles, California, Tesla unveiled the much awaited Tesla D. Tesla D is an improved version of company's already running Tesla Model S. Tesla – known as Tesla Motors – is a US based electric car manufacturer which is known for its advanced and powerful electric cars.
The mystery word "D" stands for – Dual Motors and Driver Assistance. Tesla CEO, Elon Musk tweeted on October 2 –
About time to unveil the D and something else pic.twitter.com/qp23yi59i6

— Elon Musk (@elonmusk) October 2, 2014
Three cars were announced in the event – Dual Motor Model S: 60D, 85D & P85D, each with Autopilot features and each with different size of battery. Top model of D family i.e . P85D will arrive in December and others will be shipped next year in February. Also Read : 20 Reasons Why Aliens Would Never Visit Earth Dual motors i.e. an all-wheel drive, is already common in cars these days but it is new for an electric car like Tesla. It was a necessary feature for an already technically advanced Tesla Model S. Twin electric engines will be used to power both front and rear wheel drives. Tesla CEO, Elon Musk said that it will provide improved efficiency, better road handling and better power an acceleration. The new Tesla will need around three seconds to reach 60 miles an hour.
60D & 85D: all wheel traction, optimized for efficiency. P85D: the fastest accelerating production 4-door car ever.   — Tesla Motors (@TeslaMotors) October 10, 2014
Musk said about P85D:
"this car is nuts. It's like taking off from a carrier deck. It's just bananas. It's like having your own personal roller coaster."
But it's just the lighter side if the story. The highlight of Tesla D i.e. new and improved Tesla Model S is the driver assistance features. They have announced lots of autopilot features for all Model S versions. See Also : Mercedes Making Self-Driving Truck to Cut Down on Accidents New cars will have a variety of sensors for autopilot system-
An image-recognition camera.
A 360-degree sonar system to get a feel of surroundings.
A long-range radar to recognize signs and pedestrians.
Here's a few more shots of the #TeslaD — Engadget (@engadget) October 10, 2014
The features like emergency brakes are already in Toyota and Ford but Tesla takes it to another level-
Tesla's autopilot system will ensure that of a driver hits the turn signal on road, this car will automatically change lanes when road is clear.
Tesla cars will be able to park itself, driver can just leave the car and go inside the home and car will do the rest. Drivers will be able to call the vehicles, Tesla will drive on its own and meet you at your doorstep.
Musk said that car will be able to connect to a charger in future, engineers at Tesla are working on it.
Tesla will automatically decelerate when it will come across a speed limit sign.
Every new Model S is Autopilot enabled. pic.twitter.com/KH9Mx7GF21

— Tesla Motors (@TeslaMotors) October 10, 2014
To conclude Elon Musk said, "this is still autopilot not autonomous. It's not at the level where you can fall asleep and arrive safely at destination." Musk said that further over-the-air software updates would improve the all-wheel-drive capabilities.
These features will cost you a lot. The all-wheel drive "D" version of the Model S will start at $71,000 and base price for the top-of-the-line P85D will be $120,000 which is about $14,000 more than the current Model S.
Also Read : Best Concept Cars of Paris Motor Show  2014 (Pictures)