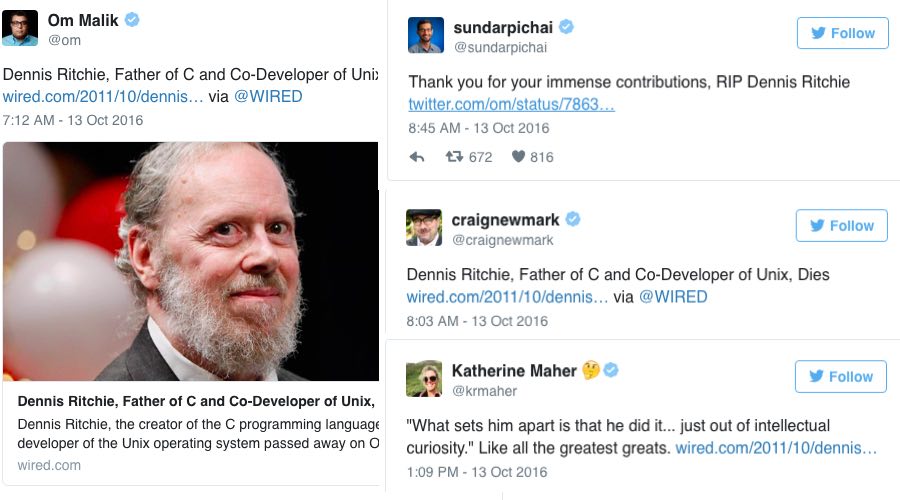 Short Bytes: It's five years since the programming pioneer Dennis Richie passed away. But some notable people from the tech world spread inaccurate information about the death of Ritchie. Google CEO Sundar Pichai tweeted an older post from Wired about Ritchie's death and paid tribute to him.
I
t's a common say that the history repeats itself. But even the person who gave this did not have anticipated that some people in the tech world would actually make the history repeat itself.
Today is October 13, 2016, and it has been five years since the father of C and Unix Dennis Ritchie died at his house in Berkely Heights, New Jersey. The people who follow him and admire him have expressed their tribute in the social media. But some of them took it too far and tweeted that the legendary programmer has died today, the second time for their kind information.
This list of such people includes the name of Google CEO Sundar Pichai and Om Malik, the founder of GigaOm. Om Malik tweeted a five-year-old post from Wired which dates October 13, 2011, and mourned on the sad demise of Dennis Ritchie. This oversight was first spotted by CNET. Pichai retweeted Om Malik's post and the trail followed with other people posting their feeling of grief in the digital world. However, Malik was quick to realize his mistake and posted an apology blog post but it he already shot the arrow with his eye closed.
Thank you for your immense contributions, RIP Dennis Ritchie https://t.co/LVacgkcXvl

— Sundar Pichai (@sundarpichai) October 13, 2016
Dennis Ritchie, Father of C and Co-Developer of Unix, Dies https://t.co/LxkCK6i1DE via @WIRED

— OM (@om) October 13, 2016
Craig Newmark, the founder of Craigslist:
Dennis Ritchie, Father of C and Co-Developer of Unix, Dies https://t.co/jFpZjrtOpy via @WIRED

— craig newmark (@craignewmark) October 13, 2016
Katherine Maher, the director of Wikimedia Foundation:
"What sets him apart is that he did it… just out of intellectual curiosity." Like all the greatest greats. https://t.co/xTaH9AkOrQ

— Katherine Maher (@krmaher) October 13, 2016
This was the account of mistakes made by humans on twitter. Searching Ritchie's name, twitter's top story features a NY Times eulogy with the publish date October 13, 2016, which originally published on the same date in 2011.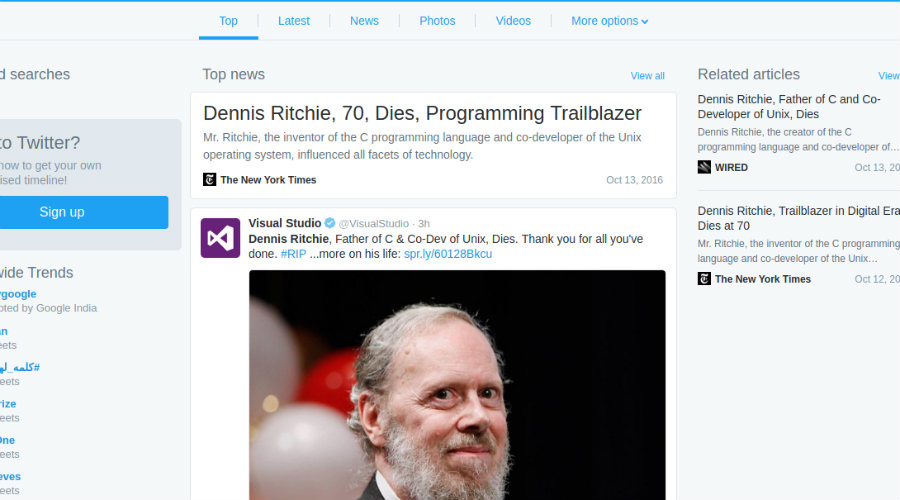 This is the age of social media and information spreads in the world like the fire in the jungle. But the need of the hour is that people should verify the information before they post about it. And especially, the people who are famous because they are regarded as a trusted source of information.
Via Gizmodo
If you have something to add, tell us in the comments below.