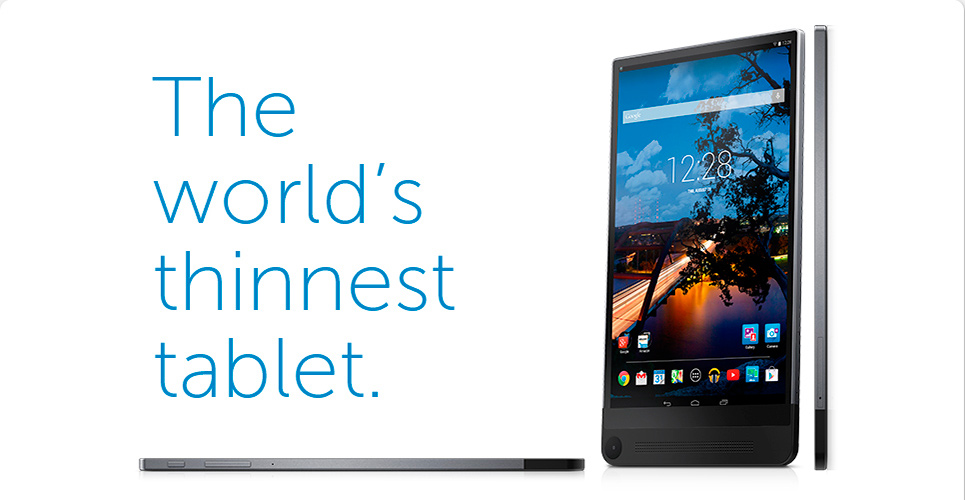 ---
While everyone was busy chanting Apple, Apple slogans last week, Dell and Intel  'silently' launched the world's thinnest tablet, new Venue 8 7000 last week at 2014 Intel Developers Conference in San Francisco.
This is the world's thinnest tablet ever made. It is ridiculously thin with a thickness of just 6mm, beating the previous winner Sony's 6.4mm thick Xperia Z2 slate. Dell isn't considered a major player in Android tablet market, but this tablet will surely make other companies jealous.
The tablet has a superb edge to edge display screen with 2K resolution. The glass stretches from edge to edge and here's practically no bezel to block your view.
---
---
Dell slate is the very first Intel RealSense tablet. This tablet uses Intel's RealSense Technology equipped Snapshot Depth Camera to capture depth-based images. Apart from the primary 8 MP camera, the extra cameras give the tablet an understanding of how far away the objects are in your photographs and allow you to manipulate them accordingly.This technology also enables things like facial recognition, emotion tracking, 3D scanning, and 10-finger gesture recognition.
There's no exact date or price yet.
---
Its main features are:
8.4-inch, 2560 x 1600 OLED panel with amazing colors
2K resolution (2560 × 1600 pixels)
6mm thin
Android 4.4 KitKat
A quad-core Intel Moorefield chip (1.6 GHz ~ 2 GHz)
32GB of storage space and microSD card support
---