VPN or Virtual Private Network adds a layer of security to protect your digital privacy and hide your internet footprints at the same time. When connected to VPN, your internet traffic is encrypted and passes through remote servers, thus making it nearly impossible for anyone to track your IP address. You can read more about the working of a VPN in our detailed article.
We cannot stress enough on the fact that VPN is a must-have tool if you want to secure your digital privacy. There are many VPNs available that you can use, but like every other thing, VPNs too have their pros and cons.
Let's have a look at what CyberGhost, a popular VPN has to offer to its users. In this CyberGhost VPN review, we have described the various aspects of the VPN to analyze its prowess.
CyberGhost VPN Review 2019
CyberGhost VPN is a Bucharest, Romania based VPN service provider that was established in 2011. CyberGhost boasts of 30 million users across the globe with their services available in 59 different countries and more than 3,500 servers at the time of writing. CyberGhost bundles plenty of features to make it one of the best VPNs out there. The VPN has all the necessary features such as automatic Kill Switch, DNS and IP leak protection, 256-bit AES encryption, apps for different platforms that you would expect from a premium VPN.
CyberGhost's affordable pricing when you agree to pay up front for a yearly subscription is enticing. Moreover, aplenty mechanisms have been deployed by the VPN company to assure that users' privacy is their priority.
Number Of Servers
CyberGhost VPN currently offers 3,511 servers spread across 59 countries. If you're planning to purchase a VPN service for bypassing the geo-restrictions imposed by popular video streaming websites like Netflix and Amazon Prime, CyberGhost will appeal to you. It has a dedicated section of servers that are specially optimized for accessing content that is blocked in your country. In their list of servers, you will find servers for Netflix, Hulu, YouTube Red, Fox Sport, etc.
For fans of Torrenting, CyberGhost VPN also offers dedicated servers for BitTorrent on its windows app so that you don't have to go through the pain of searching for torrent-friendly servers.
There are plenty of servers to choose, and you also get the option to view load on a server in the Cyberghost VPN app which is a quite handy feature.
Supported Platforms & User Interface
CyberGhost VPN is available for almost all the platforms including Windows, macOS, iOS, Android, Amazon Fire Stick, and Android TV. I used CyberGhost's Windows app, Android app and iOS app and my experience with the interface was smooth. The setup process is slick, and you can get connected to the VPN within no time.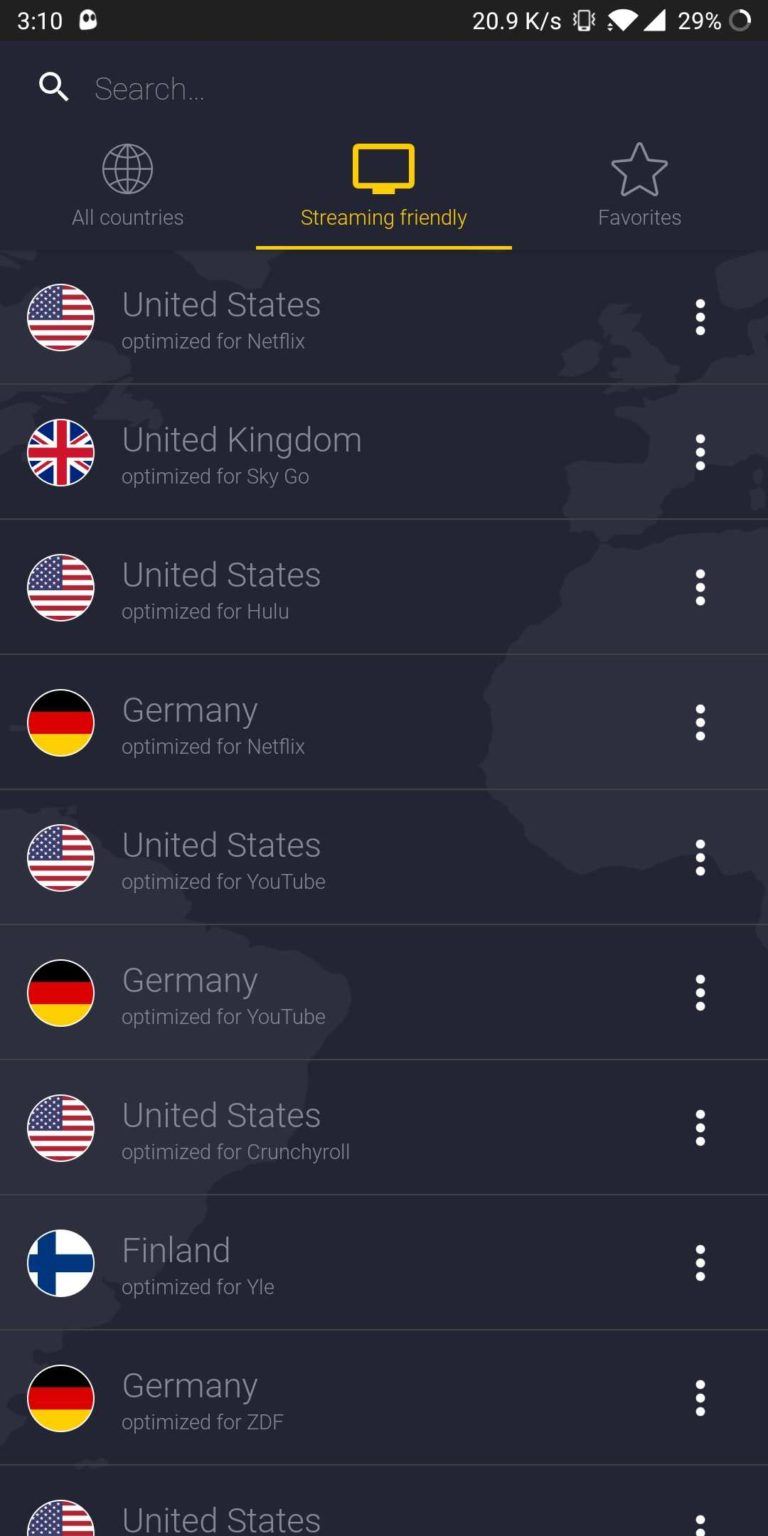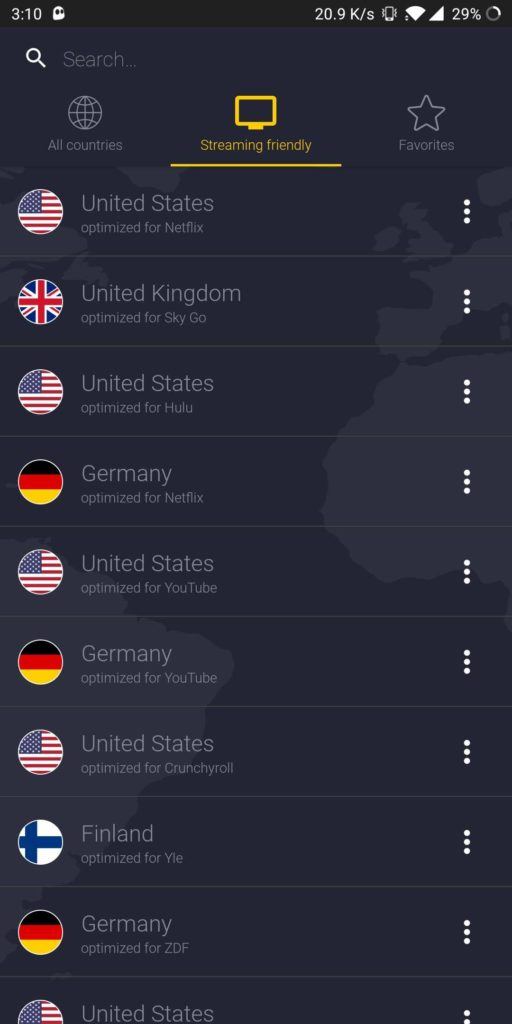 You can choose from the list of servers depending upon your requirements. The apps offer you the feature where the VPN would be automatically connected as soon as you boot up your device.
Moreover, I liked how CyberGhost chooses the best VPN server for you automatically. The one-click connect feature further contributes to the ease of usage. Overall, the user-friendliness is evident on all the platforms.
Special Features Of CyberGhost VPN
CyberGhost offers much more than just a VPN service. There are many additional features that you get with the subscription.
1. Advertisement and malicious websites blocking
CyberGhost VPN also doubles up as an ad-blocker and also filters and blocks malicious websites to provide you overall protection. It also stops online trackers to hide your digital footprints.
2. Automated HTTPS redirect
The VPN enforces your connection to HTTPS so that you can access the most secure versions of websites to prevent your data from being compromised.
3. Dedicated Servers For Streaming
Bypassing geo-restrictions for streaming websites is extremely easy with CyberGhost VPN. You can access various streaming websites like Netflix, Amazon Prime, Hulu, and sports streaming websites from the 'Streaming' section in the apps. CyberGhost says that it does not impose any bandwidth limit on servers including servers for streaming.
4. Servers For Torrenting
CyberGhost VPN openly supports torrenting and also offers a dedicated section with servers that are optimized for downloading torrents.
5. Strict No Logs Policy
The VPN company says that they do not record any user data including IP address, websites users visit, connection timestamps and session duration. CyberGhost's commitment towards protecting the anonymity of their users seem promising.
Customer Service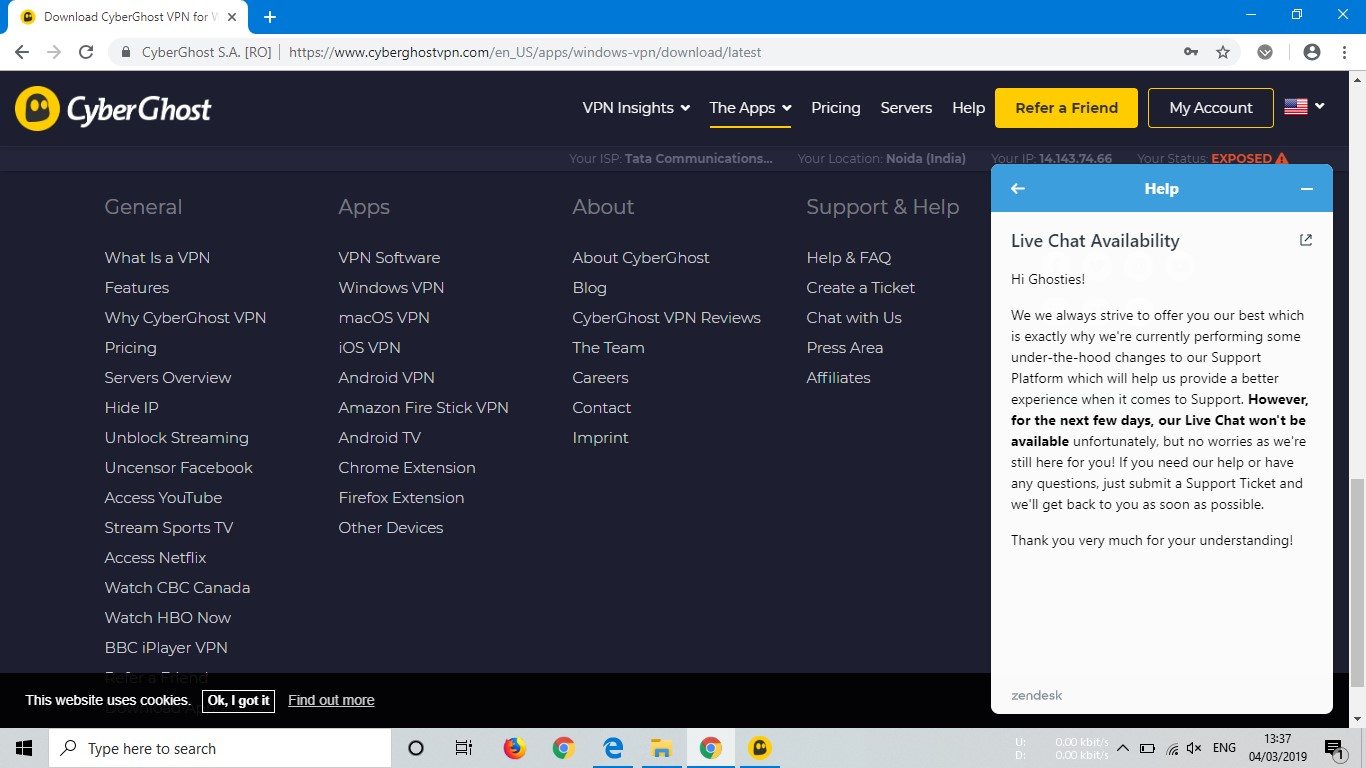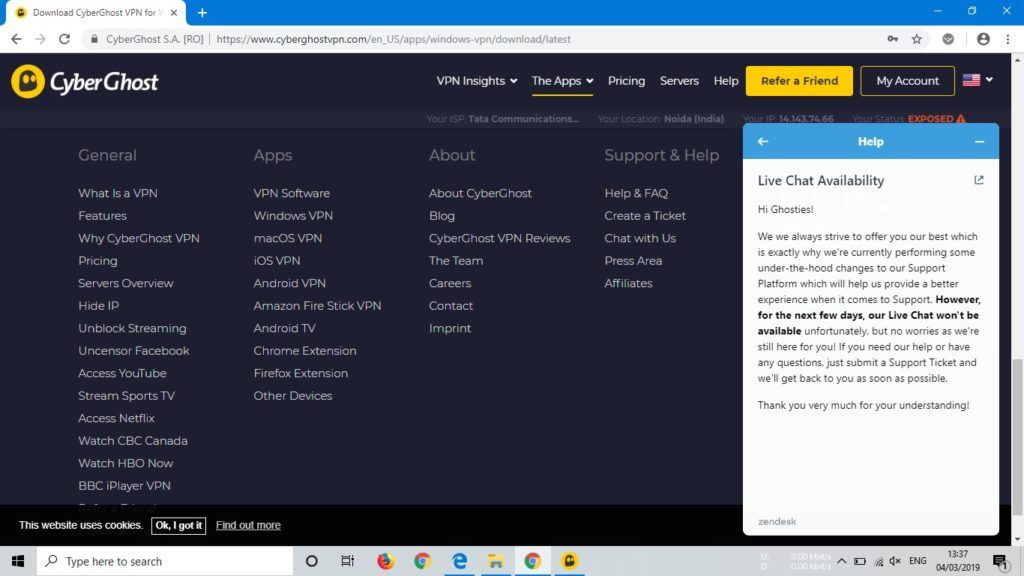 CyberGhost VPN offers 24/7 support via email and live chat. However, at the time of writing, the live chat feature was not working. Also, the absence of support via phone is a bit disappointing. I contacted them via email and received the reply within a day.
Pricing
Here's the section you've been waiting for. Firstly, CyberGhost VPN free trial lasts only for 24 hours which is the shortest as compared to other VPN service providers. Secondly, their pricing is somewhat on the heavier side if you opt for the monthly plan.
Here are the pricing plans of CyberGhost VPN:
1-month subscription with 14-days money back guarantee: $12.99
6-months subscription with 14-days money back guarantee: $7.99/month
18-months subscription with 45-days money back guarantee: $2.75/month.
With each subscription, you get access to their 3,500+ servers, connection up to 7 devices simultaneously, 24/7 live support and apps for different platforms.
CyberGhost offers payment via PayPal, Visa, American Express and MasterCard credit cards as well as Bitcoin for maintaining anonymity.
Conclusion: Is it worth it?
CyberGhost VPN is a strong contender in the list of best VPN service providers. It offers a great number of features along with dedicated servers for streaming and torrenting. For those looking forward to purchasing a VPN for bypassing geo-restrictions, CyberGhost VPN could be a good choice.
Apart from gripes like lack of phone support, 24-hour free trial and a steep difference in yearly and monthly pricing, CyberGhost VPN is an excellent VPN loaded with features and definitely worth the price if you commit for a longer duration.
We presented a few questions (via email) in front of the CyberGhost team to give you a better idea of their service. Read them on the next page. The answers may have been edited to maintain the consistency of the text. Please note that the next section isn't a part of our CyberGhost review.