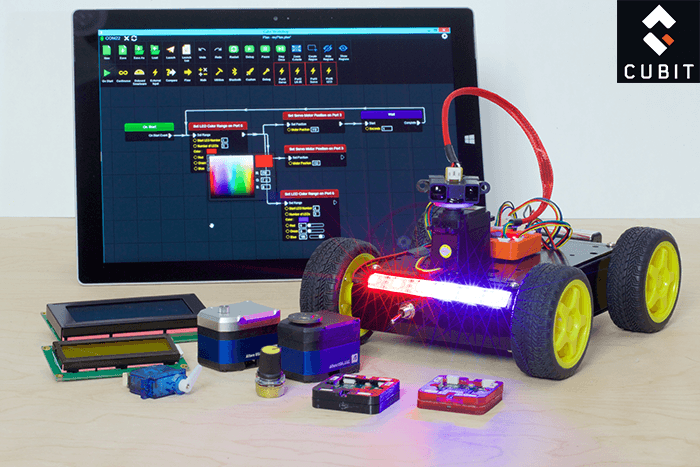 A day ago we wrote about Modulo, a kickstarter project which lets you build electronic DIY in a simple and modular way. Today, we are even more excited to introduce you to another kickstarter project called Cubit – A platform that brings together plug & play hardware and drag & drop software to allow everyone to create and invent.
IOT is on rise and new projects are coming up everyday to help you get your hands dirty with IOT. Big blues are also pushing a lot into IOT, recently Microsoft announced free Windows 10 for Raspberry Pi, Intel is already building electronic boards and IDEs to get into IOT market and we just received the news that Google is presenting Brillo – Operating System for IoT in I/O 15 happening at end of this month. Many good things are coming and we want our reader to be familiar and updated with these trends. Let's talk about Cubit in more detail.
What is Cubit? 
Cubit is a programmable electronic DIT kit that allows you to make whatever you can imagine. The hardware and software was meticulously designed and crafted from the ground-up to work together as seamlessly as possible. With drag-and-drop visual programming and plug-and-play hardware, you can develop programs without writing any code and use electronics without any soldering or configuration. Cubit bridges the gap between software and hardware, making custom electronic projects easy and accessible to anyone.
Cubit primarily consists of three integrated hardware and software components: the Cubit Controller, Cubit Smartwares, and our drag-and-drop app, Cubit Workshop. Cubit board can easily be extended with over 30 Smartports through the use of Multiplexer Smartwares. A single Cubit Controller can grow to meet the demands of even large projects. The Cubit Controller is a powerful Bluetooth-enabled 32-bit micro-controller. It boasts six universal Smartports which accept any smartware component.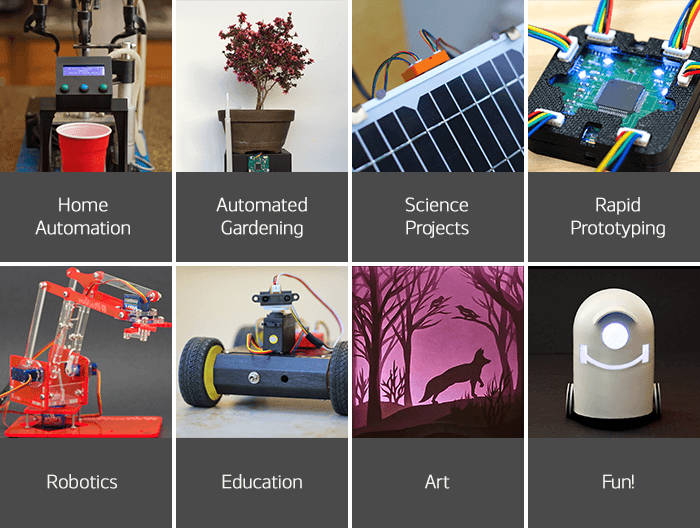 For beginners cubit is easy to understand and develop projects and for experienced electronic hobbyist cubit is more than that it allows you to control hardware directly; you can create custom blocks and even wire in your own electronics.
Cubit Features:
Wireless– The Cubit Controller comes with Bluetooth so you can program Cubit wirelessly or remotely control Cubit from your device!
Hardware Flexibility – Use our plug-and-play Smartwares or use your own electronic components!
Program Flexibility – Create programs quickly using our drag-and-drop visual program, write your own code in Lua, or use a combination of the two!
Scalability– Out of the box controller-to-controller wireless and wired communication. Create a network of Cubit Controllers!
Expandability– Smartports on the Cubit Controller can be expanded to over 30 with the use of Multiplexer Smartwares.
Multi-Tasking – Create multiple independent programs in Workshop, the Cubit Controller will run all of them simultaneously!
Virtual Inputs – Workshop has an assortment of virtual buttons, sliders, and joysticks. You can use these to remotely control Cubit right out of the box. Virtual inputs can be addressed to hotkeys on your keyboard!
Real-Time Debugging – Workshop offers real-time visual debugging so you can see exactly where and how your program flows during runtime!
Data Logging – You can record multiple inputs through Workshop. Useful for science projects and to track value changes over time. Recorded values can then be exported to CSV!
Graphing – Playback your recorded data on a graph right within Workshop!
Cubit is currently running its campaign on Kickstarter and you can back them to get early access to Cubit kit. Market price is not yet disclosed but basic Cubit kit is available on $99 which contains one controller and 4 smartwares. Cubit will be ready to ship in Jan 2016.
Also See: Modulo Lets You Build Electronic DIY in a Simple And Modular Fashion
Please share your views in comments. When Cubit is ready for building awesome projects, we will share more details, stay tuned!