Short Bytes: ExternalCounterstrike is a game hacking tool hoax for Counters Strike: Global Offensive. The tool executes a malware to overwrite the MBR partition on victim's hard drive and display a greeting message thereafter.
I
can recall the diminishing memories of those CS all-nighters I used to have during my school days. Thankfully, I didn't immerse myself enough to use some cheat codes to advance in the game. Otherwise, I would have landed up on some CounterStrike hacking tool like this one that I am mentioning in this story.
Spotted by @YoureMom696 and inspected by Malware Hunt Team, this CS hacking tool known as ExternalCounterstrike — for CS:GO — is not something which you can use to bypass hurdles in the first-person shooting game. The moment you run the tool, the wrong clock starts ticking for your computer.
The makers of this hacking tool have assigned it the task of manipulating the Master Boot Record (MBR) on your system hard drive. MBR knows where the OS is located on the hard drive and helps in bootloading it.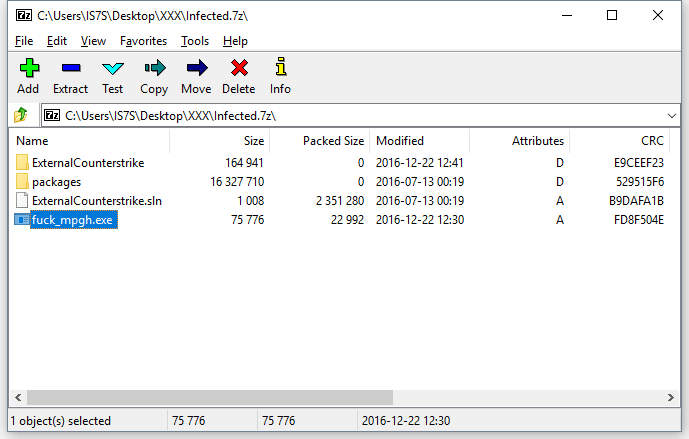 Once the user opens the file with .sln extension, ExternalCounterstrike executes some commands in the PowerShell. It then downloads and runs an executable malware called "fuck_mpgh.exe" which is used to overwrite the MBR partition.
It rewrites the MBR with some customized code, disabling your computer to boot using the hard disk. All that is displayed a piece of "Greetings from ULLR. <3".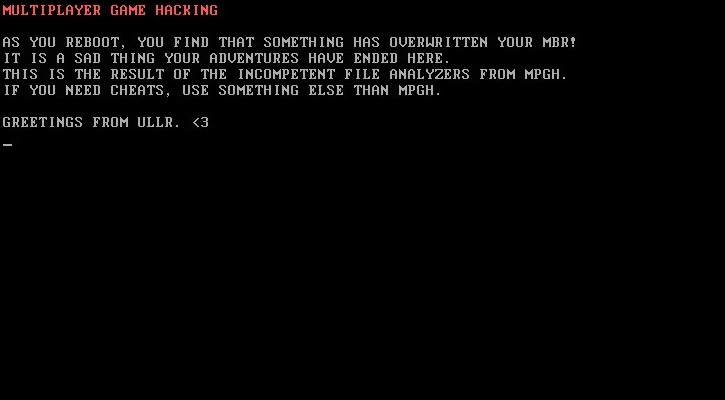 It seems the creator of the tool is pretty disgusted with MPGH (Multiplayer Game Hacking & Cheats) — a popular website for game cheats. Probably, the hacking tools didn't work for him, so he created one himself.
If you have something to add, tell is in the comments below.
Also Read: Mindless Guy Names His Wi-Fi Hotspot "Samsung Galaxy Note 7", Causes Mid-flight Chaos