Is it a good idea to ditch the hotel and go camping in a Tesla Model 3 or Model X, to stay safe from Coronavirus? Most of us right now are quarantined at our homes with no plans to go out anytime soon.
Although sitting in your apartment, waiting for the Coronavirus pandemic to pass, can get pretty frustrating, there is no better alternative here.
You cannot go outside to meet other people that can put everyone in danger. However, Tesla electric car owners have an ace up their sleeve during such a situation.
Every Tesla Model X and S comes with a HEPA filter and a Biohazard air-conditioning mode. Meaning, these Teslas can filter 99.7% of all pollutants and harmful life form inside the cabin while driving.
Although it is still highly advisable to wear a mask while driving a Tesla Model X or S, they still offer far superior protection against Coronavirus than any other car, electric or otherwise.
So with a built-in high-grade air-purifier, should a Tesla owner go camping in their electric car in the wilderness? Here's the answer to your query.
Should You Go Camping During Coronavirus In A Tesla Model X?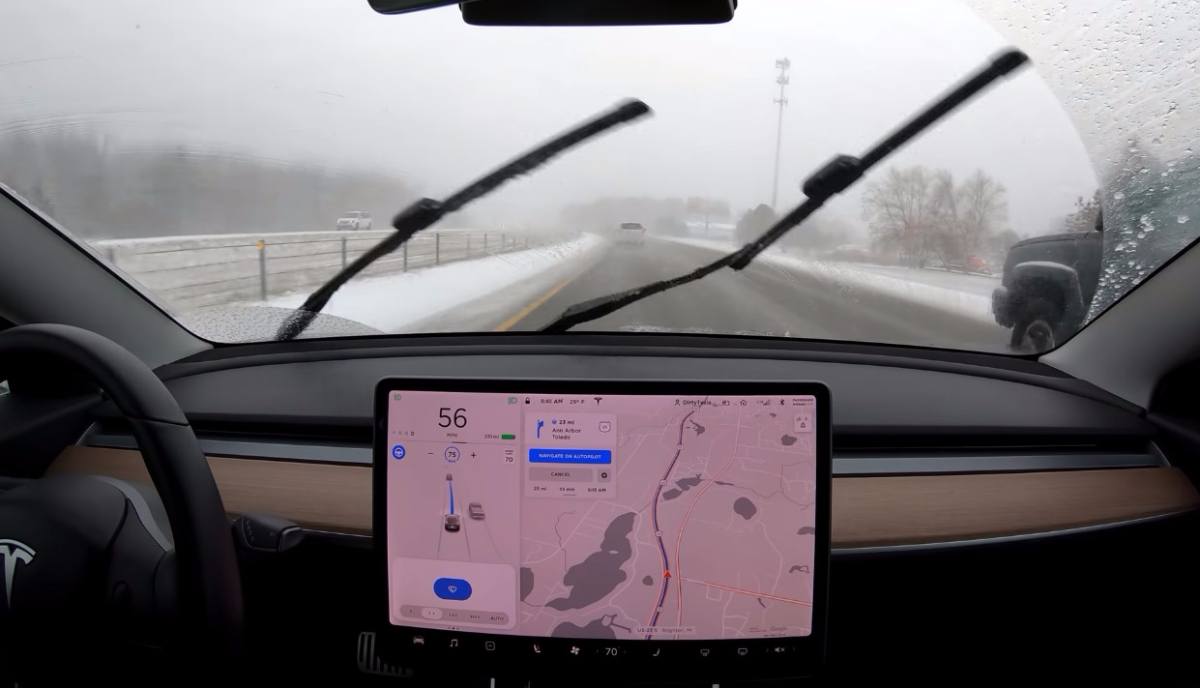 No. Avoid any contact with the outside world as much as possible. But if you're becoming paranoid while sitting at home and really want to go for a drive, then follow these steps.
Wear proper protection on your entire skin surface. Mask on your face, gloves on your hands and every inch of skin covered with cloth.
Keep a hand sanitizer, soap, and some medicines in case you might need them. Also, talk to your doctor before doing such a thing and follow their advice religiously.
Now that we're done with the precautions, let's see whether you can camp in a Tesla Model X?
On several occasions, we have seen people camping in their Tesla electric cars overnight and sometimes during extremely harsh weather.
We saw Bjorn Nayland camp for 24 hours in his Tesla Model 3 during a snowstorm without any problem. The power consumption of a Tesla electric car when parked isn't high. Meaning you can keep Tesla running for a long time by watching movies or using the AC.
Model 3, however, falls a bit short in the fight against Coronavirus because it lacks the HEPA filter which its big cousins get. But you can get it installed in the after-market.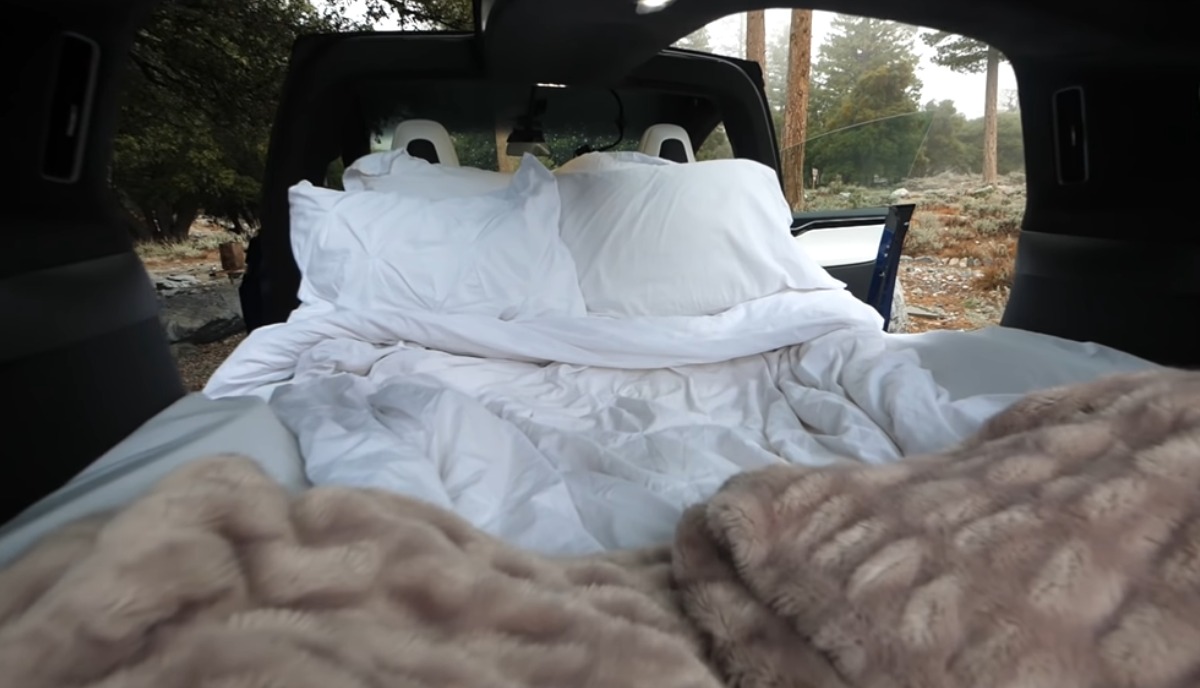 Another Tesla owner, Shelby Church, took a Tesla Model X into the wilderness for camping. She used the entire back row of the Model X as her bed and it worked quite well for her.
Shelby is around 5 ft 4″ tall therefore she had plenty of space inside the Model X. However, she did confirm that anyone under or of the 6-feet height, can easily fit inside the Tesla Model X.
But compared to the Model X, Model 3 feels more open and spacious. This is courtesy of the Panoramic sunroof in the former, which makes it feel roomier than the bigger Model X.
Tesla Battery Drain During Camping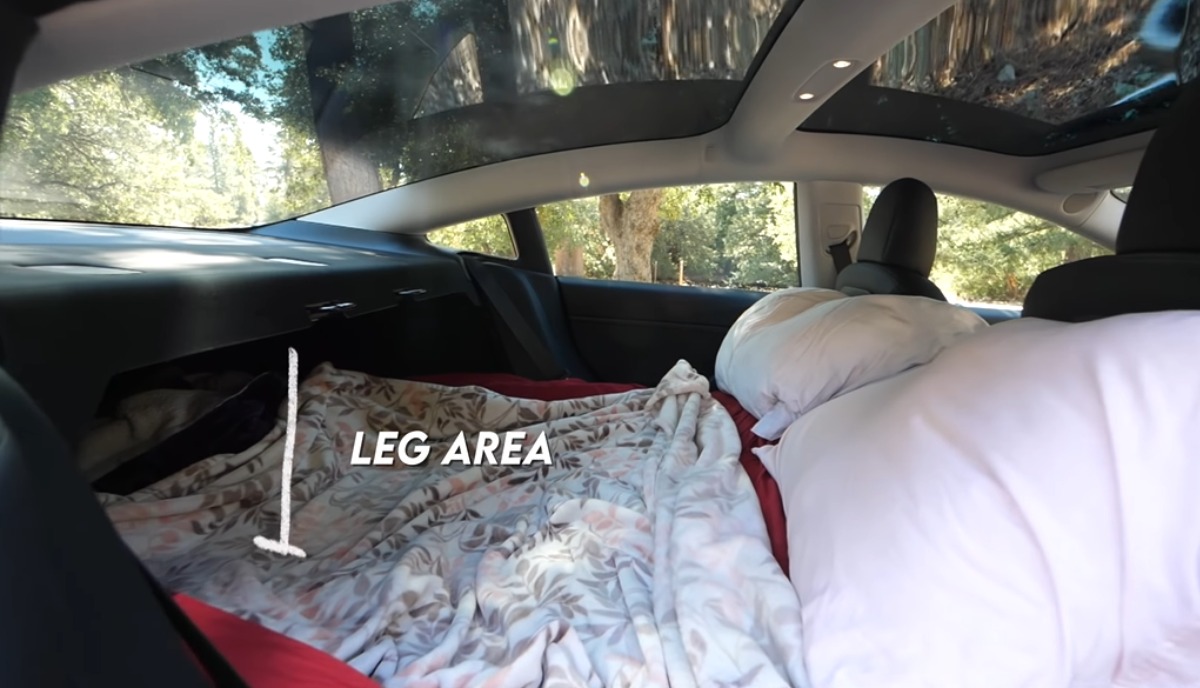 Tesla now offers a "Camping Mode" for all its electric cars. The car's system automatically shuts off when the battery reaches 20% SoC. This lends the user a 40-50 mile of emergency battery range to get to the nearest supercharger, in case of any trouble.
Furthermore, if you're going camping 50-60 miles outside your city, then arriving with a full-charge will leave you with plenty of power to get back home.
Shelby completely charged the Model X before heading into the woods and was left with around 180 miles of battery range the next day following camping.
Bjorn, too, spent his nights with the heater ON in his Model 3 during a snow storm. After 24 hours he was left with quite a lot of SoC despite utilizing the in-car equipment to his fullest.
Camping in a Tesla electric car can be therapeutic, provided you take all the necessary precautions.
Will you try something like this? Let us know in the comments.