As our phones have turned themselves into "smartphones," they've lost their status as a basic communication device. Instead, they are powerful, portable mini-computers that are continuously playing a big part in our technologically advanced lives. This also makes us rely on them for all of our valuable data and needs.
In such a situation, it makes perfect sense to make sure that our smartphone communicates perfectly with our computers and we can sync our data seamlessly. If you aren't in a walled garden, for example, Apple's, this could turn out to be a big issue. To solve this problem and make Android data management more comfortable, here, I'm going to tell you about Coolmuster Android Assistant.
It's a complete Android smartphone management application that does all tasks you can imagine. Its primary functions are creating backups of your phone's data like Apps, Contacts, SMS, Music, Photos, Videos, etc.
How to use Coolmuster Android Assistant as a complete phone management tool?
You can download this app from Coolmuster's website and install it on your PC; it's available for all Windows platforms, including Windows 10, 8, 7, etc. You can install it on macOS as well.
The first look of the application and its mint color theme is pleasant to eyes. The interface is clutter free, and all options are clearly visible in front of our eyes. All the data options are listed on the left pane, and the main working window is on the right. You'll also see options to connect your Android device to your PC via USB cable or WiFi.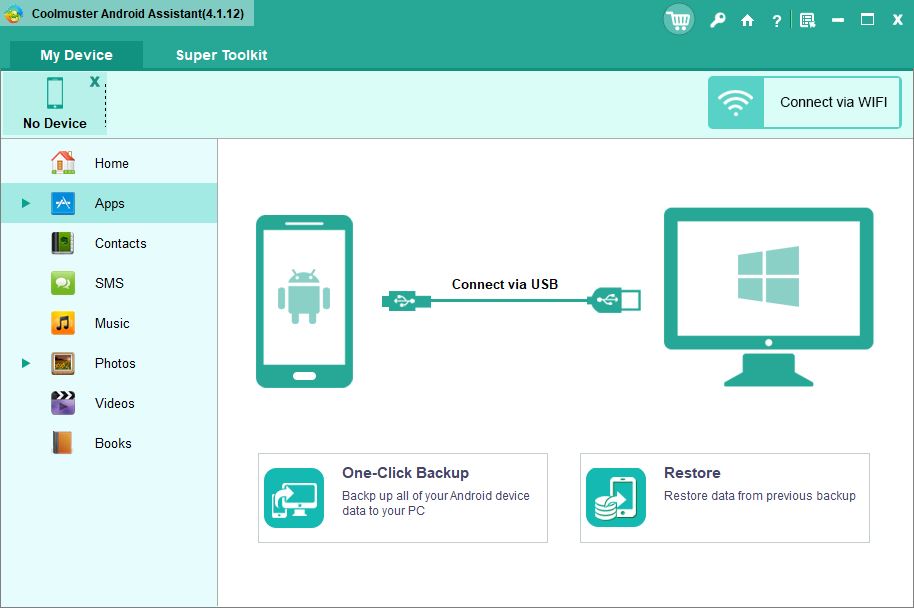 To connect it using USB cable, you need to enable Developer Options in Android and enable USB debugging. As the connection starts getting established, a supporting Android app also gets installed. You can also install this app separately and use it to connect your device via WiFi. I liked the option to connect the device via WiFi as it removes the need for a cable.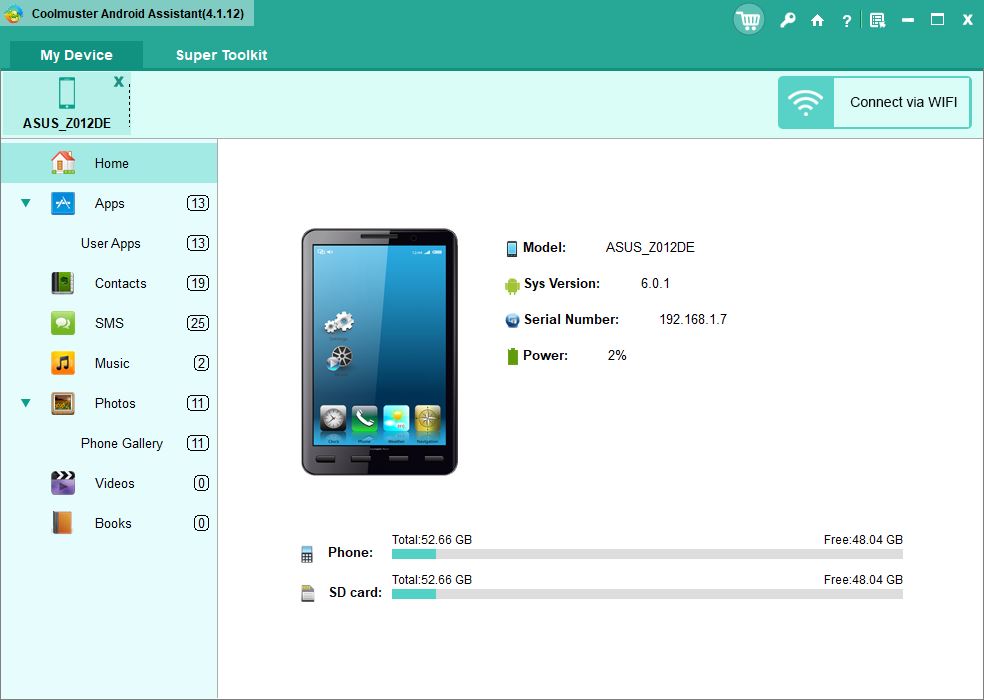 Once the connection is established, you'll see all apps, contacts, music, video, photos, etc., getting populated under specific categories. Clicking on them will reveal your data. From the options given at the top, you can add new data to your Android smartphone, delete the files, export them to your PC, etc. You can either select it one by one or choose all files at once.
In case you're addicted to texting on your phone, with Coolmuster, you can get it done from the comfort of your PC's keyboard. With this software, you can send messages to someone or a group of people. You can also add new contacts, edit them, and delete duplicate contacts with ease.
For the Android enthusiasts who are habitual of installing and trying out dozens of applications on their smartphone, this tool is beneficial. It's a complete app management tool that lets you add new applications, install them, and delete them with ease. The tools Windows-like app management windows will appeal to many.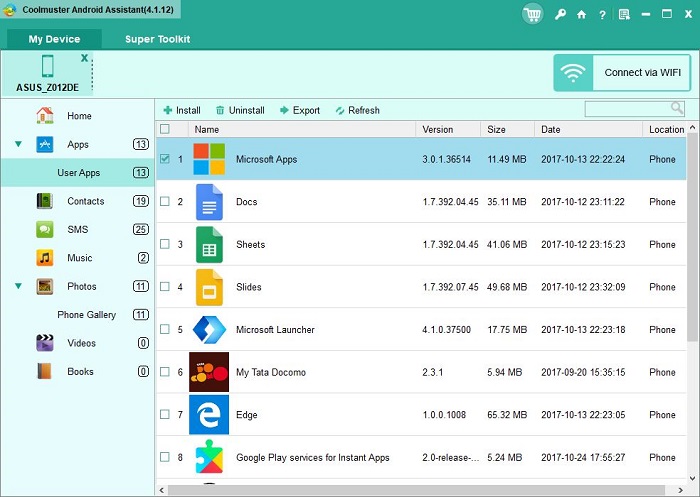 The app window lists all the third-party applications at one place and shows you their installation date, version, and size. You can export the apps as well in the form of an APK file and install it on another Android device. If you have got a long list of installed apps, there's a search box as well to help you get your work done at the earliest.
There's a Super Toolkit as well
In case you're not interested in dealing with the individual files and options shown on the home screen of the app, there's an option for you as well. Under the tab called Super Toolkit, there's Backup and Restore option for taking care of your data in one go.
While many people, these days, prefer cloud backup, others prefer with local backup as makes sure that the data is under their control.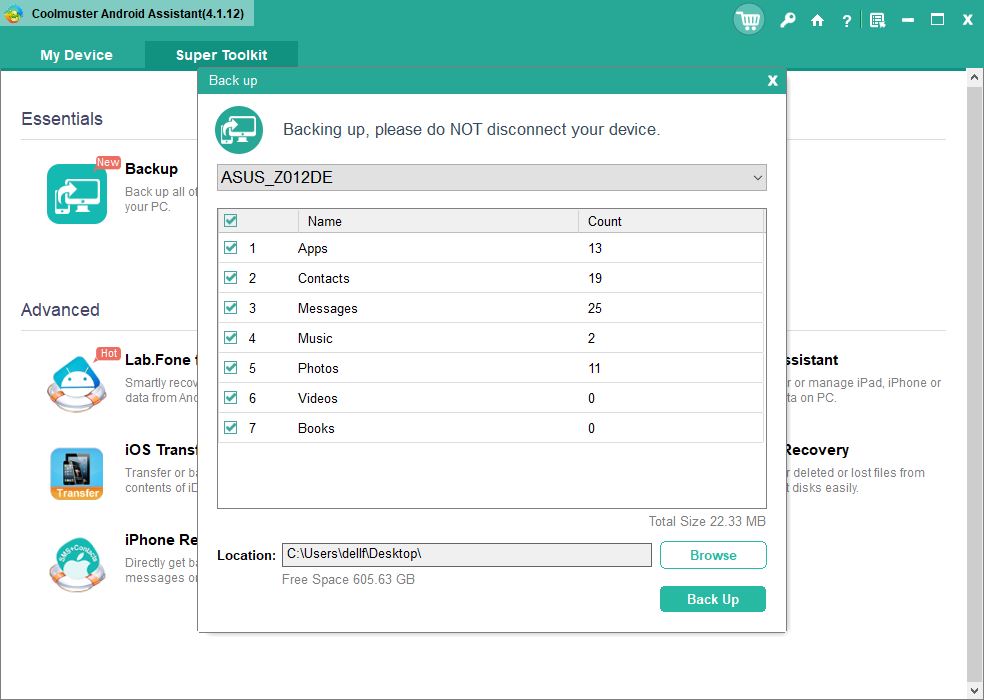 With the help of Coolmuster Android Assistant, you can quickly create a backup file of data and store it locally. To do so, just click on the Backup option and choose what kind of files you'd like to backup. You are shown the total size of the backed up data and asked to specify a backup location as well. After doing that, click on the button at the bottom to complete the process.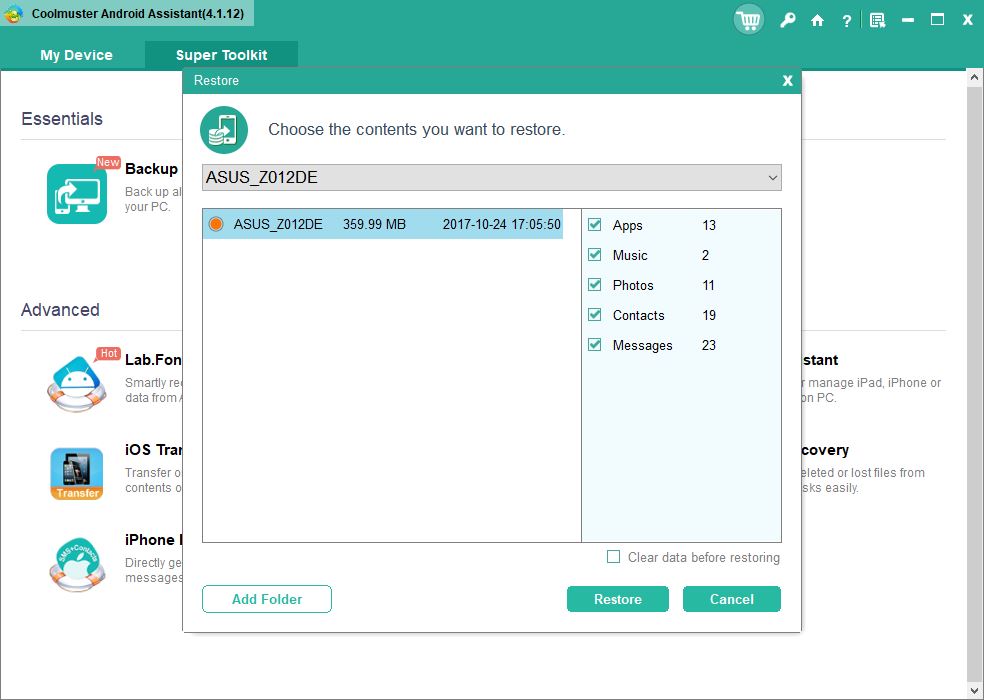 To restore your files, you need to click on Restore option in Super Toolkit, and it will automatically locate the stored back up on your PC. Now choose the data that you wish to restore and proceed.
A complete Android management solution
Coolmuster Android Assistant is a cross-platform software that runs on Windows as well as Mac. This tool acts an efficient backup and data management companion. You can get this tool for $25.95 from Coolmuster's website.
This article is brought to you by Coolmuster.