Disk cloning comes with a myriad of benefits and advantages. This practice is employed by many people today who wish to change aging hard drives or need to create a backup.
Today, disk cloning is one of the essential procedures for shifting computers. From changing an aging disk to finding new hardware to store data, many people employ this tactic to move from one HDD to another.
However, creating disk clones isn't an easy process, and it requires a variety of essentials and an understanding of the operating systems, hardware, and dependable tools. So, today, we'll be understanding disk cloning itself.
Then, we'll talk about the purposes and how you can disk clone effectively. So, let's get started.
What Is Disk Clone And What Are Its Benefits
As the name suggests, disk cloning is when the user creates a 1-to-1 duplicate of the original hard drive. How is it any different from copying data? Instead of copying and pasting one file from one location to another, a disk-cloning procedure creates an exact copy of the hard drive.
Through various measures, people create disk images for transferring the file to another location—another physical disk drive. In many cases, it's employed so that data can be seamlessly transferred without compromising its integrity.
This includes:
System protected files
System volume information
Hidden files and folders
Hard Disk space
Partition details
Operating system and its files
A disk cloning can usually be done with CMD, but the process will be a little difficult. Instead, many people use disk clone software and tools.
As for its benefits, cloning a hard disk can make an efficient carbon copy of a physical drive. This process can help you clone HDD to SSD and vice versa.
On the other hand, the more technical side of Disk Cloning is restoring the original configuration and settings. So, when an image is pasted into another partition of similar size and type, the computer and its configurations remain the same.
Moreover, it can be used for IT professionals who need to clone multiple systems with the same configuration.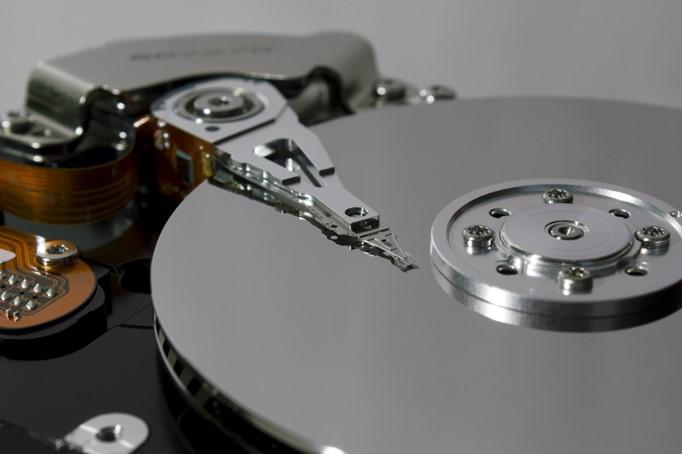 How To Clone A Disk In Windows
Cloning a disk in Windows is a pretty straightforward affair. However, doing it through manual procedures can still risk data loss. Therefore, we'll use the best option today, EaseUS Todo Backup Software.
This remarkable image-maker allows you to create backup images without hassle or lengthy procedures. Therefore, we'll be showing you how to do it. First, you have to download and install EaseUS Todo Backup Home.
Download EaseUS Todo Backup
Install and Run it
This process will take around 5-10 minutes, depending on your internet and computer speed. Once you do, fire up the tool, and you will see its welcome screen: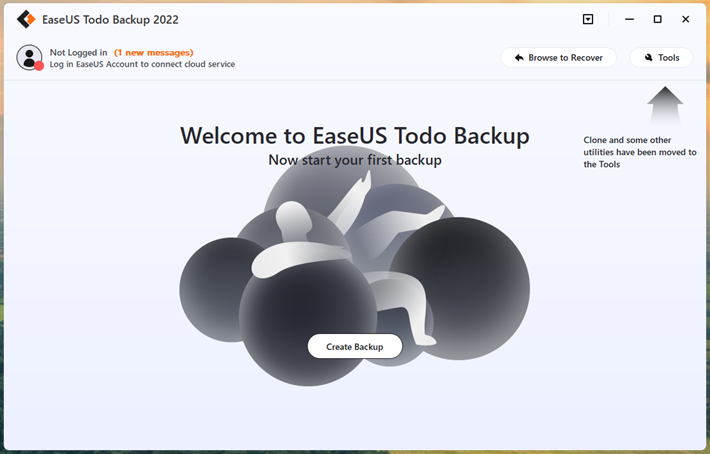 Once you fire up and install EaseUS Todo Backup 2022, follow these steps:
Wait for the program to load
Click on Create Backup
Wait for the next prompt-screen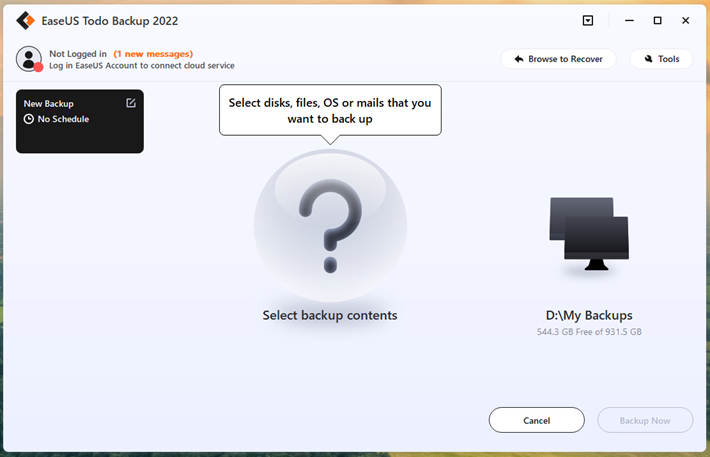 Click on Select backup contents
On the next screen, you will find backup options such as File, Disk, OS, Mail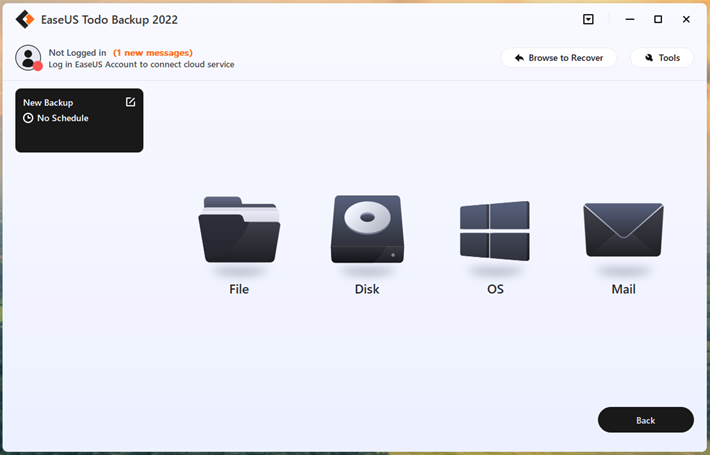 Pick the Disk option and wait for your drives to load
Pick the drive that you wish to clone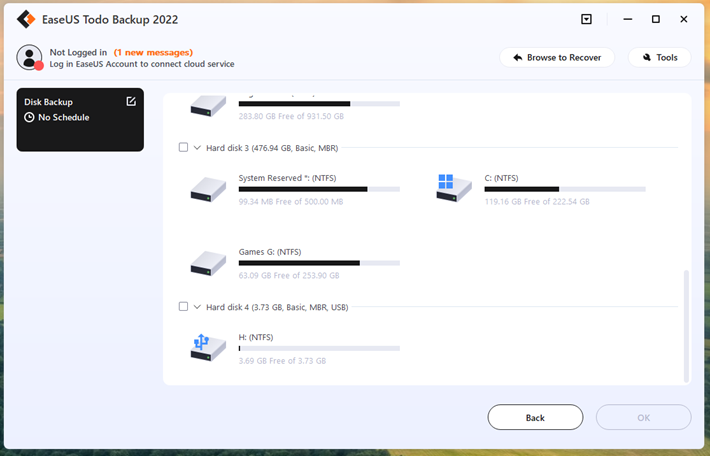 In this case, we're picking up our USB drive, i.e., H: (NTFS)
Select the drive where you wish to place the backup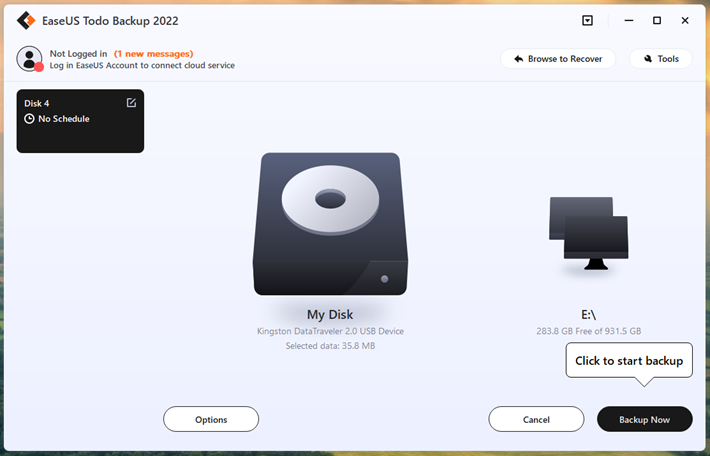 Wait until you get the "Click to start backup" prompt
Click on Backup Now
Wait for the program to create a backup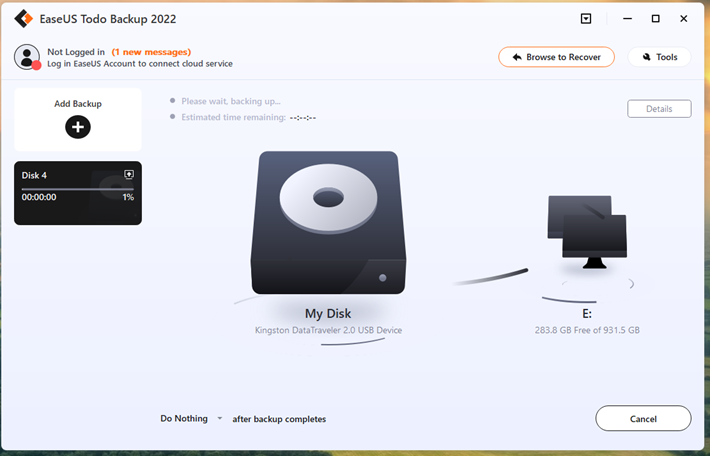 Navigate to "Do Nothing" and pick if you want your PC to shut down after backup is complete
Depending on disk size, the backup might take a few minutes
Once done, you will see this: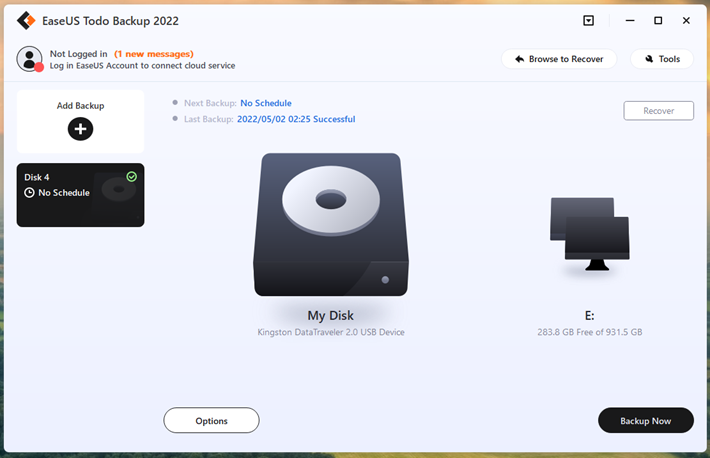 Now that you're done with your backup, you can navigate to your drive to see the backup image. This disk clone can be used anytime to clone it on another computer or the same one. In our case, if we navigate to E:, here's what we see:

As you can see, the data of almost 40 megabytes is now compressed as an image is 14 megabytes. This doesn't only help us save a lot of space but also ensures swift and thorough recovery in case of any data loss.
That's why EaseUS Todo Backup is our best option for cloning our disks for backup. It doesn't only effectively help us compress our files, it also helps us save a lot of space. On top of that, with it, we could make backups of our emails and specific files as well.
How To Clone A Disk In Mac
Cloning a disk in Mac can be done with the in-built Disk Utility. This application comes with all Mac devices and you can easily find it to add, remove, tweak, delete, mount and unmount Hard Disk Drives.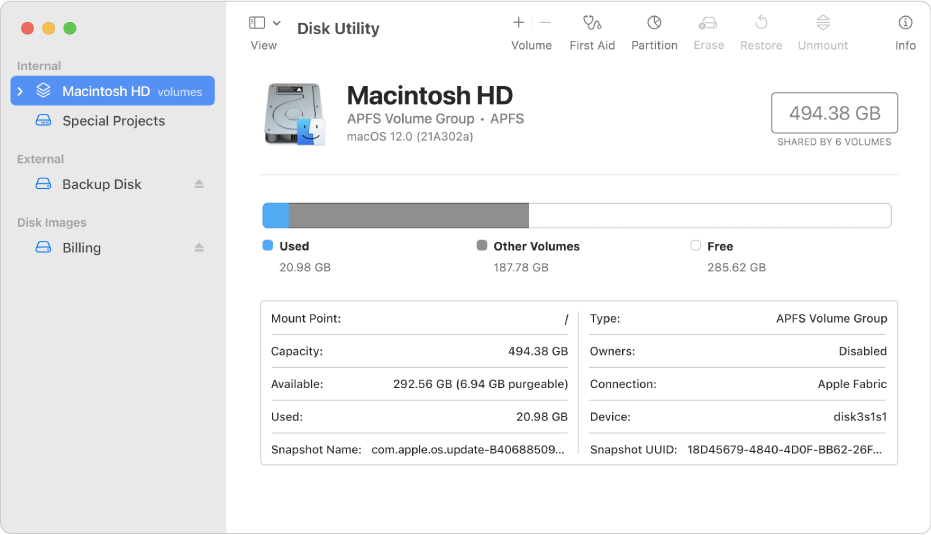 Head to Utilities & Applications on your Mac device
Select the partition where you wish to clone your disk
Click on Erase from the top menu
Click on Format options
Pick Mac OS Extended
Hit Erase again
Now click on Restore beside Erase button
Pick the drive you wish to clone, then click and hold and drag it to the Source field
Now do the same to the destination drive and pick Destination
Click Restore once again to let the disk utility create restore
Tips For Cloning Disks Successfully
Cloning a disk through a capable tool might sound like a straightforward effect. However, there are specific tips and tricks you need up your sleeve to ensure that you don't run into problems. Therefore, here are a few tips:
Get another physical drive to create effective and lasting backups.
Check drive capacity before creating a backup. Let's say the backup you're trying to create is 100 gigabytes. However, the Disk only has 80-90 gigabytes left. So, pick a disk with adequate space for backup.
When restoring an image to a new drive, make sure it's formatted in the correct file system, i.e., NTFS, fat, et cetera
Back up every 4-5 days to ensure updated clone images
These tips will help you get the most out of your cloned images.
Common Problems With Disk Cloning And How To Solve Them
When cloning a hard disk drive, a user can run into a few common problems. Some of such problems include:
Unavailability of adequate space
Program or tool failing to create an image
Unable to restore the cloned file
Cloned hard drive not booting
Cloning taking forever
Here are a few steps you can take to fix such problems:
Remove some space to ensure the backup is made swiftly.
See if the program fails to create an image because there's not enough space on your target drive.
If you're unable to restore a cloned file, see if the file system of your target drive is the same, i.e., NTFS, exFAT, Fat32, etc.
The clone hard drive might not be booting because it wasn't formatted properly. Check the file system, format it again, and then try to restore the image.
If cloning takes a lot of time, see if your hard drives have any bad sectors. Or if the physical drives are correctly connected. Lastly, make sure no other process besides the cloning program takes up the task manager's ram or CPU.
Following these steps can help you ensure that your disk clones happen swiftly and that you can restore them without any issues.
Conclusion
These are the ways you can clone your disks and restore them when you want to. Now, you need to ensure you use a reliable tool or third-party software such as EaseUS Todo Backup because this tool will provide a good backup image and gives you the ability to clone & restore disks effectively.