When we talk about Windows 10 themes, the very basic customization option we get is the ability switch between light and dark themes on your Windows 10 devices.
With the release of the Windows 10 1903, a.k.a., May 2019 Update, Microsoft has made the Windows 10 Light theme even better. Now, the light theme is consistent as more UI elements, including the Task Menu and Action Center, change color when you switch themes.
On top of that, Microsoft has added a couple of customization options that allow you to play with the Windows 10 themes and adjust them according to your needs. So, let's see how can you customize Windows 10 themes —
How to combine Dark and Light modes in Windows 10 themes?
As mentioned above, you need to have the Windows 10 May 2019 Update installed on your machine to get access to these options. Once you have it, just follow the steps mentioned below.
Click on Colors.
Now, under 'Choose your default Windows mode," you can decide whether you want to have a Light or Dark theme for your system UI.

Similarly, under 'Choose your default app mode,' you can decide whether apps installed on your machine should have a light or dark appearance.
So, this way can mix and match the dark and light Windows 10 themes to have a different experience. For example, you can keep the light theme for the system UI and send the apps on your machine to the dark side.
You can see that the Taskbar on my PC has a light theme while the Settings app has a dark theme.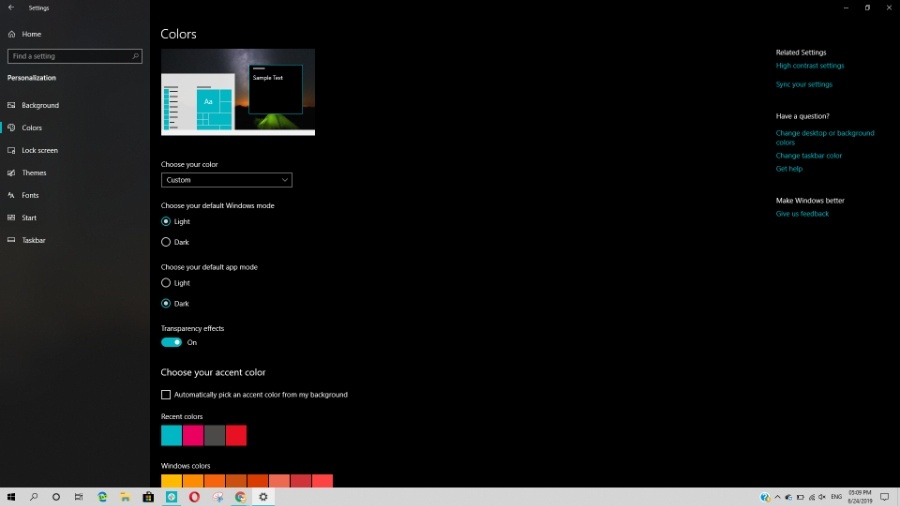 Here, I am assuming that the Choose your default app mode option would mostly work for the UWP apps and Microsoft-made apps. It might not work well for legacy apps.
You can try experimenting with different permutations and see which one pleases your eyes the most. Here, you can also find the option to enable or disable transparency on Windows 10 themes. Further, you can change the color of the accent and system UI which would add some more diversity.