Short Bytes: Codeybot is a robot which is aimed to provide basic programming education to the children above six years of age. This robot running on OpenWrt Linux is an amusing device to use because it can play music, dance, and shoot lasers.
C
odeybot is a name given to a ro
bot
which redefines
cod
ing. Codeybot has been made by Makeblock and it is an educational robot which teaches basic programming through an array of interactive features.
Codeybot is a two-wheel, self-balancing robot which teaches the fundamentals of coding alongside other activities like dancing, playing music, and shooting LED laser light around. Also, Codeybot runs on OpenWrt Linux.
This interactive robot is primarily aimed at the kids of age six years and above. The Codeybot teaches coding using an mBlockly drag-and-drop visual programming app based on Google Blockly.
Also read: Meet Nadine — The World's Most Human-like Emotionally Intelligent Robot
Google Blockly is a Google language and library for building visual programming editors. It uses coding blocks that link together to make writing code easier. mBlockly is based on this library, and the app will only be available on iPad (2nd Gen or later) and iPad mini (4th Gen or later).
mBlockly currently works only on iPads. mBlockly uses creative problem solving to teach programming fundamentals such as designing algorithms, control flow, conditionals,  loops, events, switches etc.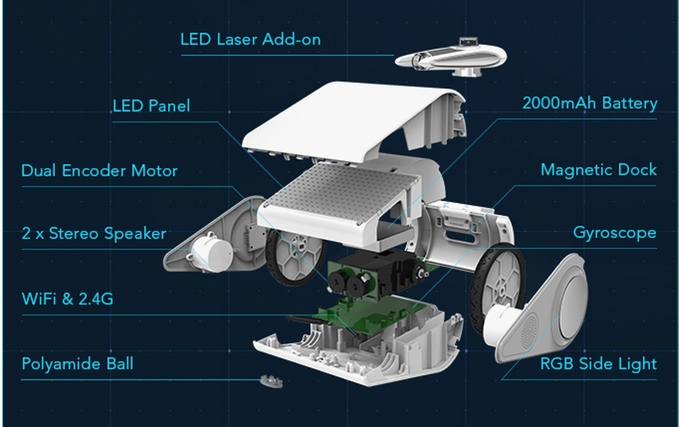 Some of the features of Codeybot are:
Self-balance on wheels
Customized looks
Play music
Dance to music
Make silly noises
Shoot Lasers
The Codeybot can be controlled via a separate app installed on your iPad. This app is currently not available on Android but it should soon be in the near future. This app lets you send voice commands to the WiFi-enabled bot, including forward, backward, turn around, smile, angry, upset, and change color etc. If you want to control the device movements directly, you can also tilt your mobile device to do so.
The Codeybot is available on Kickstarter through May 13 for $129, or $149 with one laser LED add-on, among other packages. More information may be found at the Codeybot Kickstarter page.
Also read: Watch This Robot Solve a Rubik's Cube in Less Than 2 Seconds