Cleaning a Mac can be a tough task, not only macOS hides the majority of non-essential files but also tends to store junk files in places difficult to locate.
Hence, it is important to own one of the best Mac cleaners in order to optimize the system, thus, reaping maximum performance. CleanMyMac X is one such well-acclaimed cleaner for macOS.
The Mac cleaner removes junk files, protects users from malware and privacy issues, cleans up RAM, and deletes applications along with its associated files. CleanMyMac X in earnest is the all-rounder cleaner for macOS.
One of the Best Cleaners for macOS
It's no coincidence that every Mac cleaner list of 2019 awards CleanMyMac X the top position. The tool offers a lot of useful features to back up the positive reviews.
Starting up with CleanMyMac X
But despite their usefulness, too many features can overwhelm users. Therefore, initiate the cleaning process with the "Smart Scan" post-installation.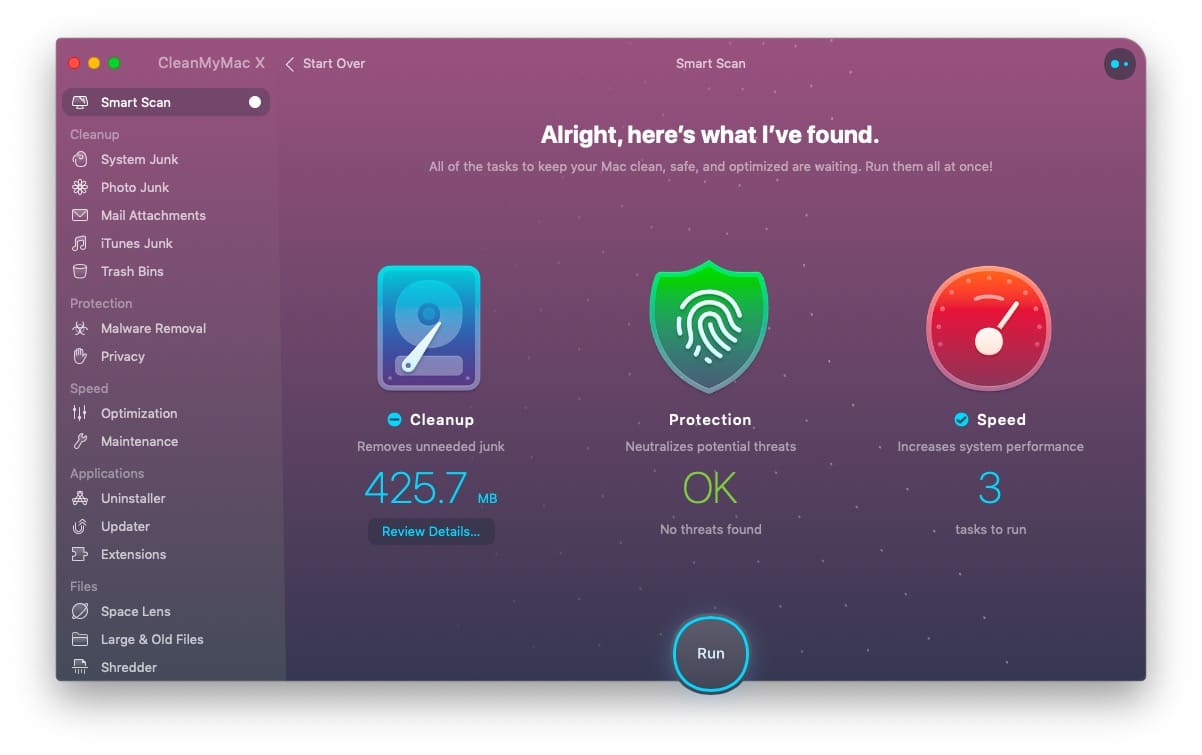 Smart Scan is an amalgamation of multiple cleaning processes that not only review the system for junk files but also scans for potential security threats and performance issues.
Once the scan is complete, users can either review the junk files and untick the ones that seem necessary or simply press the "Run" button to let the app intelligently clean the Mac.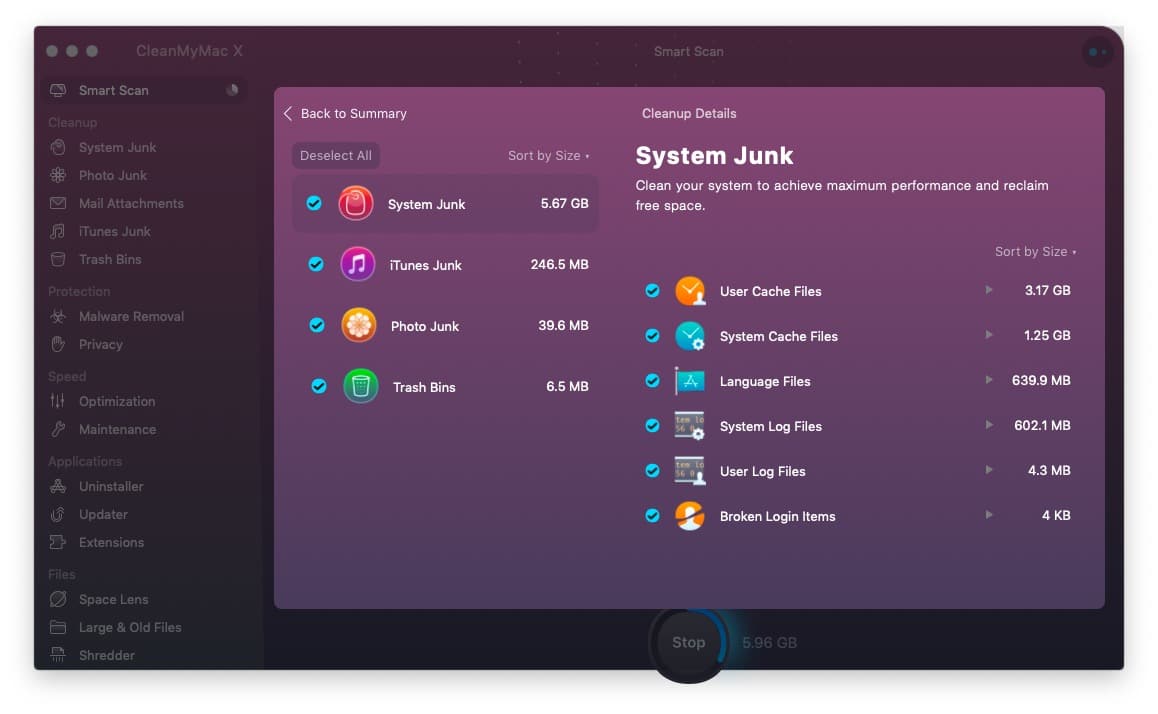 The Smart Scan process also boosts the system's performance by running maintenance scripts, flushing DNS cache, and halting memory-hogging tasks.
CleanMyMac X's Smart Scan is for people who want to optimize their mac as quickly as possible. However, users who can pinpoint the issues in their Mac can head to multiple cleaning tools, featured below the Smart Scan option.
The one-for-all junk cleaner
One of the core functions of the app cleaner is to trace junk files hiding deep into the macOS folders and remove them with a single command.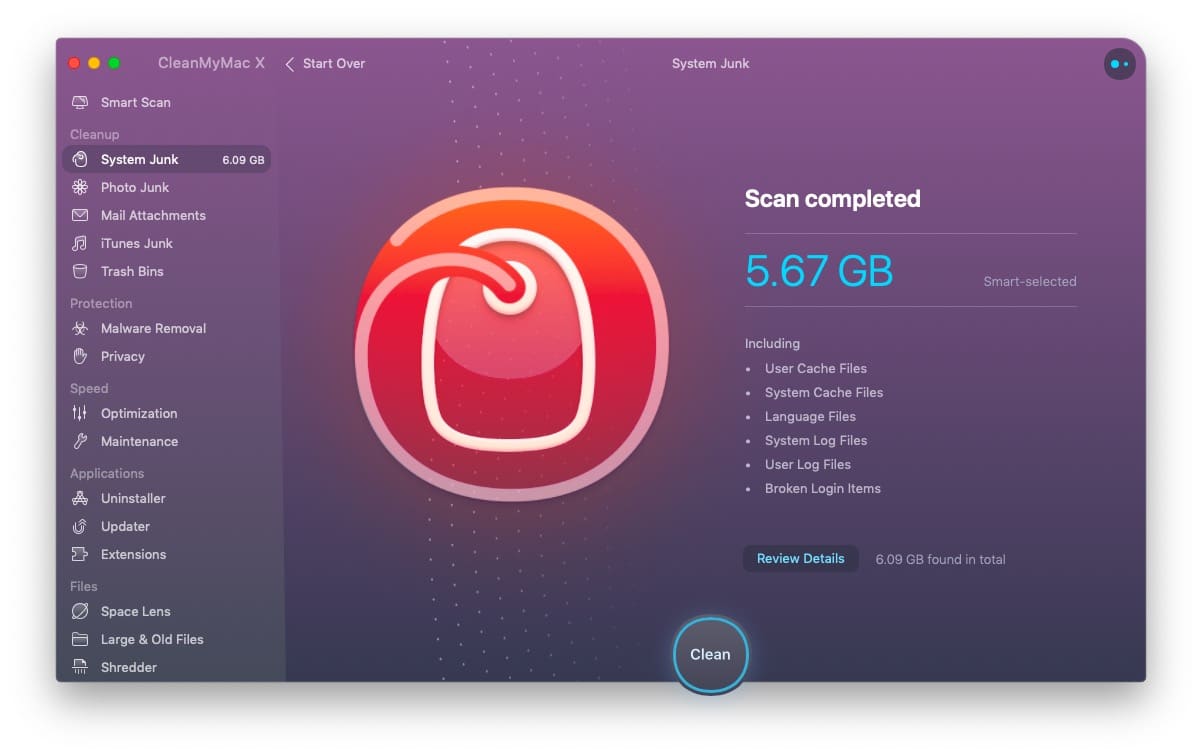 CleanMyMac X cleans undesired system files, cache files, broken downloads, logs, etc. The app includes a Photo Junk Cleaner as well as iTunes Junk Cleaner to delete cache files within the macOS apps.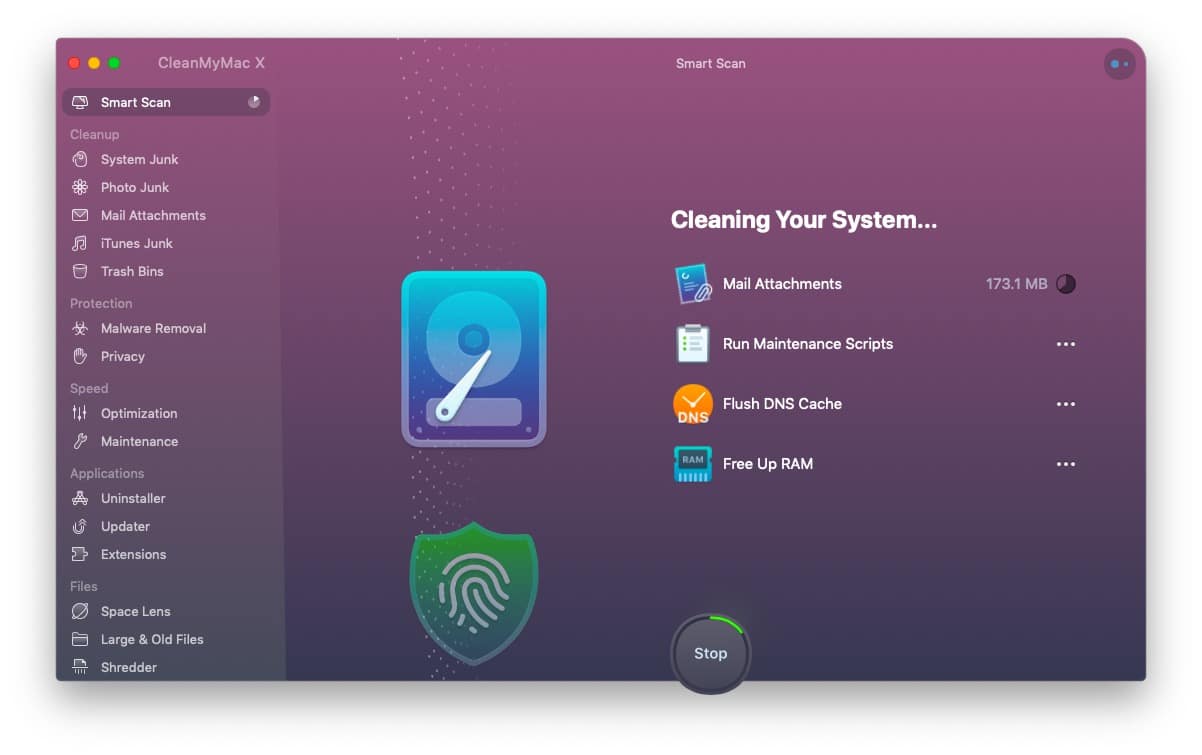 The cleaner section includes a mail attachments cleaner as well that, of course, cleans undesired attachments downloaded over time.
Is Mac running slow? Here is the remedy
CleanMyMac X is one of the few macOS cleaners that features memory cleaning tools, other than a junk cleaner.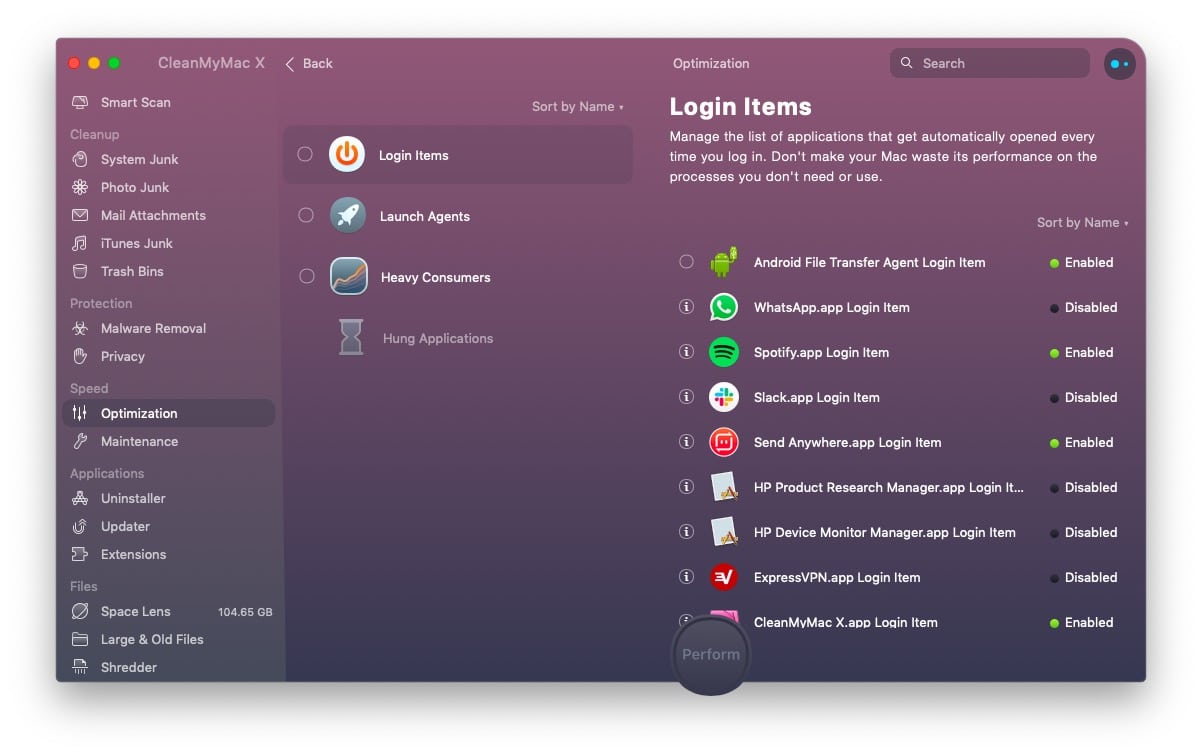 Under the optimization settings, the Mac cleaner app showcases all the applications that slow the system at the login period. Other than that, you can also shut down large memory eating apps under the same settings. Using these functions, users can improve the macOS performance in the long run.
But what if the mac is acting up a lot and you want an instant memory boost; In that case, jump over the maintenance section to free up RAM.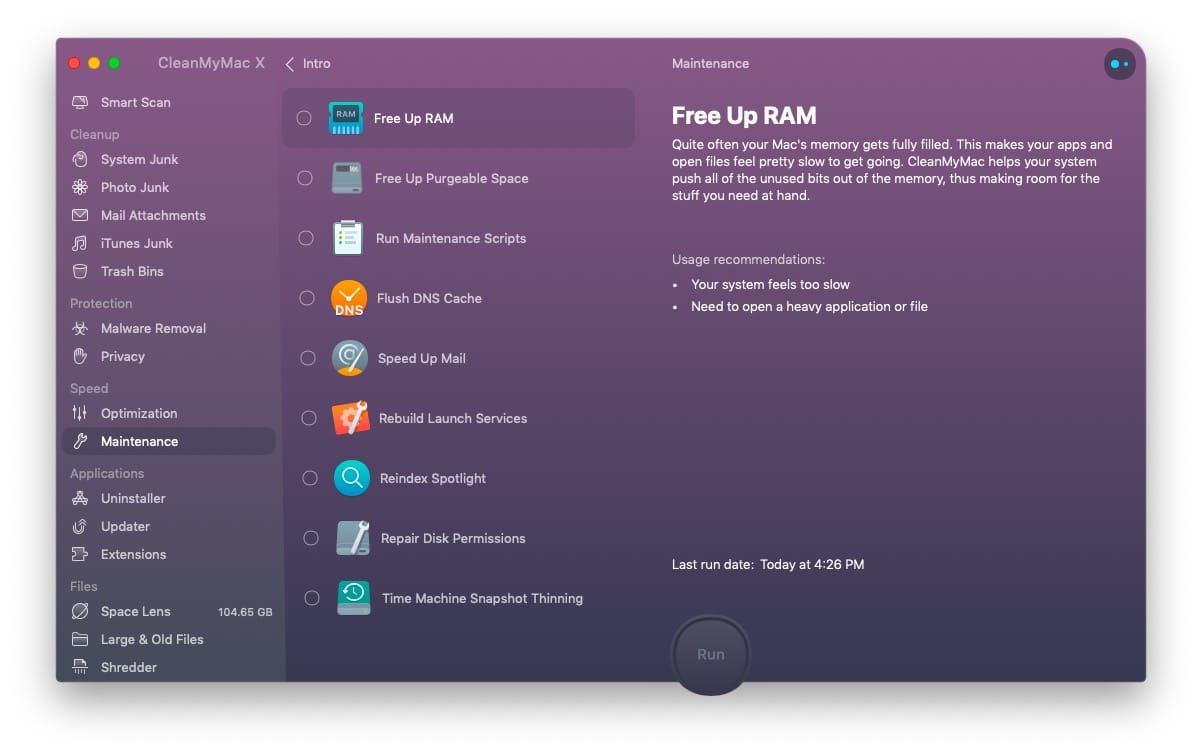 Apart from cleaning up RAM, you can also run maintenance scripts, flush DNS cache, repair disk permissions, and lot more; all of it would help in boosting the memory.
Application uninstaller for macOS
Users' biggest complaint with macOS has been the system's inability to remove entire applications, including all their associated files.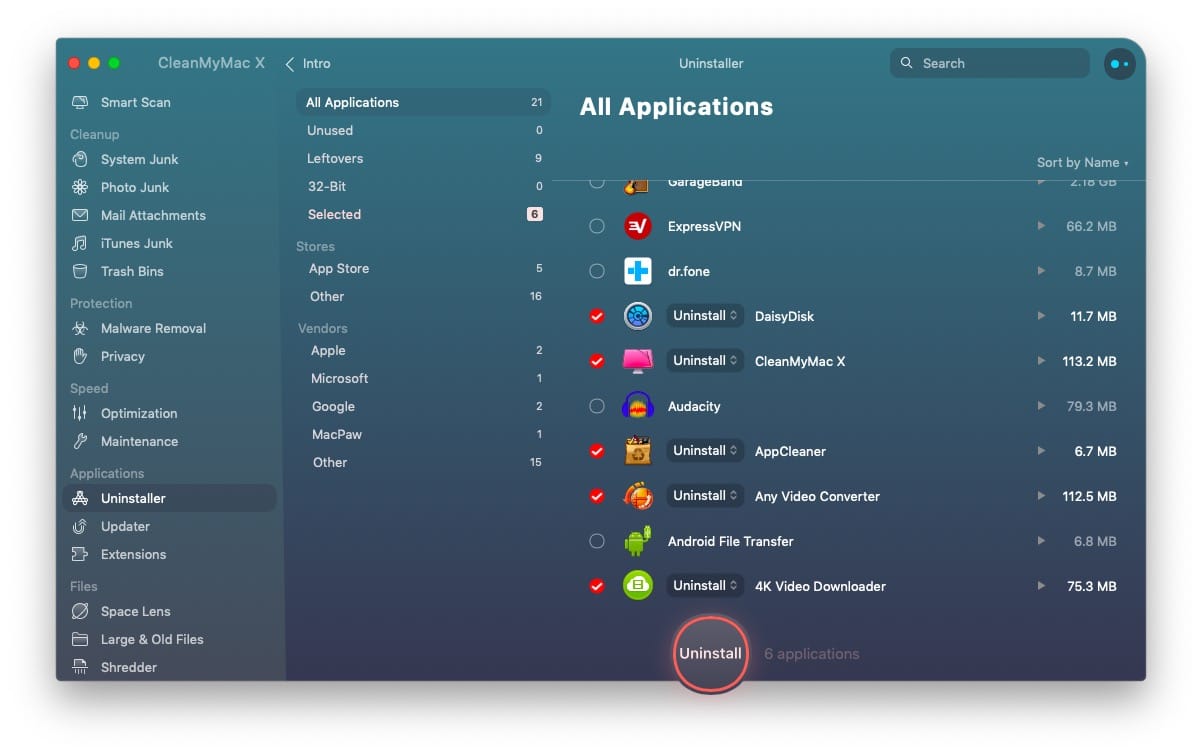 CleanMyMac solves that problem with its Uninstaller. The feature enables users to remove applications, along with all the remaining trash such as binaries, logs, installers, cache, etc.
Right below the Uninstaller, there is also an App Updater that allows users to update macOS apps as well as perform system updates.
Down to every file
While I have often recommended DaisyDisk free version for targeting specific files, CleanMyMac X's Space Lens is a great option as well. The feature draws a visual representation of your storage, listing folders in multiple circles.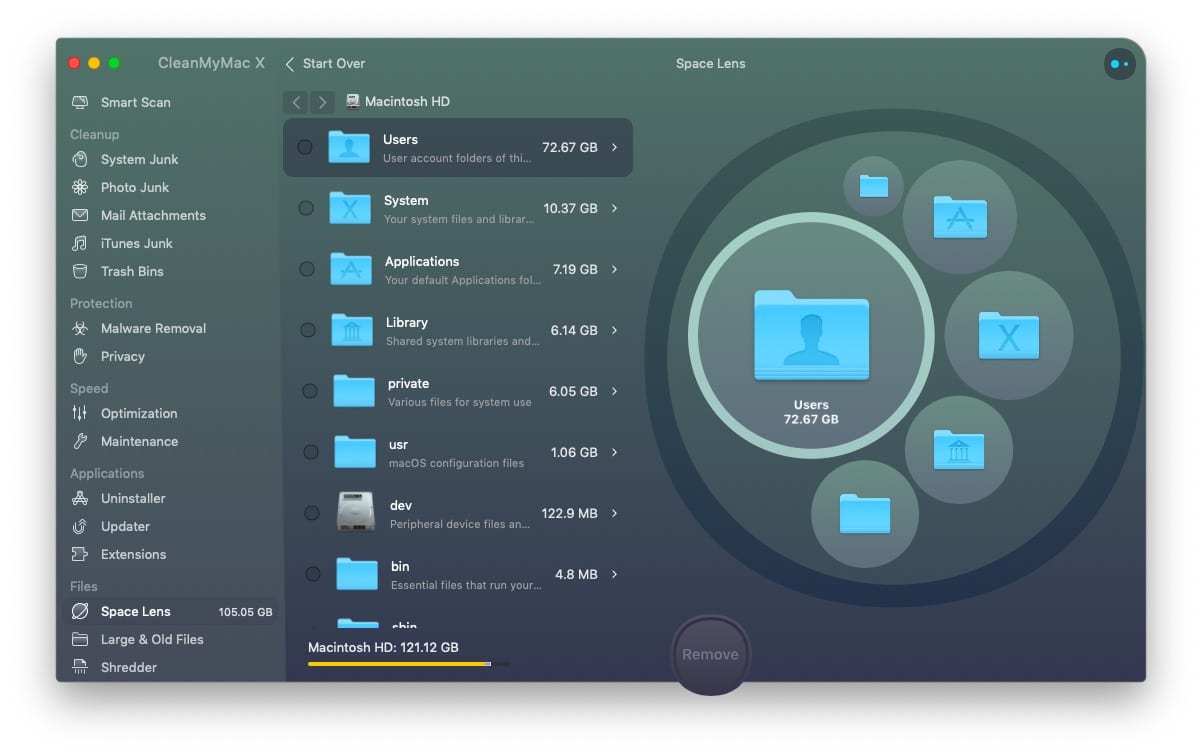 However, if it's about finding and deleting large files, users can also use the Large & Old Files feature. The highlight of this feature is that users can find out the least visited files by sorting them through the access date.
Protection from malware and hackers
Malware could be one of the reasons why your Mac is running slow. Despite macOS multiple security measures, a virus can enter the system through apps or files. Thankfully, CleanMyMac X features a malware remover that looks for bad actors crawling in the user's systems.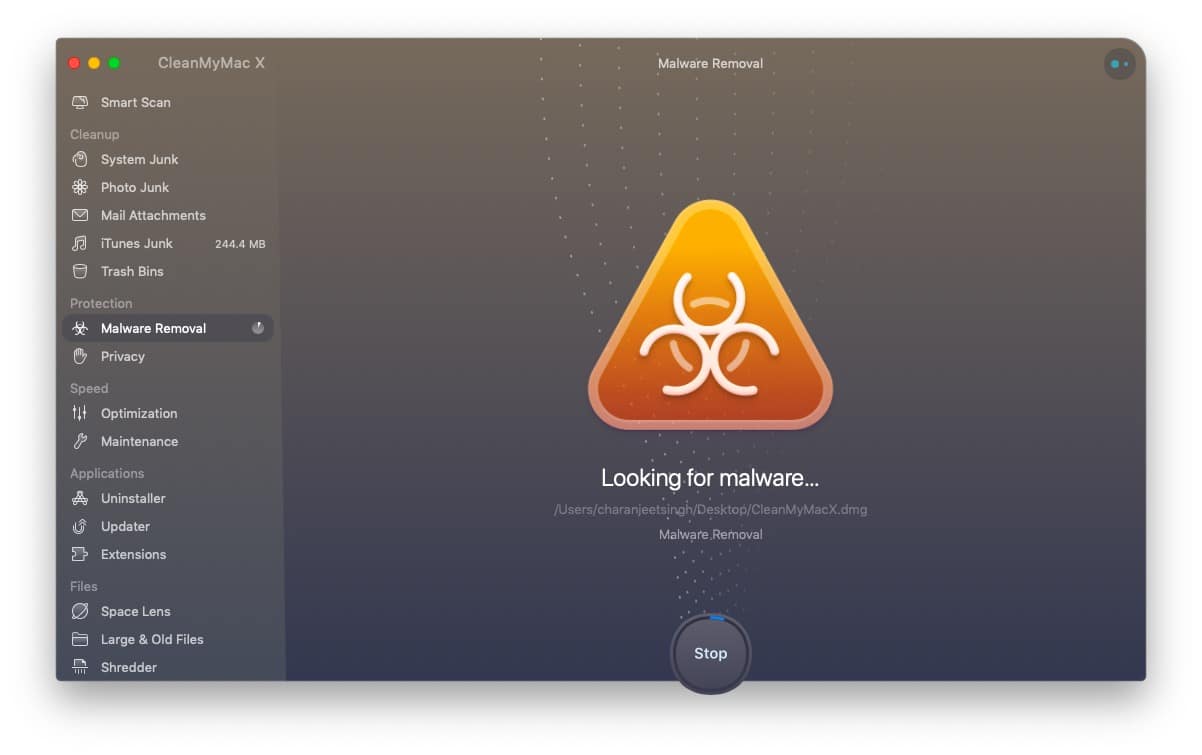 CleanMyMac X also protects users from potential privacy threats. It keeps track of unsecured WiFi networks, locally stored data after using Internet browsers, and more.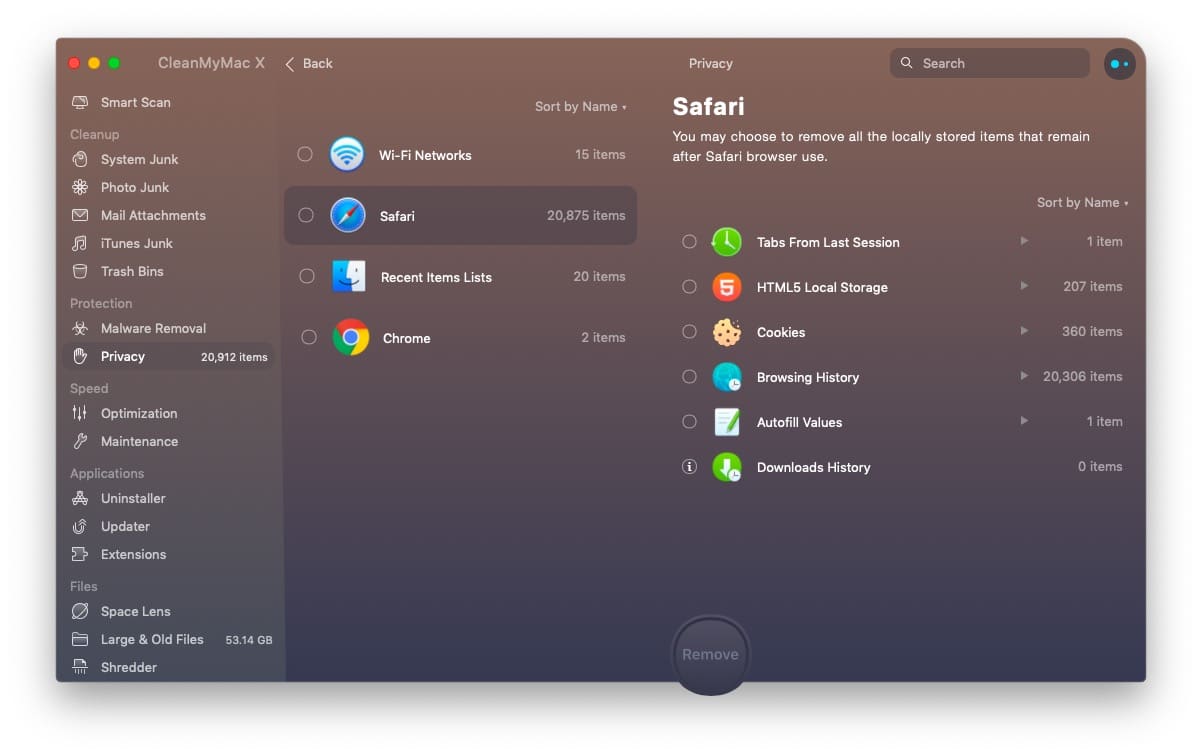 With so many useful cleaning features coupled with the aesthetic and easy-to-use interface, CleanMyMac is surely an all-rounder cleaning app for macOS.
CleanMyMac X Pricing
| Pricing | 1 year | Lifetime |
| --- | --- | --- |
| 1 Mac | $39.95 | $89.95 |
| 2 Macs | $79.90 | $179.90 |
| 5 Macs | $199.75 | $449.75 |
Macaw regularly keeps deals on its website, through which you can buy the CleanMyMacX license at a ridiculously lower rate. For instance, the 5 Macs lifetime subscription is going out for $199.95, half the original price as of now.