Earlier this year, Facebook rolled out the new version of its site for the global users, and it was almost inevitable that the Classic Facebook (the old version) would part ways one day. Well, that day is about to come soon.
The social media giant has started throwing notifications in users' profiles, announcing that the Classic Facebook interface will be discontinued and become inaccessible for everyone starting this September. It's yet to be known whether it will be a gradual process, or Facebook would just press the OFF button on September 1.
Here's the screenshot posted by a user on Twitter:
In the notification, Facebook is also asking users for feedback on whether the new Facebook.com has made their lives easier.
However, there are other places where Facebook has mentioned that the old version will go away in September. For instance, the drop-down menu in the top-right corner when you switch back to the old UI.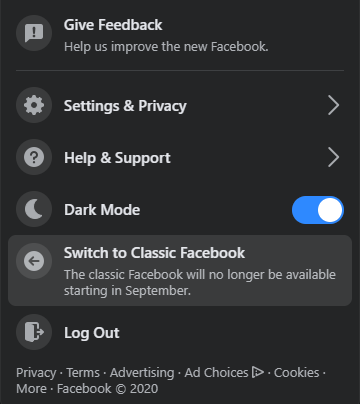 The new Facebook.com started rolling out to the users in May and brings major UI changes on to the table. For the first time, Facebook has made a big shift from its mostly blue-colored interface.
As you might already know, the older Facebook interface was blue-themed because its co-founder and CEO Mark Zuckerberg is red-green color blind, and blue is the color he can see the best.
But the change was long-due as the social network has crossed more than 2 billion users across the globe. The new UI has everything from icons, text, and other elements bigger in size with a cleaner look to top it off.
The content now seems to load faster, and the new streamlined navigation buttons at the top are closer to what we see on the Facebook mobile app. It even comes with support for dark mode, just many apps, and services on the web.