Earlier this month, Google Chrome celebrated its 10th anniversary by announcing Version 69 that comes with many new features such as a revamped design, powerful Omnibox, an updated password manager, etc.
With the beta version of Chrome 70 on the roll, Google has added yet another useful feature to make signing into the websites easier. As announced in an official blog post, Chrome now supports 2-factor authentication in Android and Macbook with the device's fingerprint sensor.
The freshly introduced web authentication API prompts fingerprint reader everytime you visit a website that supports authentication. This could prove to be a pretty useful feature as you would not need to fill in passwords every time you want to log into a website.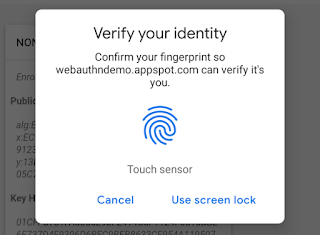 Another notable change introduced in Chrome beta 70 is the trial of 'Shape Detection Origin' API. The API comprises three different APIs that are used for detecting faces, barcodes, and text in images. This will improve the device's shape detection capabilities and will allow developers to gather the three types of data without using a performance killing library.
Chrome 70 is expected to be released sometime in mid-October.
Also Read: Google Pixel 3 "Coming Soon" Teaser Shows Its Color Variants