Google is going to crack down on websites that hide billing information that is charged on users' monthly mobile bill. Starting with Chrome 71, Google will show a full-page warning to users who access web pages that come with deceiving mobile subscription forms.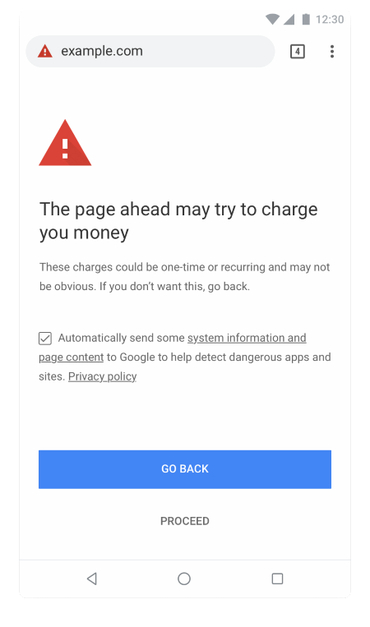 Several websites let users pay for visiting their website by entering their phone number into a form — which in turn charges the user by adding the fee to their monthly mobile or telephone bill.
Although consumer protection law demands that such websites show the billing details clearly to the user before signing in. Several websites with mobile subscription pages use deceiving methods to disguise the fact they are charging users.
Sometimes they display the info in the same color as the page's background, use very small letters, or show the information off-screen to fool users into paying.
The worst ones don't even bother informing users that they are being charged by using forms that require you to "enter a phone number to access site."
Google Chrome 71 will identify such websites and warn users of the possibility of getting duped whenever they try to visit such shady websites or while buying or subscribing to a new service.
This warning will be displayed on both desktop and mobile browsers. So website owners who have registered their site through the Google Search Console service should visit their dashboards to see whether the mobile subscription forms on their sites trigger this warning.