Short Bytes: Chloe Bridgewater, a resident of the United Kingdom, sent a handwritten letter to the Silicon-based company Google telling them she would like to work there in the future. In return, she got a personal, printed reply from Google CEO Sundar Pichai. Chloe's father Andy Bridgewater shared the details in a post.
W
ho won't like a workplace having spaceships, slides, go-karts, rooms filled with sponge balls? So, is the case of the seven-year-old girl Chloe Bridgewater from Hereford, United Kingdom.
One day, she wrote a sort-of job letter to Google boss after taking career advice from his dad who is a sales manager at a refrigeration hardware firm in the UK. "When I am bigger I would like a job with google," she wrote in the letter. Other than her Google dreams, Chloe wants to be a swimmer in the Olympics and work at a chocolate factory.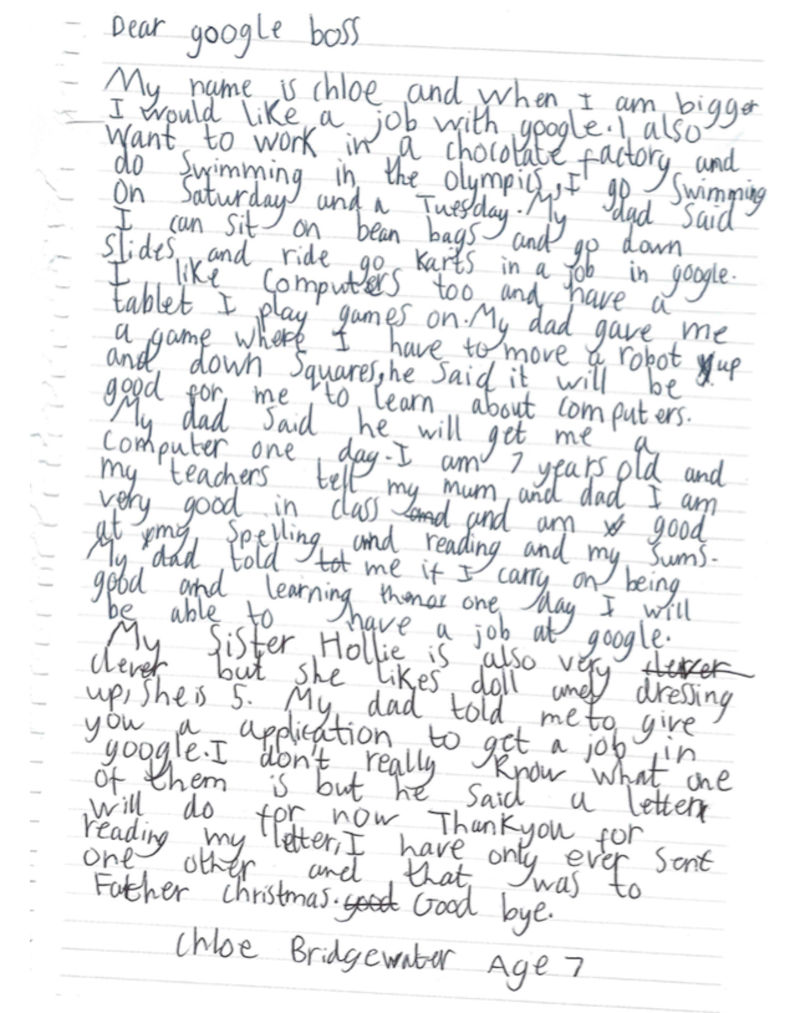 Chloe received a personal response from Google CEO Sundar Pichai. Pichai said he would wait for her job application in the future. For now, she should work hard and follow her dreams.
Also Read: Trash Dove: Here's Why The Internet Is Going Crazy Over This Purple Bird
In his LinkedIn post, Andy said Pichai's response (confirmed by Business Insider) has acted like a confidence booster for little Chloe who was hit by a car a couple of years ago. He thanked Pichai for stealing some minutes to "make a little girl's dream become one step closer."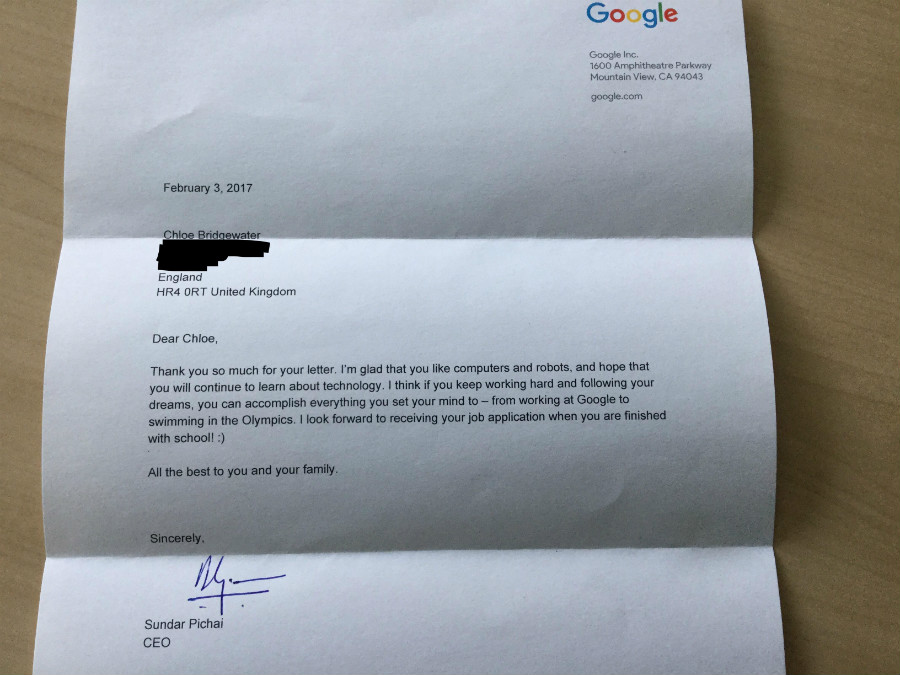 According to Andy, Chloe might not be fully aware of the hard work required to get all the perks at Google. For that, he wants her to focus on her studies and improve her skills rather than getting lost in the limelight.
This is not the first time Google has replied to a kid's hand written letter. In 2014, a Google employee's girl Katie sent a letter on behalf of his dad so that he could get a day off on his birthday. In return, Google gave him a full week off.
If you're aware of any interesting stories like this, share it with us. Don't forget to drop your feedback.
Bonus: Legendary Nokia 3310 Is Coming Back
https://www.youtube.com/watch?v=INxbsW4UL24