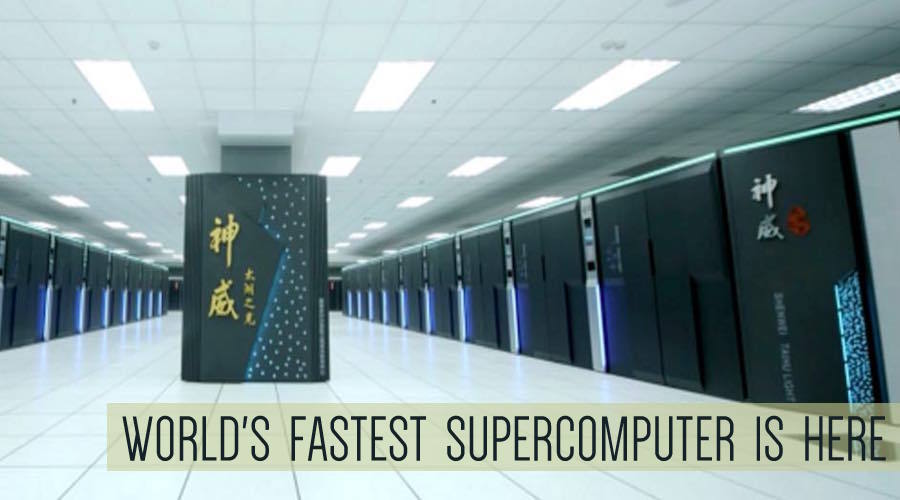 Short Bytes: China has surprised everyone by developing TaihuLight, the world's fastest supercomputer, beating its own Tianhe-2. The new machine is made by China using its homegrown processors after the U.S. banned the export of Intel chips to the country. TaihuLight runs at a staggering 93 petaflops per second and features 10.65 million processor cores.
T
he top 500 ranking of the world's most powerful supercomputers was introduced 23 years ago. For the first time in history, China has toppled the US to become the country with the most entries on the list. Now, China has 167 machines on the list, compared to the U.S.'s 165.
The new Chinese supercomputer has beaten another Chinese machine that ruled this list for the past three years. Called TaihuLight, this supercomputer is about three times more powerful than the previous record-holder. Compared to the fastest U.S. supercomputer Cray XK7, that ranks 3rd, TaihuLight is five times faster.
The latest supercomputer rankings were released today at International Supercomputer Conference in Frankfurt.
Another important thing about TaihuLight is the use of homegrown Chinese chips. After the U.S. banned the export of Intel chips last year, China decided to use its superconductor technology.
The Sunway TaihuLight supercomputer was developed at the National Research Center of Parallel Computer Engineering and Technology (NRCPC). TaihuLight features the Made In China SW26010 processors that are said to be similar to the Digital Alpha chip.
TaihuLight has more than 40,000 chips with 10.65 million processor cores stacked in 40 cabinets. Compared to this, the fastest supercomputer of the U.S. has just 560,000 cores.
This beast showed a capacity of 93 petaflops per second on benchmark tests, which is about three times faster than past record-holder Tianhe-2.
If you think that the U.S. is simply sitting and watching these developments, read the next sentence. The American government has already granted a $200 million contract to Intel and NVIDIA to build a 150 petaflop machine.
Linux continues to rule supercomputing world:
Out of the top 500 supercomputers in the world, 497 run Linux. Even the three remaining machines are powered by Unix.
10 Fastest Supercomputers In The World
RANK
SITE
SYSTEM
CORES
RMAX (TFLOP/S)
RPEAK (TFLOP/S)
POWER (KW)
1
National Supercomputing Center in Wuxi
China
Sunway TaihuLight – Sunway MPP, Sunway SW26010 260C 1.45GHz, Sunway
NRCPC
10,649,600
93,014.6
125,435.9
15,371
2
National Super Computer Center in Guangzhou
China
Tianhe-2 (MilkyWay-2) – TH-IVB-FEP Cluster, Intel Xeon E5-2692 12C 2.200GHz, TH Express-2, Intel Xeon Phi 31S1P
NUDT
3,120,000
33,862.7
54,902.4
17,808
3
DOE/SC/Oak Ridge National Laboratory
United States
Titan – Cray XK7 , Opteron 6274 16C 2.200GHz, Cray Gemini interconnect, NVIDIA K20x
Cray Inc.
560,640
17,590.0
27,112.5
8,209
4
DOE/NNSA/LLNL
United States
Sequoia – BlueGene/Q, Power BQC 16C 1.60 GHz, Custom
IBM
1,572,864
17,173.2
20,132.7
7,890
5
RIKEN Advanced Institute for Computational Science (AICS)
Japan
K computer, SPARC64 VIIIfx 2.0GHz, Tofu interconnect
Fujitsu
705,024
10,510.0
11,280.4
12,660
6
DOE/SC/Argonne National Laboratory
United States
Mira – BlueGene/Q, Power BQC 16C 1.60GHz, Custom
IBM
786,432
8,586.6
10,066.3
3,945
7
DOE/NNSA/LANL/SNL
United States
Trinity – Cray XC40, Xeon E5-2698v3 16C 2.3GHz, Aries interconnect
Cray Inc.
301,056
8,100.9
11,078.9
8
Swiss National Supercomputing Centre (CSCS)
Switzerland
Piz Daint – Cray XC30, Xeon E5-2670 8C 2.600GHz, Aries interconnect , NVIDIA K20x
Cray Inc.
115,984
6,271.0
7,788.9
2,325
9
HLRS – Höchstleistungsrechenzentrum Stuttgart
Germany
Hazel Hen – Cray XC40, Xeon E5-2680v3 12C 2.5GHz, Aries interconnect
Cray Inc.
185,088
5,640.2
7,403.5
10
King Abdullah University of Science and Technology
Saudi Arabia
Shaheen II – Cray XC40, Xeon E5-2698v3 16C 2.3GHz, Aries interconnect
Cray Inc.
196,608
5,537.0
7,235.2
2,834
Source: Top500.org
Did you find this article interesting? Don't forget to drop your feedback in the comments section below.