Short Bytes: The Chinese authorities are forcing its Muslim minority population in Xinjiang to install spyware on their smartphones. People are getting notices via WeChat and being instructed to install the app to avert detention up to 10 days. The app regularly scans the media stored on the phone and matches it with a database illegal and terrorist-related media.
A
large portion of China's Muslim minority population resides in its Xinjiang region. It's home to many other minorities and famous for the ancient Silk Road trade route which passed through it.
Now, in a surprising development, the residents of Xinjiang are being forced to install spyware applications on their smartphones. The Chinese government has increased the surveillance levels and as a direct result, the authorities are sending instructions to Muslim citizens to install a surveillance software on their smartphones, according to Mashable.
Moreover, the authorities are conducting spot checks to make sure that people are having the app installed on their phones. For sending the notices, WeChat is being used. They are asked to scan the QR code shown in the notice and download the Jing Wang app.
Shown below is a notice written in Uyghur and Chinese: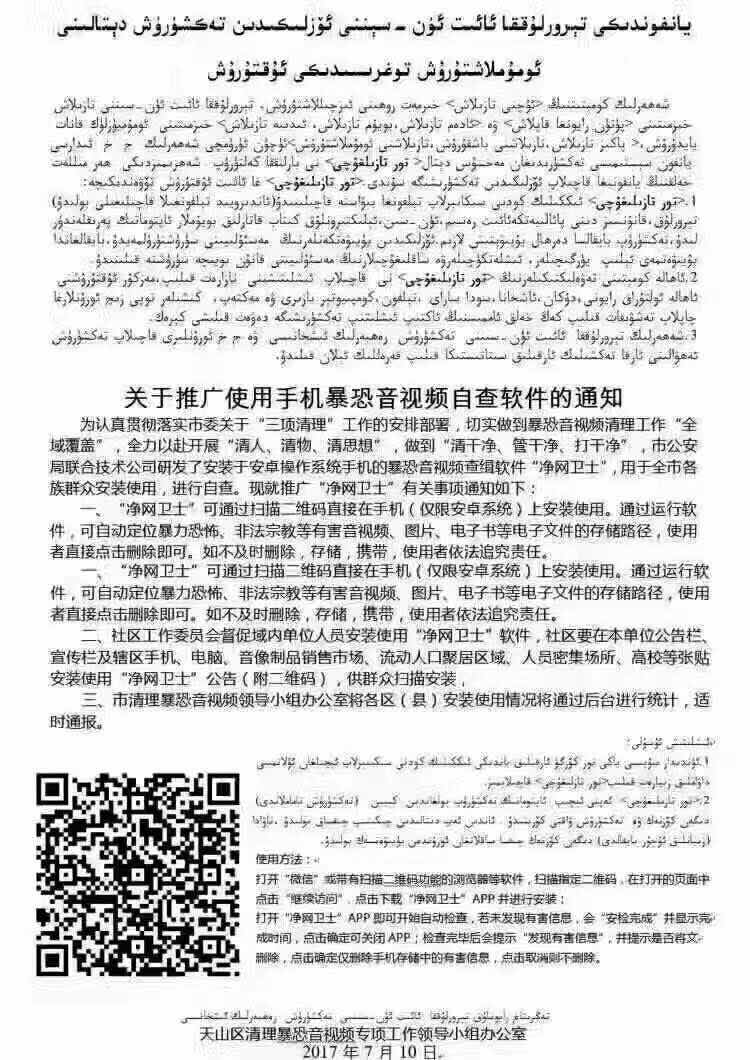 The Twitter users are also claiming that the people who would refuse to install the app or delete it, would be detained for up to 10 days.
新疆各部手机检查安装净网卫士官方软件,短信通知十日内安装,临检发现没安装拘留十天,科技倒退,逼老百姓用老年机,什么叫禁锢,这种全面监控就是禁锢。回到长毛时代 pic.twitter.com/zUnLXc9tFA

— 即时大陆映像✊✊✊推特党🕊 (@o66071443) July 18, 2017
Just in case you are wondering about the things Chinese government wishes to achieve with the help of this app, it regularly scans the MD5 signatures of the media in the phone. That media is then matched with a stored database of the files classified as illegal and terrorist-related media.
The government had already taken other oppressing steps in the past, including the banning of veils and growing long beards.
Have something to add to this story? Don't forget to share your views.