The habit of texting while walking on the road is becoming more common day by day. Realising the seriousness of the issue, a city in China has introduced world's first separate "cellphone lane" for texting pedestrians.
This idea came up in the Chongqing city of China where the city authorities have designated a 30 metre (100ft) "cellphone lane" for people who use their phones while walking.
"First mobile phone side-walks in China," is written next to it. In the lane very next to it, a 'no cellphones' sign is marked on the lane to distinguish the people.
The inspiration behind the dual side-walk supposedly comes from National Geographic in the U.S., where it created a similar divisions on a section of footpath in Washington, D.C., in July to study the pubic behaviour. But the Chinese city has applied the idea in a real sense.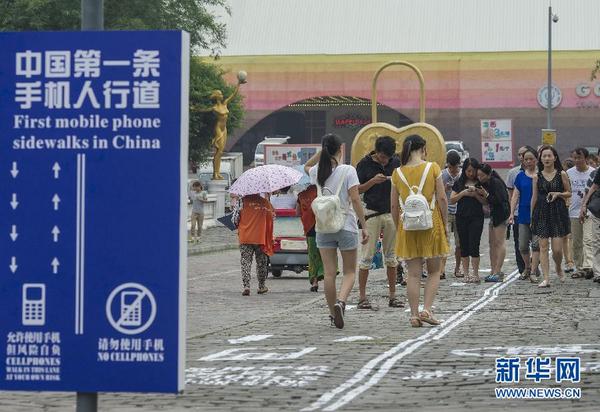 In 2013, a study at the Ohio State University found that distracted walking injuries in the US are rising at a fat pace. This careless habit caused 1,506 accident in US 2010, up from 256 in 2005. The teenagers are the most likely to be affected.
According to a report in the Telegraph, local officials created the lane to remind pedestrians that "it is best not to play with your phone while walking.
This may seem awkward at first, but this could have some advantages of its own in the long run.
Also See: Pee-proof Wall Says: "Don't Pee On Us. Our Nano-paints Pee Back"
---
Feel free to give comments about this texting pedestrians.
Stay tuned for latest technology news from fossBytes!
---