I
n the ecosystem of devices running Google's mobile operating system, "Certified Android Device" is the new buzzword introduced by the company.
As an effort to build users' trust on the manufacturers and their Android devices, the certification assures that the Android devices they're purchasing are checked for compatibility and doesn't include anything malicious.
At the center of the certified Android devices program is Play Protect launched earlier this year, which offers automatic app scanning and 'Find My Device' features.
Google says they make sure that Android phones and tablets from their certified device partners stick to Android's security and permissions models. By running hundreds of tests, the company tries to eliminate the possibility of the devices carrying malware or some adulterated version of pre-installed Google apps.
How to check if you have a certified Android device?
To spot a certified Android at a retail store, according to an earlier blog post by Google, the certified devices would carry a Google Play Protect logo on the packaging.
If you already own an Android phone and want to check whether it's a certified Android device, you can do so within the Google Play app. Go to Google Play > Settings. Scroll down to the bottom of the Settings screen to find the certification details under "Device Certification".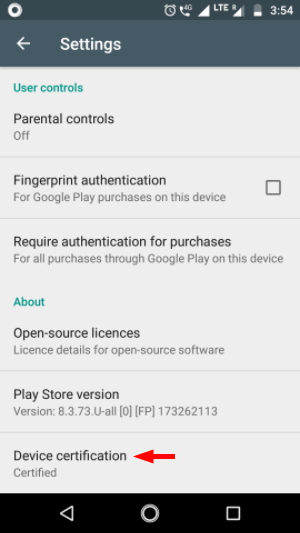 Currently, there are 100+ partners who are making certified Android devices for their markets. The list includes the likes of Samsung, Motorola, HTC, LG, HMD, Xiaomi, etc. You can check the complete list here which includes other not-so-common brands.
The company has also set up a website that flaunts features of the certified Android devices.
Do you have something to add? Drop your thoughts in the comments.