A report by the Center for Countering Digital Hate (CCDH) says that big social media platforms failed to act on more than 80% of posts reported for anti-Jewish hate. The report is based on results from Facebook, Instagram, Twitter, YouTube, and TikTok.
In the CCDH Report titled "Failure To Protect", the organization recorded a total of 714 posts of anti-jewish hate from the above-mentioned social media platforms. They then reported these posts and waited for the platforms to act on the reports. Sadly, according to the CCDH audit, the platforms failed to act on 84% of anti-Jewish hate content.
Anti-Jewish Hate On Social Media

The table above shows the number of anti-Jewish hate posts reported by CCDH. Collectively, these 714 posts add up to 7.3 million impressions. Most of these hate posts are reported on Instagram and Facebook, closely followed by Twitter. The most number of impressions, or the times someone saw these hate posts were on YouTube and TikTok.
The CCDH report says that the posts were searched using known antisemitic keywords and hashtags. In an ideal world, social media giants should've been able to catch these posts first and take the appropriate action.

CCDH says that they searched for the 714 posts under question between 28 May and 29 June. However, when it comes to taking action, anti-Jewish hate on social media seems to be struggling to become a priority. Out of the 714 posts reported by CCDH, only 114 were acted on. This is less than 20% of the reported posts. Most numbers of posts were removed by TikTok (16 posts) followed by Instagram (15 posts) and Twitter (9 posts).
Facebook Fails Its Holocaust Commitment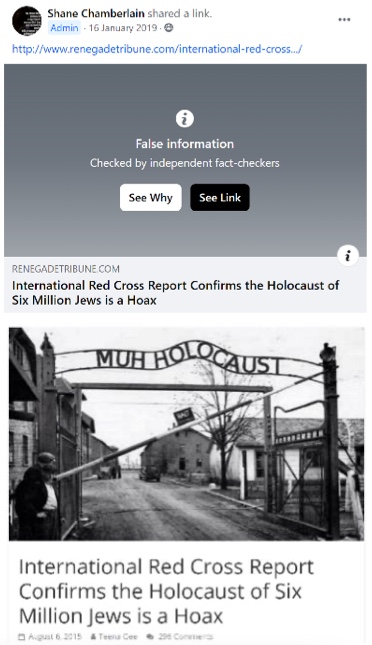 Aside from the hate posts, social media also has a ton of conspiracy theories. The report says that social media failed to remove 89% of such conspiracy theories. CCDH has even attached a screenshot of Facebook labeling a Holocaust denial post instead of removing it.
This goes completely against the company's recent policy update, where it announced the removal of Holocaust denial content. Both Facebook and Twitter updated their policies to remove the content deny or distorts the Holocaust.
However, Facebook seems to be failing at the commitment, seeing a Holocaust denial post was left online after labeling it as misinformation. On the other hand, seeing how social media failed to act on over 90% of the reported content, Facebook alone is not to blame.
Coming to Twitter as well, we recently reported how Twitter took 3 years to remove a creepy account. Social media hate or anti-Jewish hate on social media is a major issue today. The platform's inability to remove these posts helps in the spread of misinformation.