Diesel Trucks sit at the top of the air-polluting vehicle list. These massive machines with big engines are capable of carrying thousands of pounds easily, but at what cost? The world is switching to electric vehicles, but there is still no alternative for diesel trucks. However, the upcoming Tesla Semi electric truck could be one solution.
The Tesla Semi electric truck was first revealed on November 16th, 2018, along with Tesla Roadster by CEO Elon Musk. Apart from its jaw-dropping design and looks, the electric truck has some impressive specs that confirm its potential to change the truck industry forever.
Before moving forward, let's have a sneak peek at its specifications.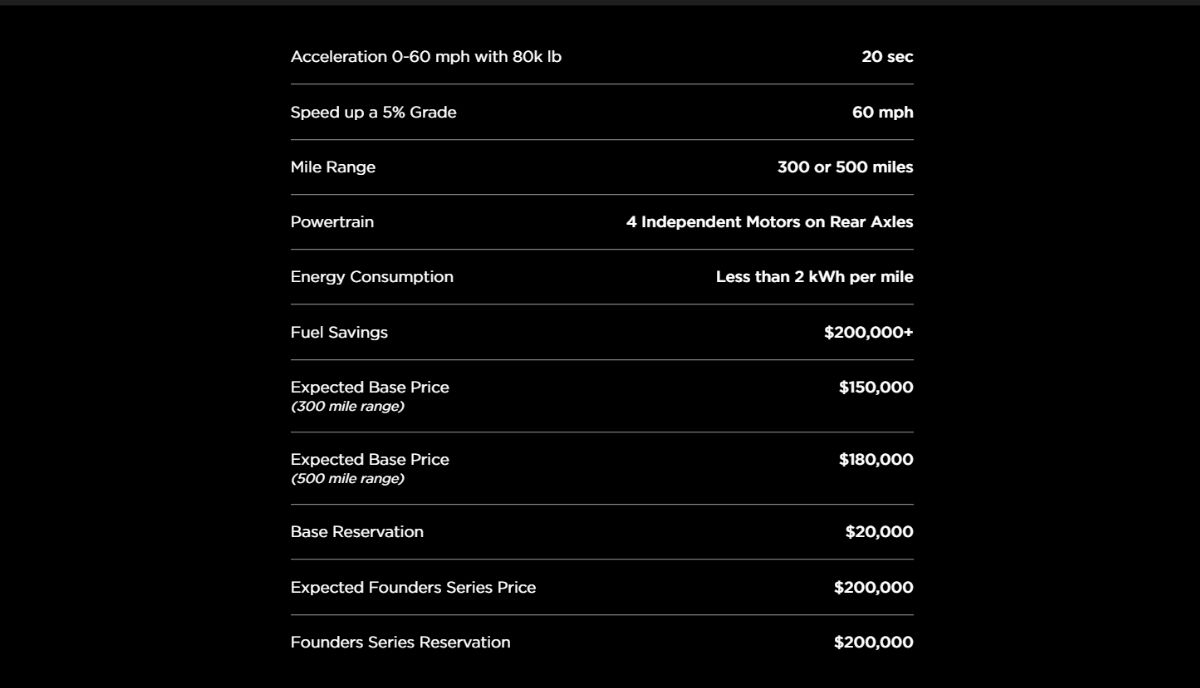 One of the things that Tesla doesn't mention is that it's not clear what the weight of the electric truck is. Apart from this, there is also no mention of horsepower. The Semi can pull 80,000 pounds of weight, but again, however, the weight of the truck itself still remains a mystery.
How Can The Tesla Semi Electric Truck Be Revolutionary?
The diesel trucks typically have an average range of 1200 miles in one full tank. On the other hand, the Tesla Semi electric truck has a comparatively smaller battery range of between 300 and 500 miles. However, according to a 2018 report, Elon Musk said the Tesla Semi would have a range of about 600 miles.
It's already 2020 now, and the rate by which Tesla is growing and improving, it is quite possible for the Tesla semi to have an improved range of at least 600 miles when it hits the market.
As per the source, in most countries, drivers must take a break every few hours while driving. In the case of electric trucks, these breaks will give enough time for drivers to charge their truck while having some rest.
Also, according to several truck drivers, it takes around one hour waiting in line for their trucks to get filled up at the stations, so he would prefer charging one hour in the electric truck instead of waiting in the line of diesel trucks.
According to Tailosive EV, an electric car expert in Europe, you cannot drive a truck between midnight Sunday and 10:00 pm due to noise and air pollution, due to government rules. The Tesla Semi, being an electric truck, is an entirely noise-free and zero-emission vehicle. Furthermore, construction work on Gigafactory Berlin is also ongoing so it might be possible for Elon Musk and Co. to manufacture Tesla Semi electric trucks there.
On the other hand, Tesla Semi will be loaded with features, and Tesla's autonomous driving is already on a different level.
We will know the intensity of Tesla Semi's impact on the market only when it is launched. But it's inevitable that eventually, everything will be electric in the future.