If you are a billionaire who still cannot afford a decent sofa, the kind netizens are here to help you. This is what happened to Elon Musk, whose net worth is $20 billion, when he revealed his very uncomfortable-looking couch in an interview with CBS.
With pressure mounting on Musk due to the delayed production of Tesla Model 3, the tech billionaire has been working round the clock to put the company back on its track.
Referring to the strenuous work as "production hell," he has even admitted to sleeping on a couch in a conference room at his Tesla factory in Fremont, California.
The video shows a terrible looking couch which must be difficult to sleep on and Musk confessed that he had to sleep on the floor because the couch was too narrow.
Seeing this, a good samaritan named Ben Sullins initiated a GoFundMe campaign to help the 54th richest man in America buy a new couch.
"Elon Musk is transforming our world to run on sustainable energy and use sustainable forms of transportation," wrote Sullins. "As a community, we cannot let this stand. Let's band together to buy Elon a new couch to sleep on!"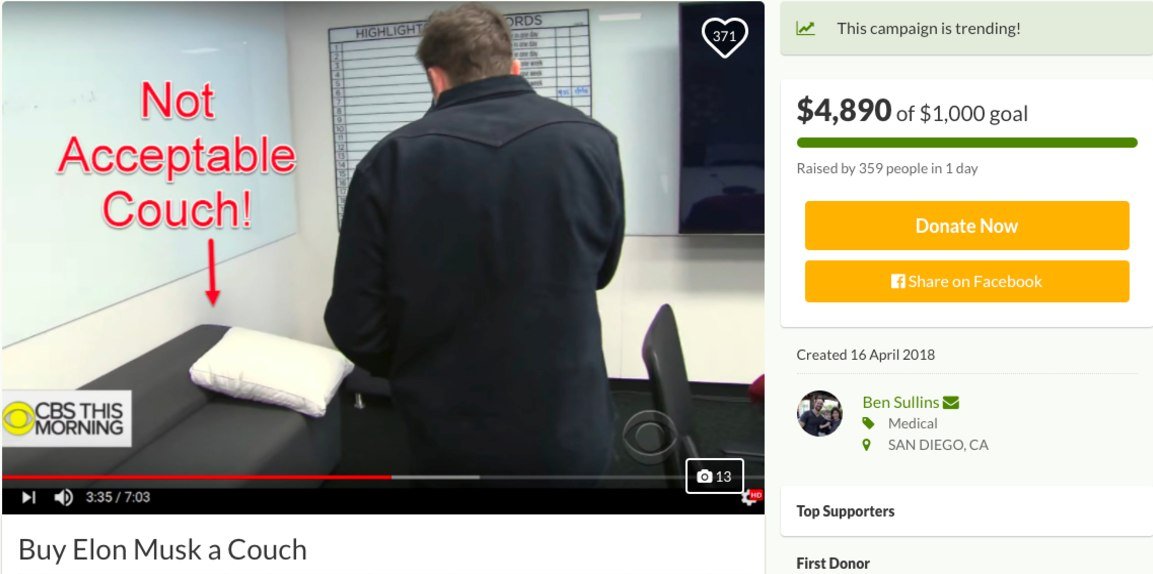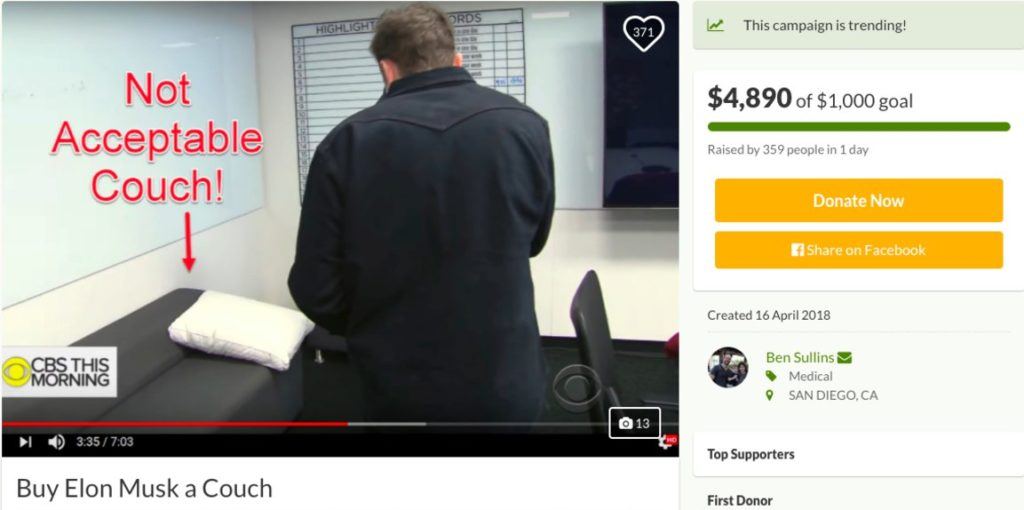 Even though the man does not need a handout, it did not stop people on the internet from donating money to buy him a couch. The campaign titled "Buy Elon Musk a Couch" has already surpassed its $1,000 goal and reached $4,890 in just one day with donations from 359 people.
Sullins even has a plan to hit up Musk on Twitter and handover the new couch personally if he agrees to accept the gift. In case he refuses, the donations will be given to charity.