A few days back, Activision announced Call of Duty: Black Ops Cold War and also released a trailer for the game. As advertised in the trailer, the upcoming Call of Duty title will be based on real historical events. That's why the 2:02 extended game trailer featured several archival footages.
However, unfortunately for Activision, the same trailer also showed tiny footage from 1989 pro-democratic protests in Tiananmen Square, Beijing, China.
Obviously, the Chinese Communist Party blocked the Call of Duty: Black Ops Cold War trailer in the country. And the situation forced Activision to remove the Tiananmen footage from the game trailer.
Tiananmen Footage Removed From Black Ops Cold War Trailer
During the Tiananmen Square Protest or the June Fourth Incident, the Chinese military killed maybe thousands of students.
As reported by Kotaku, you can see the Tiananmen footage in the old Black Ops Cold War trailer at 1:05, where a group of students is attacking an armored vehicle.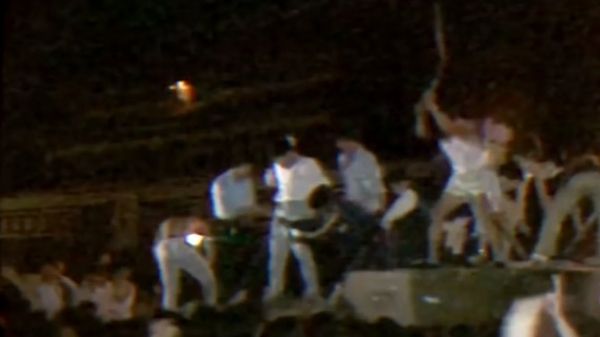 However, featuring even a short clip of the incident in a video game's trailer went against CCP's rule. So, Activision replaced the original 2:02 long Black Ops Cold War trailer with a 1 minute long edited version, which is missing the Tiananmen Footage.
Fortunately, the original trailer is still available on some YouTube channels, including IGN and Gamespot.
Now, it's not shocking for fans that Activision replaced the trailer in China. That's because it's clear that Activision doesn't want to impact its business in the country. However, fans are pissed off because Activision went lengths to replace the trailer for everyone around the world.
Of course, it's quite stupid to expect that a video game developer will stand right to its word, even when it impacts its profit. But still, when the tagline of a game is "Know your history or be doomed to repeat it," fans expect a little bit of more honesty.
That's why several players are getting angry on Activision for editing the trailer.
"Just a reminder, the tagline, marketing, or w.e for this game is, "Know your history or be doomed to repeat it." Of course, "know your history" only for what daddy China wants you to know" said one angry user on Reddit.
On the other side, even when disappointed, some players understand why Activision edited the trailer worldwide. That's because Tencent, a Chinese Conglamorate, holds 5% stakes in Activision.