In a recent survey, Activision asked players to vote on the content they want to see in COD Mobile. And the majority of Call of Duty Mobile players voted for a new battle royale map.
Since the game's launch, the COD Mobile community has been requesting a new Battle Royale map. Unfortunately, Activision didn't officially confirm any new map for the battle royale game mode. However, after Activision's survey, it seems as the wait will probably be over with the arrival of "Verdansk" in Call of Duty: Mobile.
'Verdansk' In Call of Duty Mobile
A Tweet by ModernWarzone shows Activision's latest survey asking players to vote for a new Battle Royale map. The map choices included "Verdansk" from COD: Warzone and "Eclipse" from COD: Black Ops 4. This indicates that Activision wants to incorporate these famous maps from its heavy titles into Call of Duty Mobile.
Activision removed the much-loved Zombie mode from COD Mobile last year. Since then, players are keenly waiting for the developer to re-release the fan-favorite Zombie mode. Well, this survey brings good news for the Zombie Mode fans too. As one of the elements in question was to add a "Co-op Zombie mode."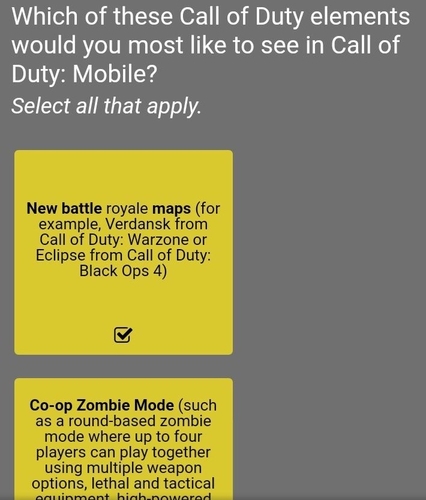 Bigger Picture
There's more to this survey than it seems since Activision is trying to make COD Mobile just like COD: Warzone. For instance, COD Mobile Season 9 features like Armour plates, Custom loadouts, etc., were taken directly from Warzone.
Moreover, Activision's job listing from last year hinted at Call of Duty Mobile Warzone's development.
Since Activision already has a mobile battle royale game, it's safe to assume that if Warzone ever comes to mobile, it will be a different game. Meaning, two COD Mobile games might exist simultaneously.
Nevertheless, it seems like fans will have to wait longer for COD Warzone mobile, if it is indeed in development. In the meantime, Activision is clearly trying to add more Warzone-like features to Call of Duty: Mobile. And maybe, Warzone Verdansk map is next on the list.