Ever since the launch, Call of Duty Mobile has taken the mobile gaming community by storm. The developers bring a lot of new exciting content in the game with every update, which has been great for players so far. That's the very reason why Call of Duty Mobile managed to cross PUBG Mobile in terms of player base.
However, there's still one thing that is missing in Call of Duty Mobile, which is the 'Night Mode' for Battle Royale.
Last year on Halloween, Call of Duty Mobile released a night version of the Standoff map, which was insane. The dark environment, along with the Halloween decorations, was quite incredible.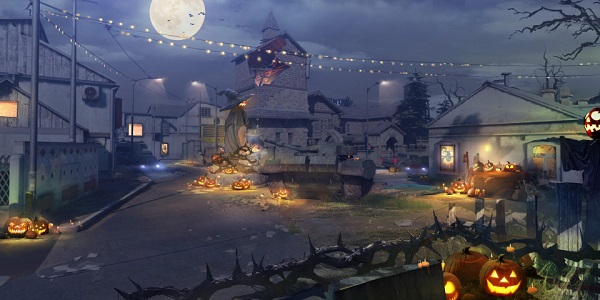 Sadly, that was a limited-time event and the night version of the Standoff map was gone after a couple of days.
Ever since then, Call of Duty Mobile fanatics have been asking Call of Duty Mobile team to work on other Night Multiplayer maps. Moreover, several players, including me, want to see a 'Night Mode' for Battle Royale as well.
What A Night Mode In Call of Duty Mobile Could Look Like?
There are several ways in which Call of Duty Mobile could carry this out. For instance, there are Night Maps in Call of Duty Modern Warfare 2019, in which two teams of five players go against each other in a pitch-black environment.
To see through the dark, players have to use the night vision goggles, and they can take it off anytime they want. Also, in Night Mode, players have to be cautious while using the Aim Down Sight (ADS). That's because when they aim, the laser sight on the gun gives away their location to the enemy.
So, Call of Duty Mobile can include a similar type of mode, which could be a game-changer. And given the fact that COD Mobile always picks elements from other Call of Duty titles, developers can consider the 'Night Mode' from MW19 as well.
Either that or Call of Duty Mobile could make things easy for players by including bright lights in the buildings. That way, the environment will not be pitch black, just like they did with Halloween standoff map.
Is Call of Duty Mobile Working on 'Night Mode'?
For a while, Call of Duty Mobile was tight-lipped about Night Mode. So, we weren't sure if they are considering such a kind of game mode or not. However, in May 14th Community Update, the COD Mobile team confirmed that they are definitely interested in trying out some night maps. So, it looks like they were listening to the community, after all.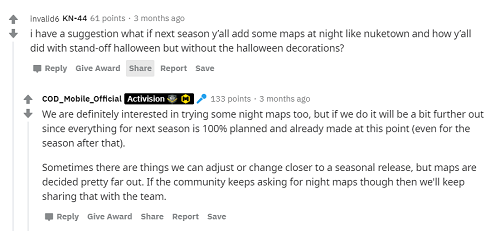 Even then, we can't be sure if COD Mobile will release a 'Night Mode' for the game anytime soon. That's because, according to their comment, the maps for Call of Duty Mobile are decided far out. However, if the community keeps asking for Night Maps, like I am doing right now, maybe then the COD Mobile team will start working on it.