Call of Duty Mobile finally released the Season 7 update for the global version of the game. Previously, Activision pushed back the release date for Season 7. However, players are now finally witnessing the grandeur of Call of Duty Mobile Season 7.
If you're not following the Call of Duty Mobile Season 7 leaks since the start, you must be unaware of what's yet to come. But fortunately, Call of Duty Mobile has put out a roadmap for Season 7, to give players a glimpse of what new in the latest season.
Call of Duty Mobile Season 7 Roadmap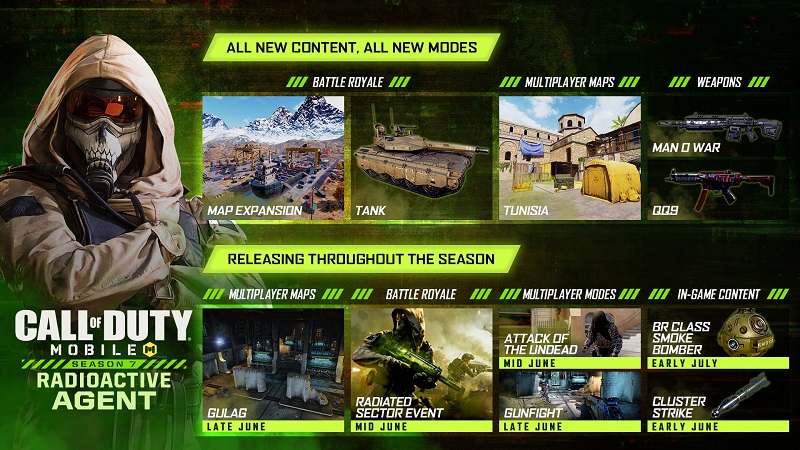 Everything That Is Yet To Come
1. Gulag (End of June): Gulag is the new 1v1 Multiplayer map that in Call of Duty Mobile. As of now, the Multiplayer map is unavailable, but it will release by the end of June.
2. Radiated Sector Event (Mid June): There is no official information about this Battle Royale event. However, Call of Duty Mobile stated that this upcoming event would be similar to the Gold Rush event. Moreover, the event will go live by mid-June.
In the Radiated Sector Event, players will have to increase their Rasistance Level to get their hands on the exciting rewards. 
3. Attack Of The Undead (Mid June): Attack of the Undead is a new Call of Duty Mobile Multiplayer mode that will release somewhere in mid-June. In this mode, there will be a team of Survivors going against the Infected team. This concept is quite similar to PUBG Mobile's Zombie mode that was introduced months ago.
4. Gunfight Mode (End of June): The 'Gunfight' is another Multiplayer mode in Call of Duty Mobile Season 7 that's going to release by the end of June. It is a 2v2 Multiplayer mode that will be tied to the Gulag map.
5. BR Class Smoke Bomber(Early July): The brand new Smoke Bomber class is set to come out in early July. So, we can say that the most overpowering BR class in Call of Duty Mobile will be out in a few days.
6. Cluster Strike Scorestreak(Early June): Cluster Strike is a new scorestreak in Call of Duty Mobile that can be considered an improvement over Predator Missile. Just like the Smoke Bomber class, Cluster Strike will also come out in just a few days.
New Content That's Already Released
1. Battle Royale Map Extension: As advertised, the Battle Royale map in Call of Duty Mobile is more massive in Season 7.
2. Tanks: Right after the update, Call of Duty Mobile included tanks in Battle Royale. These tanks will be delivered through airdrops, and the exact location of the drop will get revealed on the map.
3. Tunisia: Players can now enjoy the new Multiplayer map, which is Tunisia.
4. New Weapons: Both Man O War and QQ9 are available in both Battle Royale and Multiplayer right now.
All Running And Upcoming COD Mobile Season 7 Events
Moreover, in the community update, Call of Duty Mobile revealed all the events that are currently running or coming soon in Season:
6/11 – 6/18 ~ Tunisia Tussle (MP event)

6/11 – 6/20 ~ New Stomping Grounds (BR event)

6/11 – 6/18 ~ Gun Game Mode

6/11 – 6/18 ~ One Shot One Kill Mode

6/12 ~ New Seasonal Challenges

6/12 ~ Season 7 Battle Pass

6/12 ~ Credit Store Update

6/13 – 6/14 ~ BR Warfare Mode

All Month Long ~ FFA Mode
It is not the first time that Call of Duty Mobile released a roadmap for the entire season. Previously, the COD Mobile team did the same thing with Season 6 by releasing the roadmap for the whole month.