Last week, Activision delayed the Call of Duty Mobile Season 7 update with no further release date. The studio took this decision to show their support for the black community and stand against racism.
Many players speculated that the upcoming season would release by the end of this week. Interestingly, the rumors turned out to be true because Call of Duty Mobile Season 7 is confirmed to release on June 12.
Call of Duty Mobile confirmed the Season 7 release date through one of the main screen popups.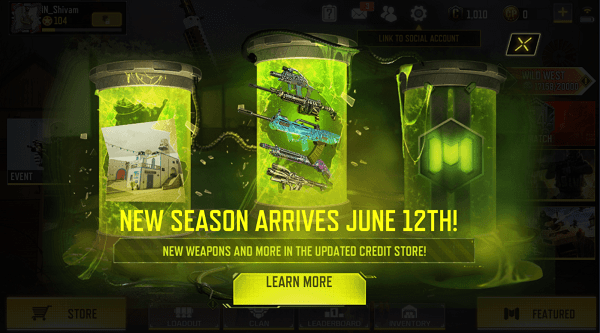 A lot of Call of Duty Mobile fanatics were going crazy for the Season 7 update. That's understandable because the upcoming season is going to be massive, with all the significant changes in Battle Royale and Multiplayer.
Also, for the first time in Call of Duty Mobile, there is going to be a separate training mode, which is quite impressive.
Along with the announcement of Season 7, the developers also sent a message to the COD Mobile community. In the letter, the Call of Duty Mobile team states that they are taking steady steps against usernames that violate their Security and Enforcement policy.
"This type of behavior has no place in our games and in our community, ever, and we are continuing to do better going forward," said the Call of Duty: Mobile team.

Nevertheless, it's incredible that Call of Duty Mobile Season 7 is close. We'll finally get to experience all the new teased content that we first saw in the test servers of Call of Duty Mobile.