Call of Duty: Mobile first-anniversary update is just a few days away, and players are incredibly excited. The developers have already promised a plethora of new content that will arrive in the next update.
In the past, there has been numerous massive Call of Duty Mobile Updates. For instance, the Season 9 update was so big that it transformed the mobile battle royal game into Warzone. Well, interestingly, the first-anniversary update is going to be larger than Season 9 and all the previous "usual updates."
Recently, Call of Duty Mobile released the last community update for September on Reddit. In the update, developers talked about the ongoing Season 10 while also interacting with the fans.
In the comment section of the community update, one player asked the developers to reveal any details of the upcoming update. Call of Duty Mobile went on to answer the player's question by saying that the next update will be larger than "your usual update." In other words, the developers confirmed that 'in terms of content,' the next update is going to be spectacular.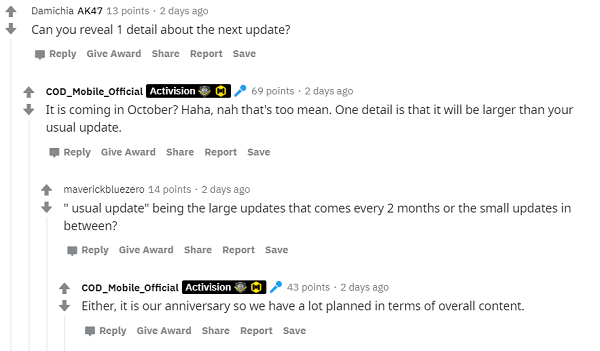 Call of Duty Mobile will release the first-anniversary update in October. A while back, developers confirmed that Season 11, unlike previous seasons, will not get a test server. So, everything in the upcoming season will be a surprise for us.
However, there have been several leaks and rumors suggest that Call of Duty Mobile Season 11 update might introduce the 'Night Mode' in the game. Also, players are expecting the fan-favorite Zombies mode to come back as part of the first-anniversary update.