Activision confirmed that the Call of Duty: Mobile's first-anniversary celebration will start on October 14, which is only a couple of days away. Also, the Season 10 battle pass will expire in three days.
However, like with other seasons, the COD Mobile Season 11 content update might drop before the actual season launch. Moreover, Call of Duty Mobile is already giving early invitations for the anniversary update. So, there's a possibility that the upcoming COD Mobile update will launch today.
Interestingly, the Season 11 update is already live in the Garena and Vietnamese version of Call of Duty Mobile. The update size is approximately 2GB, which is incredibly huge.
As speculated, the 'Alcatraz' Battle royale map has arrived in the update. Other than that, the 'Isolated' Battle Royale map also got a new location. So, we'll get the same content in the global version of the game as well, pretty soon.
Moreover, when players launched the global version of Call of Duty Mobile, they saw an anniversary update invitation.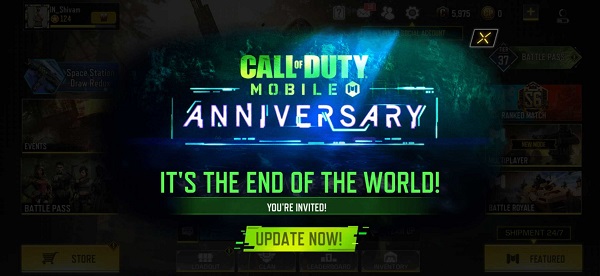 The in-game banner invitation includes the 'Update Now' option, which takes you directly to Google Play Store. However, as of now, the COD Mobile Season 11 update isn't available to download in the global version.
Nevertheless, it only makes sense for Call of Duty Mobile to send in-game update invitations if it is only a few hours away.
Unfortunately, there is still no word on the Zombies mode. So, by now, it's safe to assume that the fan-favorite game mode is not coming back in Season 11.
However, there is still a lot of content we should be excited about. For instance, the 'Night Mode' is confirmed for the first-anniversary update, along with the Halloween themed Standoff map.