Call of Duty Mobile is a mammoth title when it comes to mobile gaming. The game features both Multiplayer and Battle Royale game modes, which is amazing.
However, some recent rumors suggest that Activision might split the two Call of Duty Mobile modes into two individual mobile games. That's because they are planning on releasing Call of Duty Warzone on mobile as a separate mobile game.
Call Of Duty Warzone Might Be Released As Second Mobile Game
As reported by Charlie Intel, recently, a new job listing for Activision got leaked on the internet. Interestingly, the job listing is for 'WZM,' which is most definitely the codename for Warzone Mobile.
The listing clearly states that this job is for a "new mobile FPS in the Call of Duty franchise." Also, the job description further went on to mention that the person applying for the job has to "harvest, adapt and deliver the essential features from Warzone console and PC into their best mobile instantiation."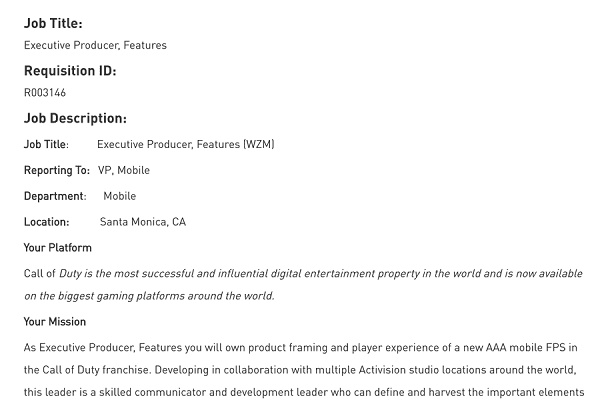 So, if the job listing is legit, then it pretty much clears out that Activision plans to release Warzone for mobile.
However, the question is, what does it mean for the already existing Battle Royale mode in Call of Duty Mobile? Well, if Activision does release Warzone for mobile, then there's a possibility that Call of Duty Mobile will only feature the Multiplayer mode.
So, in the future, there might be two Call of Duty Mobile games; one for the Multiplayer mode from Modern Warfare, and the other one featuring Battle Royale experience from Warzone.
Also, there's a slight chance that the rumored Warzone mobile game will only feature first person battle royale. That way, players will get a complete Warzone experience on mobile, which could be amazing.