A software engineer has created a DIY USB "kill cable" that can shut down or wipe out your Linux laptop if someone tries to snatch it from your table or lap when you are working in public spaces like malls, cafes or parks.
Dubbed the "BusKill," this USB cable has been designed by Michael Altfield who is a software engineer and Linux sysadmin by profession.
BusKill Is A Dead Man's Switch For Linux Laptops
#BusKill demo: A $20 #DeadManSwitch triggered by someone physically yanking your laptop away from you.

Powered by #USB & #udev.#opsec #infosec #CyberSecurity #travel #saftey #TravelSecurity #security #privacy

(Thanks @dimensionmedia!) https://t.co/TthGttM0Mc

— Michael Altfield (@MichaelAltfield) January 2, 2020
BusKill cable can be connected to your laptop on one end and to your belt on the other end. So when someone tries to snatch your laptop from your lap or table — the USB cable will get disconnected from the laptop and trigger a udev script that can execute a series of preset operations.
Udev is the Linux subsystem that supplies your computer with device events. In short, it's a piece of code that detects when you have anything plugged into your computer, like external hard drives, mouse, or Pendrive. It can be manually scripted to perform specific tasks when anything is plugged.
So you can basically do anything such as shut down your device to force the thief to go through your laptop's lock screen before accessing any data. Or you can choose to wipe out entire data or selected folders on your device by configuring scripts to prevent them from accessing any sensitive information.
We do so much to increase our security via strong passwords, VPNs, 2FA and whatnot. "But even then, there's always a risk that someone could just steal your laptop after you've authenticated," says Altfield.
DIY USB Kill Cable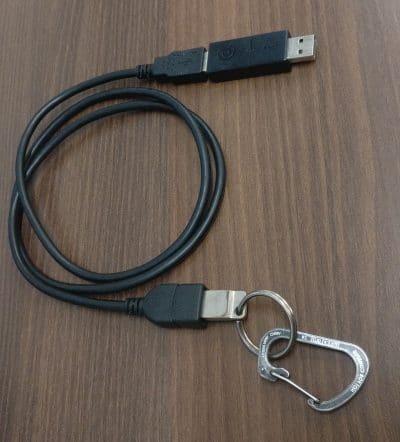 Right now, Altfield is not selling ready-made BusKill cables. You can, however, refer to the instructions on his website on how to build your own BusKill cables. For that you'd need:
USB flash drive
a carabiner keyring to attach the BusKill cable to your belt
a USB magnetic breakaway adapter
a USB cable
The cost for building BusKill will range around $20 to $45, based on the configuration you need for your device. On his website, Altfield has enlisted two sample udev scripts — one for locking down your device by activating the screensaver and other for shutting down your laptop.
For scripts that wipe data or delete sensitive folders, you'd have to build one for yourself as that requires the location and type of the data you want to delete.