An MG ZS EV electric SUV is a budget Tesla Model X killer capable of hypermiling 500 km on a single charge. The challenge was completed by Bjorn Nyland, an EV enthusiast who regularly performs long-range battery efficiency tests. He has also done a hypermiling challenge with a Hyundai Kona (66 kWh version).
Now, you must be thinking, that there is no way that an MG ZS EV can be a Tesla Model X killer in terms of range and you will be right. The MG ZS EV has an EPA range of about 160 miles (257 km), while the cheapest Tesla Model X Long Range can travel 328 miles (527 km).
The only way an MG ZS EV can travel 500 km on a single charge is by hypermiling. For the uninitiated, hypermiling refers to driving an electric car at a consistent speed, preferably low, to conserve electric charge and extract the maximum range.
I called the MG ZS EV a budget 'Tesla Model X killer' because it offers several features of Tesla at less than half the price. It is a great daily driver, offers super high safety ratings and costs only £21,995 in the UK.
Are you convinced yet? If your answer is no, then maybe this video of the test will change your mind.
Budget Tesla Model X Killer Is The MG ZS EV
The test begins with Bjorn starting his journey at Chiang Mai, which is the largest city in northern Thailand. Bjorn charged his MG ZS EV electric SUV using a 50 kW DC charger up to a 100% before setting off on his journey.
Since he's in Thailand, the steering wheel was on the right side of the car and after a couple of jokes about it, he explained to us exactly what he's expecting from the hypermiling test.
The MG ZS EV comes with a 44.5 kWh lithium-ion battery which has a WLTP range of 328 km (203 miles) and EPA range of 257 km (160 miles).
Bjorn live-streamed his entire journey, leaving no doubt that he was doing all of it in one single stretch.
Throughout his entire journey, he kept his driving speed at 37km/h, while his average consumption differed throughout his journey.
Bjorn said that "I have seen MG ZS EV is somewhat efficient but I want to know exactly how efficient it is."
At the start of his journey, at around 1:00 AM, MG was consuming power at a high rate of 145 wh/km. However, as he kept going, the consumption rate started to decrease.
Bjorn said that the consumption rate is usually high in the initial driving stages but it decreases as the kilometers pile on. Initially, Bjorn was hoping to travel 700 km using his MG ZS EV by hypermiling but after judging the current rate of consumption, he lowered his estimate to 500 km.
Bjorn also compared the consumption rate of MG ZS EV with the Hyundai Kona (66 kWh battery) and came to the conclusion that the latter is more efficient.
He said that the Kona averaged 60 Wh/km and his Tesla Model 3 consumed 70 Wh/km. Bjorn blamed the high consumption rate of the MG ZS EV on its electric powertrain because the rest of the factors like the weight and drag were pretty normal for an electric SUV.
After traveling 150 km at an average speed of 37 km/h, Bjorn's MG electric SUV had consumed 30% of the total charge and he was now at 70%.
After traveling another 50 km at the same speed, around 60% of charge was left in his electric SUV. At this point, the consumption rate of MG ZS EV was still high at 91 Wh/km.
When Bjorn crossed the 238 km mark, he decided to rest and take a nap. Now when he resumed his journey in the morning, he saw the consumption rate go down by a significant margin.
The MG ZS EV, after traveling for more than 250 km at an average speed of 37 km/h, was now consuming 7.1 Wh/km. According to Bjorn, the hot morning weather helped him achieve this lower consumption. "This is what I need now to hit 500 km" he further said.
After finding a gas station, Bjorn decided to drive in a loop until he hit 500 km. After noticing all the cars passing him by he realized that people of Thailand didn't bother if anyone was driving at 40 km/h on the highway. All of them gladly passed him without having any issue with his slow driving.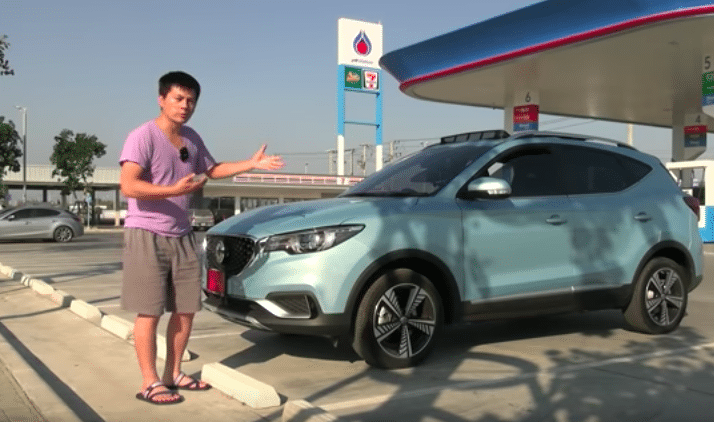 By this point, Bjorn had driven 338 km but the remaining range was being shown as 107 km. He dismissed the range because he was confident that traveling another 150 km was totally possible. Bjorn's MG electric SUV was at a 33% charge now.
After driving again for several hours, Bjorn finished his 500 km hypermiling journey at 6:12 PM the next day. His MG ZS EV had a charge of 2% left.
Conclusion
The MG ZS EV performed quite well in this test but it could have performed even better if it wasn't for the high consumption rate. With a 44.5 kWh battery, the MG ZS has a clear advantage over the Hyundai Kona base variant, which comes with a 39.2 kWh battery.
If MG can refine their electric powertrain a little bit more, they can achieve a similar range to the 2019 Renault Zoe.
However, at around £21,000, the MG ZS EV is a perfect budget Tesla Model X killer and should serve you pretty well if you're looking for an electric car for heavy city and some highway use.
Which other electric SUV do you think deserves to be called a budget Tesla Model X rival? Let us know in the comments section below.