If you would ask me what app do you use the most on your computer, then I'd quickly name a web browser. For many people, Google Chrome and Firefox are the first choices for web browsers. But, of course, there are many alternatives in the market that offer some compelling features to the users.
Brave is one such browser trying to make its name by sailing on the privacy boat. It comes loaded with robust features that help users reduce the tracking that happens all over the internet.
In fact, it's primary pitch is the very fact that people are being tracked, surveilled, and analyzed all the time in the name of the advertisement. You don't want to be watched all the time. Do you? But that's the reality we need to accept if we want stuff for free.
Brave Browser 1.0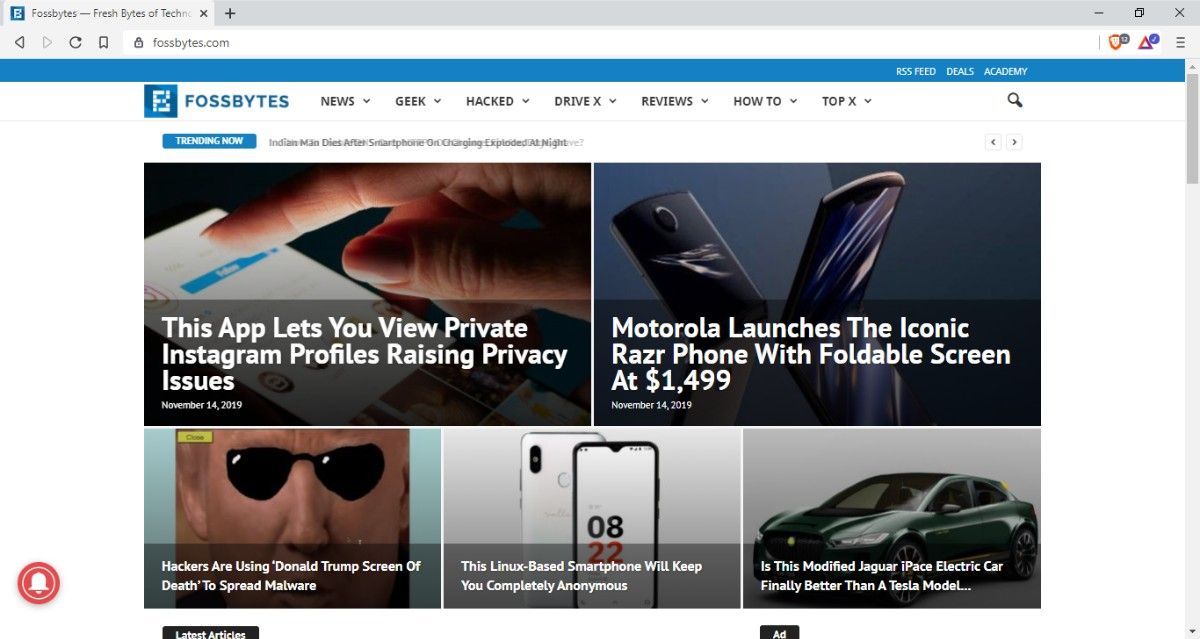 Brave started out back in 2015 and the open-source browser is now available for all major platforms including Windows 10, macOS, Android, iOS, etc.
The makers of the browser have just hit a major milestone with the release of Brave 1.0 for the masses. Just like Torch and Opera, Brave is also based on Chromium but the browser tries to shed the Google part as much as it can.
Here, you should note that the actual builds will still continue the same version numbers. For instance, the latest one right now is 0.71 which is being called Brave 1.0.
Anyway, there are many Chromium-based browsers. For instance, Microsoft's Edge now also has the same soul as Brave. So, the initial experience you get with these browsers isn't much different. Brave also feels like a Google Chrome with a different skin.
However, there are changes and they are real. Some of the features offered by Brave make it a lot more than a web browser. You can access the Tor network, run torrent files, manage crypto wallets, all without ever leaving the Brave browser.
On top of that, Brave leverages Chromium's features as well. Like, you can create multiple profiles, get Chromecast support, and install Chrome extensions without much hassle.
But still, in order to withstand the tough competition, a browser needs to offer something unique. And that's what the makers of Brave have been up to for the last couple of years. They are trying to fix the internet's most annoying yet important part – advertisements.
A browser that pays you!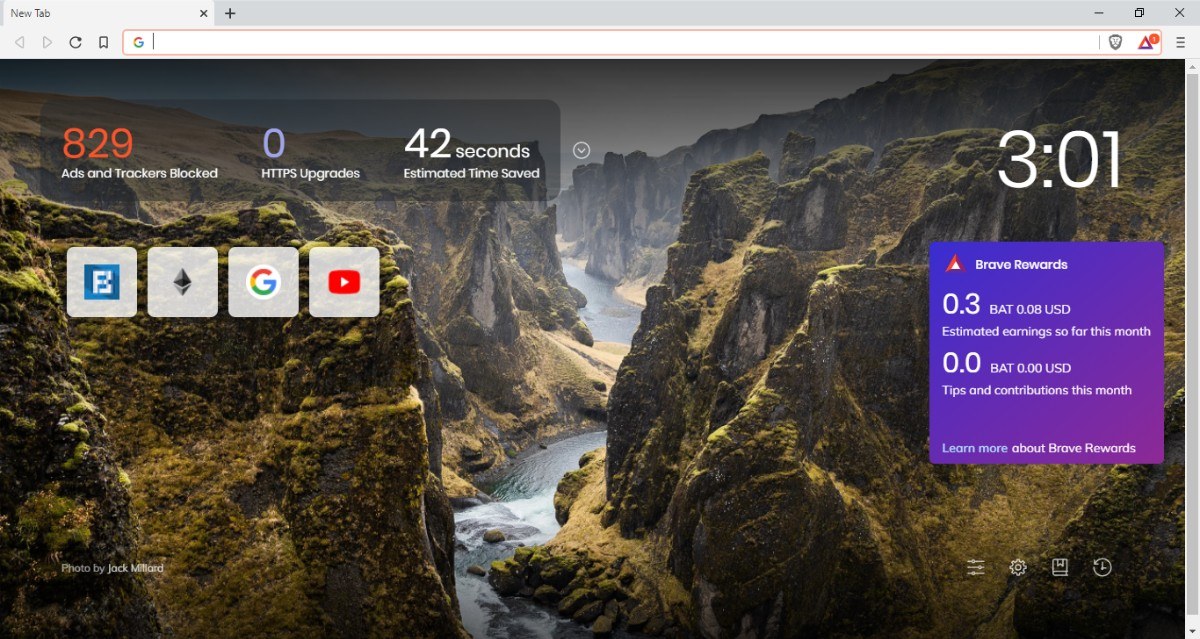 Brave comes with a built-in ad-blocker called Brave Shield which blocks every possible ad that comes in its way, thereby, speeding up website load times. But those ads are the bread and butter for many websites, including ours. For that, they have come up with a decentralized payout initiative.
Brave Rewards is a program that lets users earn some money on the side for viewing acceptable ads that the browser throws at them. The idea is to create a win-win situation, where users can visit websites for free and the content creators don't bear the losses as well when their ads get blocked.
The amount you earn in the form of BAT (Basic Attention Token) can be donated to websites and creators on YouTube, Twitter, and Twitch whose ads you end up blocking. It is called a Tip and it's viewed as a thank you note when you find their content really good.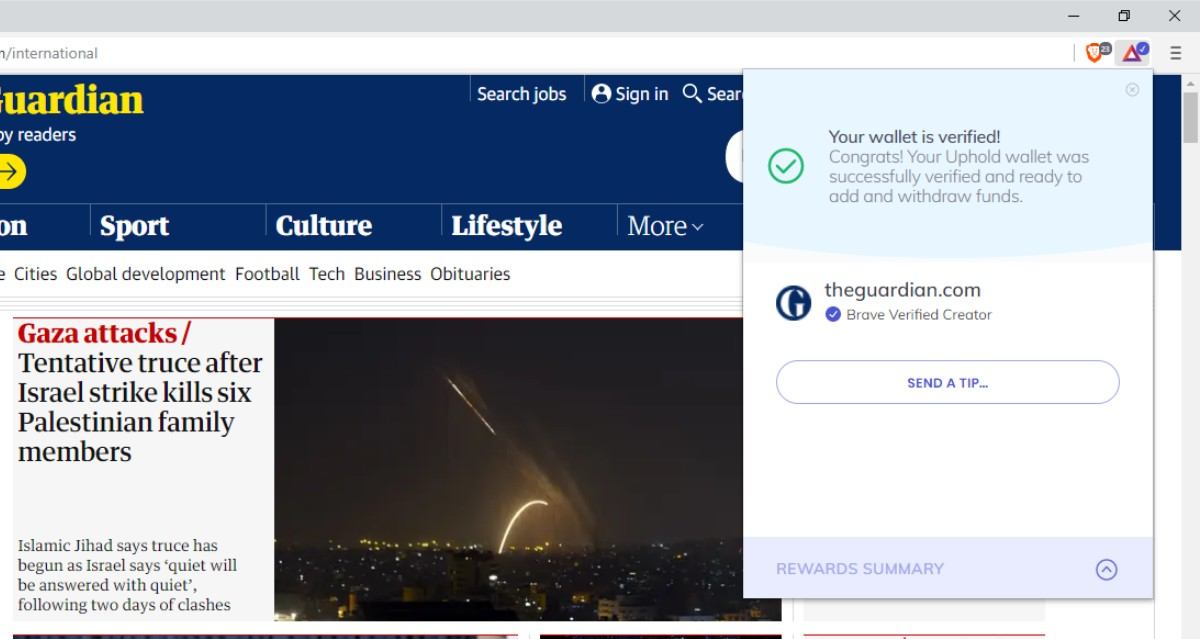 It's estimated that typical users of Brave Rewards could end up earning close to $5 per month (20 BAT). The amount doesn't seem much but if you add it for a year, it can easily make your broadband connection free for a couple of months. Payouts for the BATs you collect are issued on a monthly basis.
The development team has been testing Brave Rewards for almost a year. Now with Brave 1.0, the loyalty program has received a full-fledged rollout.
Brave 1.0: What else?
In addition to all of this, Brave also comes with support for IPFS (Interplanetary File System) companion extension. It's a new way of storing content on the web that combines the likes of Git (acts like a versioned file system keeping files and versions over time), and BitTorrent (files are stored across a decentralized distributed network).
This way, one doesn't need to rely on a central server in order to fetch data, as it happens with HTTP. With IPFS, the track of data is kept using the cryptographic hash of its file. It lets the user fetch data from the closest source possible.
During regular usage, there weren't any noticeable lags and freezes. Stability is one thing you'd find improved in almost all popular browsers nowadays.
Bumping up the difficulty level, I opened around 100 new tab pages to see what happens. I noticed a slight delay in loading content when switching between tabs, but no noticeable degradation was present in websites load times.
Speaking of the numbers, benchmarks reveal that Brave is surely giving tough competition to biggies including Chrome, Firefox, Safari, and Opera.
Tested using Lenovo IdeaPad 110 (Windows 10, Core i3, 8GB RAM), 2015 Mac (MacOS 10.14.4, Core i5, 16GB RAM)
Note: These numbers are provided by Brave. I'll try to update this article with my own results in the coming future.

Now, its time for the main question: should you switch to Brave Browser?
The only thing missing in this web browser is the Google account sync. So if you can live without it, then Brave browser can turn out to be a great option. Also, don't forget that this browser also gives you real money.