If you think your Tesla Model S P100D can take on this BRABUS modded smart EQ fortwo cabrio electric car, then you are absolutely right. The Model S has a 0-60 mph acceleration of 2.3 seconds and the smart EQ is nowhere near that.
But that doesn't make this BRABUS tuned smart EQ fortwo any less appealing. After a ton of customization, this tiny city electric car is known as the BRABUS Ultimate E Facelift.
For the uninitiated, BRABUS is a high-performance tuning company that specializes in modding Mercedes Benz and Maybach vehicles. Along with them, BRABUS also modifies cars for Smart, which is another affiliate company of Daimler AG, parents of Mercedes Benz.
Here are all its updated features of the BRABUS Ultimate E Facelift.
Tesla Model S Got Nothing On This Small Electric Car
BRABUS chose the 2020 model of the Smart EQ fortwo electric car.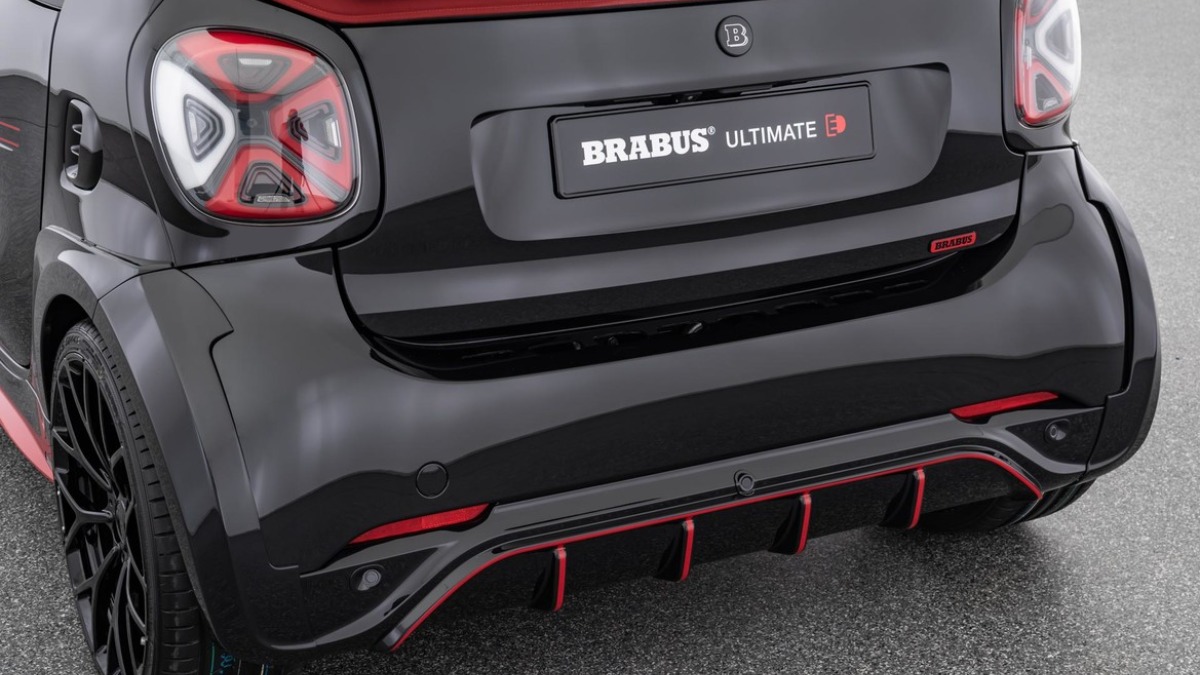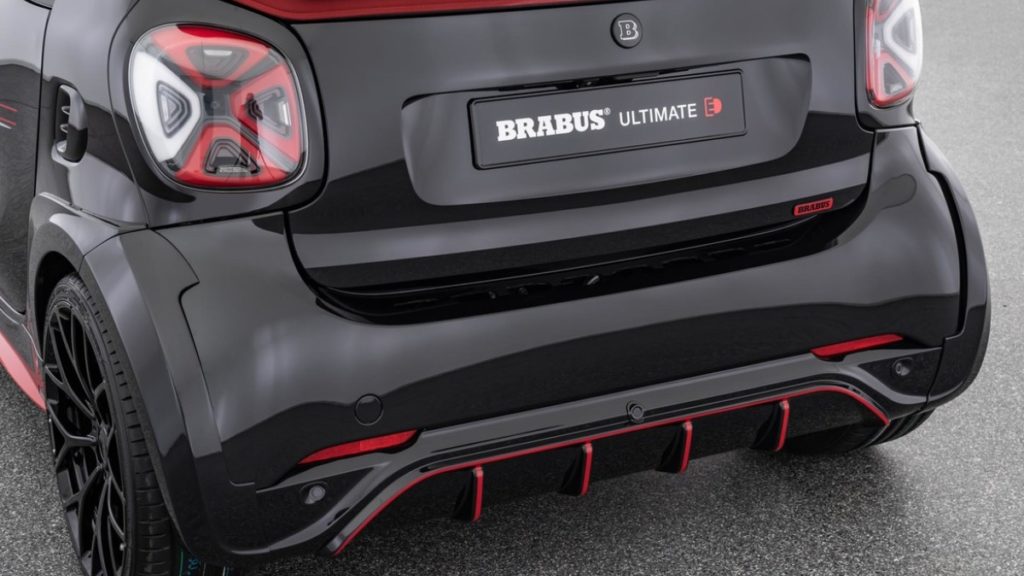 Exterior Changes
The new BRABUS Smart electric car is now wider and meaner. The new 18-inch wheels look massive on the tiny EV and the widebody kit enhances its stance on the road.
BRABUS called it the WIDESTAR body kit and it looks like a precise fit for the Smart EV. The body kit also features a rear diffuser that's designed to suit the electric car.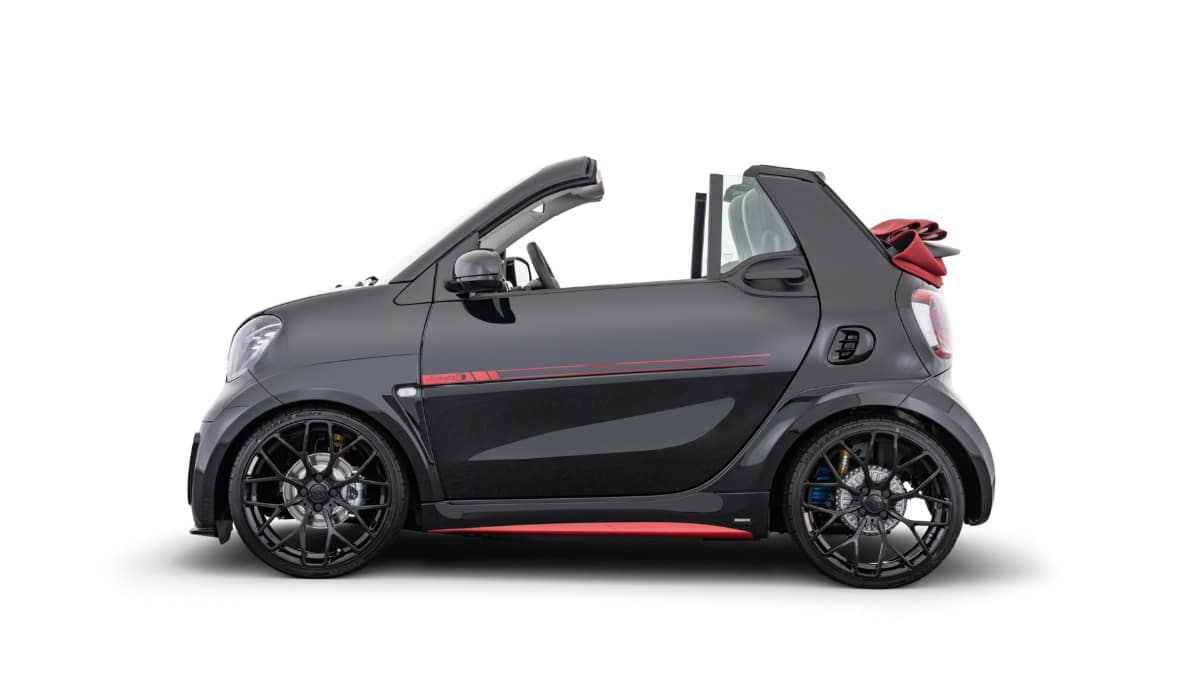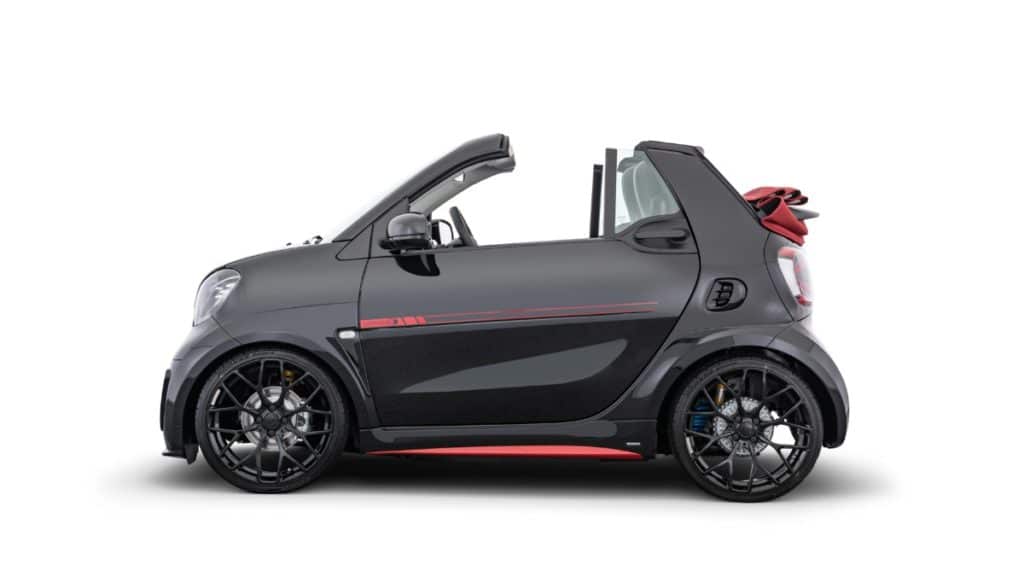 According to BRABUS, the widebody kit also allows for installing bigger yet lighter 205/45 section high-performance rims at the front. Additionally, at the back end, wider 235/30 section rims can be fitted with ease, thanks to the WIDESTAR body kit.
This wheel setup, in combination with tuned suspension from BRABUS, greatly improves the handling performance.
Performance Upgrades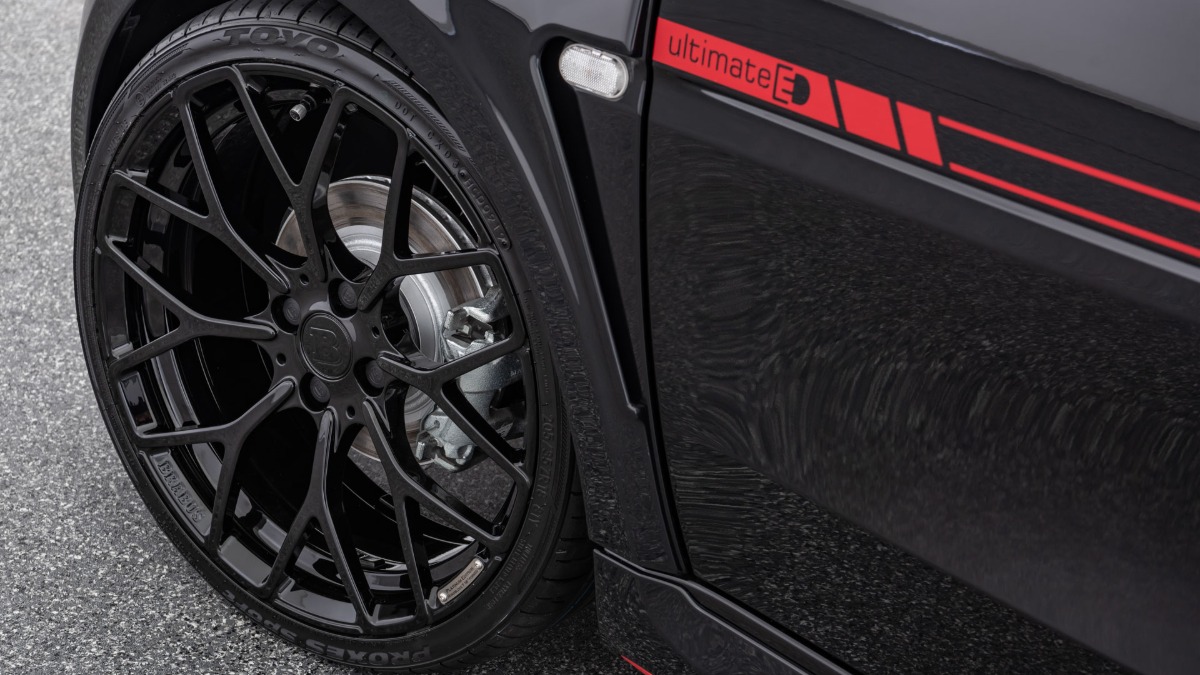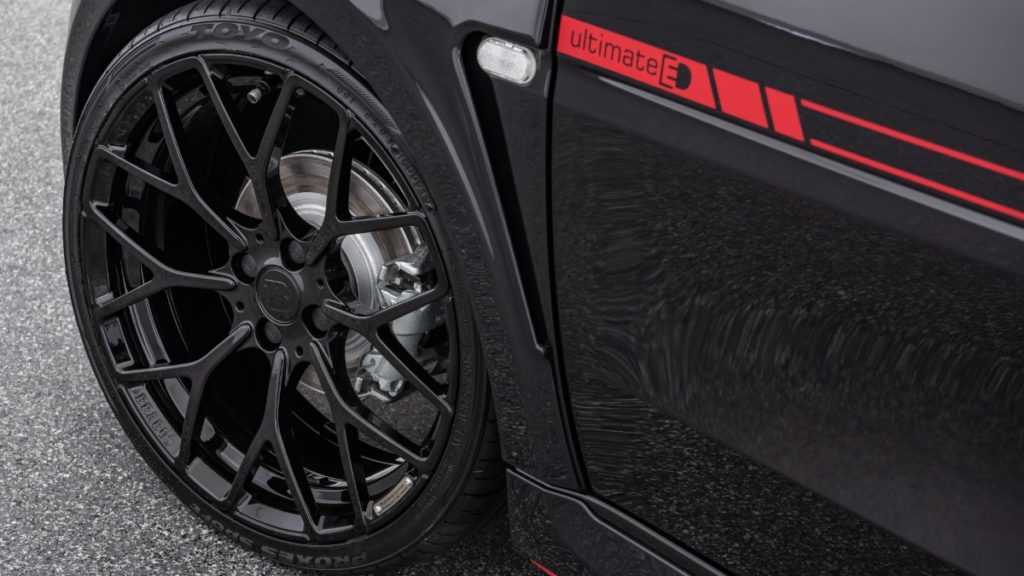 BRABUS gave this electric car a comprehensive performance upgrade. And before you ask, is the smart EQ fortwo electric car as fast as Model S, let me tell you what it's capable of.
The Ultimate E Facelift comes with 91 BHP, which is 9 more than the stock version, and it can go from 0-60 mph in 10.9 seconds. The tuned 3-phase synchronous motor produces 180 Nm of torque, which is more than enough for a car this size.
The top speed of this custom electric car is 130 km/h or 81 mph. I'd also suggest that a car of this size and proportion should not go any further.
So the Smart EQ Fortwo was a great city car and the BRABUS Ultimate E Facelift gets better handling, stability, and much better performance.
Hence, no. It is nowhere as powerful as a Tesla Model S.
Interior Upgrades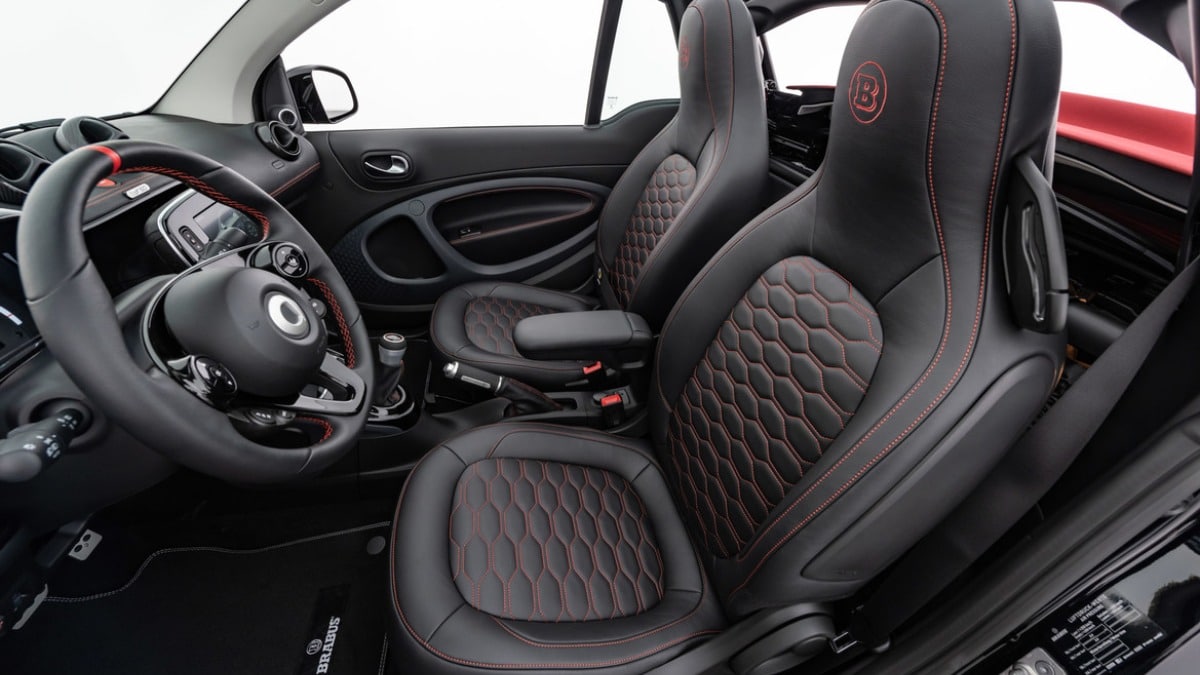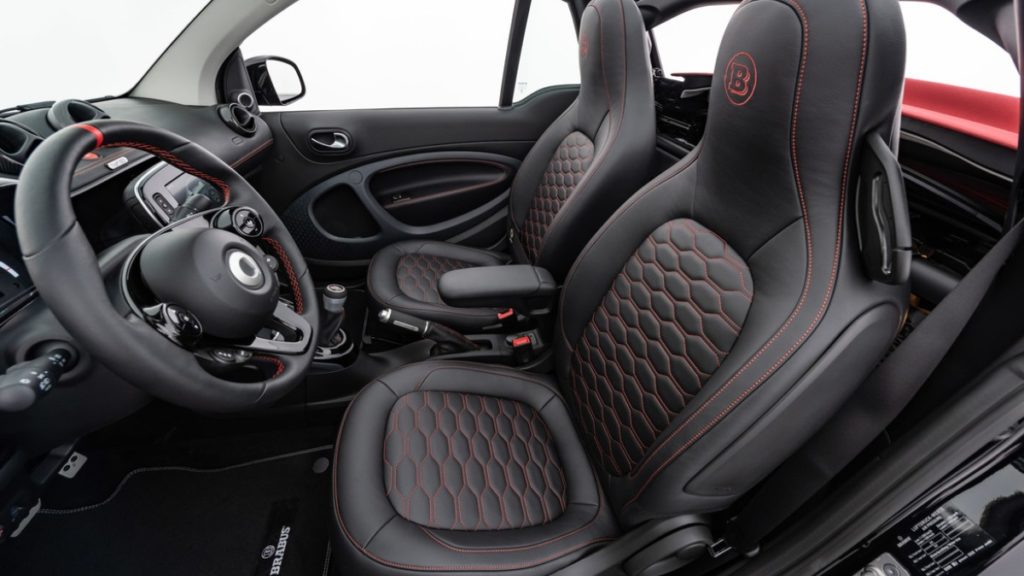 BRABUS has lined the interior of this electric car with black colored "Mastik leather." It is light, breathable, and has red stitching that lends the interior a sporty look.
The floor mats are also replaced with leather mats and in place of stock pedals, the Ultimate E Facelift features aluminum pedals.
To top it all off, the car also has the prestigious BRABUS logo, badging on seats, gear knobs, scuff plates, aluminum plates, and pretty much everywhere in the interior.
Why Does This BRABUS Electric Car Exist?
If the cynic in you can't enjoy simple pleasures in life like watching a cute little electric car which also looks like a monster, then I feel pity for you.
The BRABUS Ultimate E Facelift is a show car. It will most likely be displayed at one of the auto shows the company participates in.
I, for one, am totally up for anything that looks mean, is environmentally friendly, and is easy to park around town.
What about you? Let me know in the comments.