Bollinger Electric SUV and truck broke cover a few days back and a lot of analysts are touting it as the 'anti-Tesla' electric vehicle. While Tesla is a premium electric car with digital screens instead of buttons, the Bollinger electric SUV  and pickup truck are relatively simple in design.
Both of them have a completely boxy shape and are filled with analog switches and dials. Recently a YouTuber by the name of Sean Mitchell, who creates content about EVs, was invited to the launch of the Bollinger B1 electric SUV and the B2 Pickup truck. He said that "these Vehicles are the Anti-Tesla EVs and not in a bad way but in a really really good way."
"These vehicles are simplistic analog and Spartan," he further added, by commenting on the ultra rough nature of the Bollinger electric SUV and pickup truck. The price of both the B1 electric SUV and B2 pickup truck are not yet available. What we do know is that these vehicles will be hand-built in limited numbers. Bollinger B1 and B2 will launch in 2020.
Another Detroit-based EV company, Rivian, also revealed its electric SUV R1S and pickup truck R1T. While the Bollinger B1 and B2 electric vehicles are all about ruggedness, the Rivian electric vehicles are very efficient in design and function.
Bollinger B1 Electric SUV Vs Rivian R1S
| | | |
| --- | --- | --- |
| | Bollinger B1 | Rivian R1S |
| Battery Size | 120 kWh | 105, 135, 180 kWh |
| Range | 200 miles | 240, 410, 410 miles |
| Power | 614 HP | 402, 753, 700 HP |
| 0-60 mph | 4.5 seconds | in under 3 seconds |
| Towing capacity | 7500 pounds | 7716 pounds |
As it is clear from the specs comparison, the Bollinger B1 falls short in several key areas when compared with the Rivian R1S. While the Rivian R1S electric SUV is designed with proper aerodynamics in mind, the Bollinger B1 has sharp boxy corners.
It is part of the charm of Bollinger B1 and B2. According to Shawn, the Bollinger B1 looks as if the "Mercedes G Wagon and Land Rover Defender had a Baby."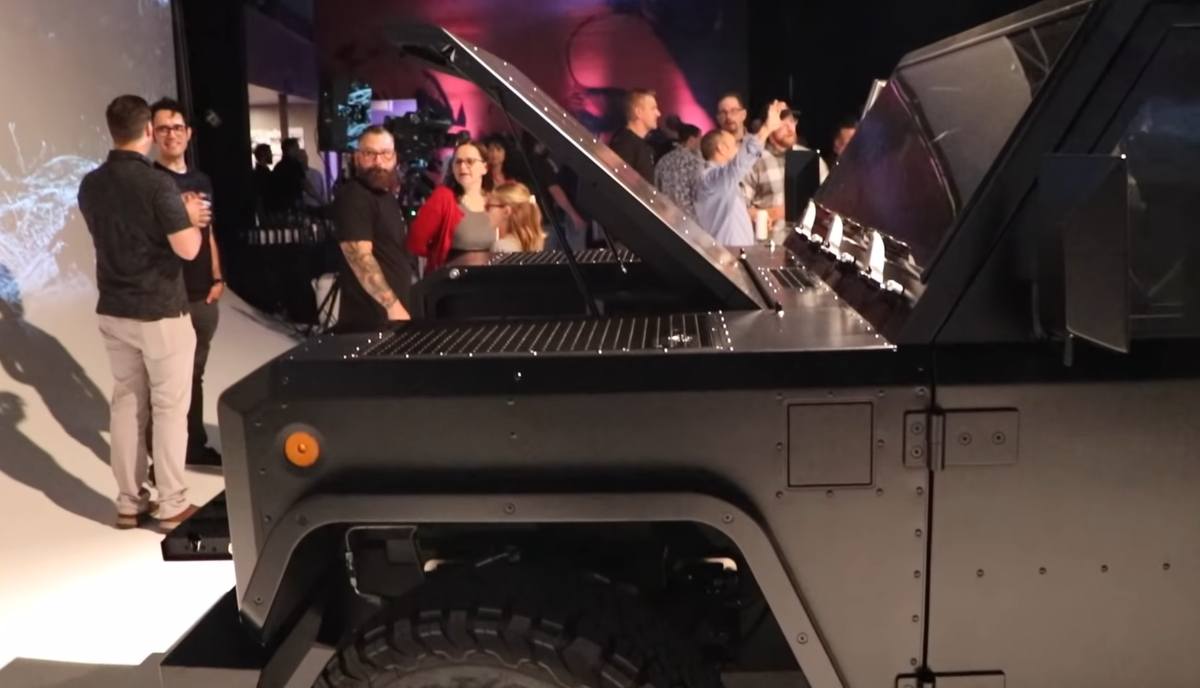 Making a comparison between Tesla, Rivian, and Bollinger, Sean further said, "Where Tesla would fall at one end of the spectrum and Rivian in the middle, Bollinger is at the complete opposite end and that's completely ok with me."
Bollinger isn't designed by keeping efficiency in mind. It is designed to be a rugged off-road vehicle that can take a lot of punishment. The same thing is apparent in its design and interior. All the dials inside the B1 electric SUV are analog. The windows have to be slid manually by hand as there's no button and the same goes for the sunroof which is closed using a manual lock.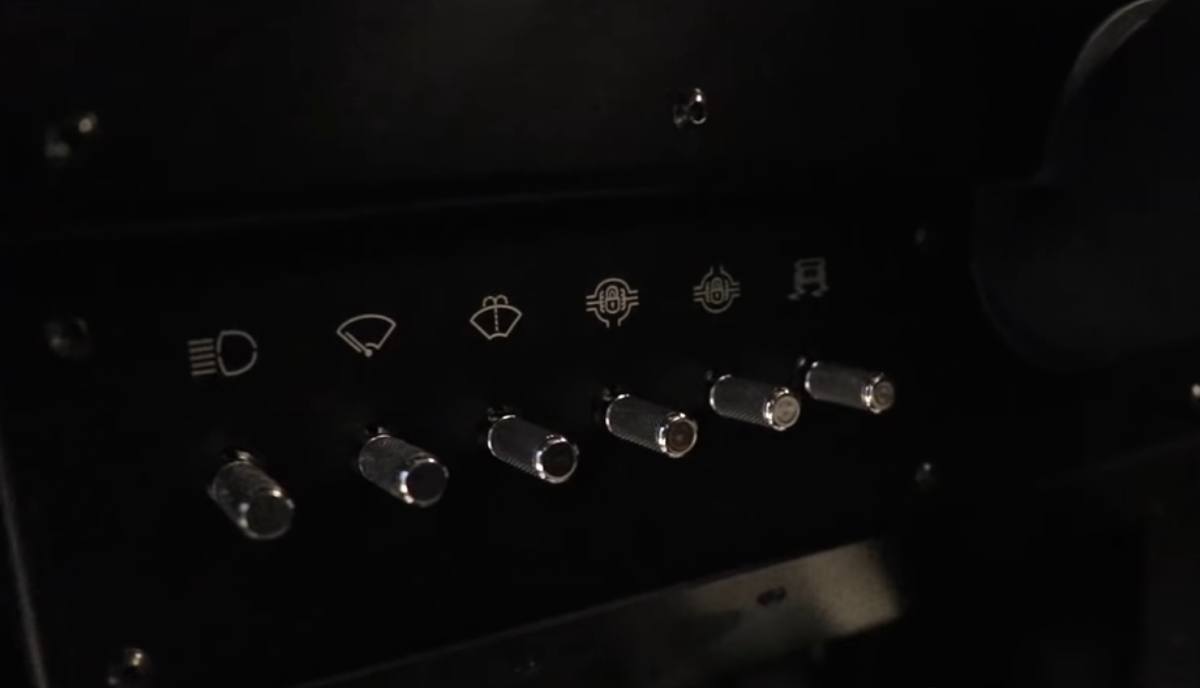 In many ways, the Bollinger B1 and B2 feel like an old vehicle retrofitted with an electric powertrain. Even Sean says, "It's a nod to the mid-century '50s and '60s style cars but with an electric twist on it."
Bollinger B1 and B2 electric vehicles have dual electric motors with a 120 kWh battery pack and a 200-mile range. This kind of range isn't enough when compared with a Rivian or a Tesla but for a pure off-roader, it is adequate. While traversing through mud and rocks, cars usually don't go that fast.
"The range will limit prospective buyers," argues Sean, but while off-roading at slow speeds, "200-mile should be plenty" as you'll get more range because you're driving so slowly.
Bollinger B1 does not skimp on safety equipment though. The electric SUV comes with four anti-lock brakes, 11.75 inch vented brakes, along with gear axle hubs and a "patented storage pass-through."
Who Are The Buyers of Bollinger B1 And B2 Electric Vehicles?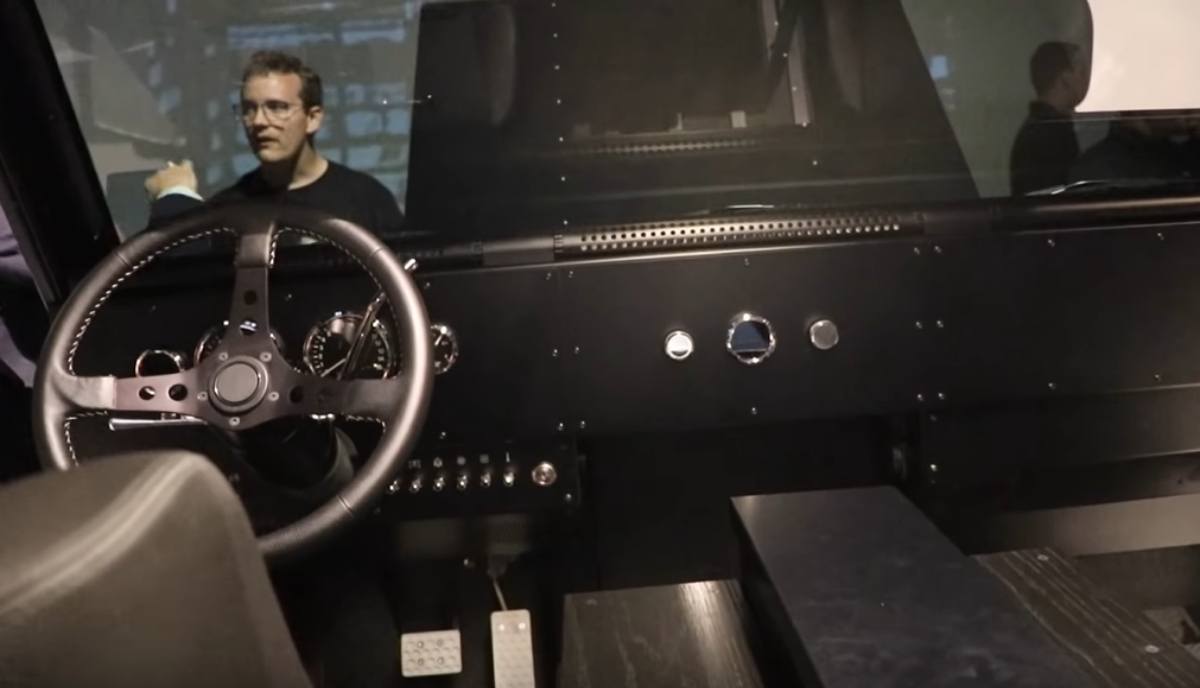 Most of the buyers of Rivian are Tesla owners who are looking for something that's non-premium, not its terms of price but function. They want something that can excel off-road but still perform smoothly on the road. The potential buyers of Bollinger B1 electric SUV are more extreme than this.
They are hardcore off-roading enthusiasts who'd buy this EV as a second vehicle to drive into the wilderness on a weekend. Due to its analog and retro design, the Bollinger B1 will also likely attract customers who are usually not interested in electric vehicles.
"What I really love about what Bollinger is doing is that they're not doing their own twist on existing electric vehicles, they're doing their own complete thing," says Sean. Bollinger B1 and B2 electric vehicles are designed for an impressive outdoor experience and not much else.
"They are unapologetic about it," Sean added by commenting on the boxy, retro and anti-Tesla design of the Bollinger electric SUV.