According to largest global freelancing website Upwork, Blockchain has once again managed to rank as the hottest technology in its recently released quarterly skills index. With this milestone, Blockchain has become the first skill to rank 1st position twice on its lists.
Upwork Skills Index evaluates and ranks 20 fastest-growing skills quarterly based on real-time demands and trends among employers in the tech industry. Usually, development related skills see a high demand but the most sought-after skill this time is Blockchain, which is based on cryptography. This technology has shown a great potential for business through cryptocurrency, that is why the demand for experts familiar with blockchain has escalated quickly.
Let's take a quick look at some of the highly-demanded freelancing skills that made it to the list: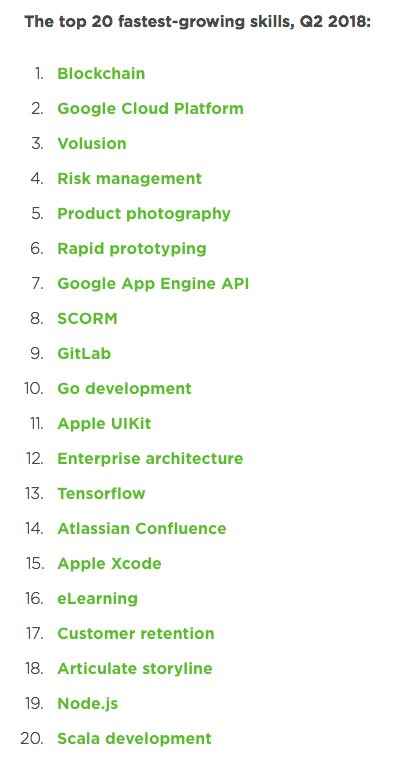 1. Blockchain
Blockchain provides a digitized and decentralized public ledger for cryptocurrency transactions among many other applications causing a spike in demand for experts adept in this skill. There is a variety of blockchain related roles that companies are hiring for such as blockchain developer, blockchain system architect, blockchain software engineer, etc.
2. Google Cloud Platform
Cloud Computing is a hot tech for the present and also for the foreseeable future. This means the jobs in cloud computing are a hot prospect right now with a high pay scale. If you're already a developer, adding cloud computing skills to your resume can widen your job opportunities and not just Google Cloud Platform, but other leading cloud computing companies like Amazon Web Services, Microsoft Azure, FusionOps, etc., have numerous openings.
3. Volusion
Volusion is a fully cloud-based e-commerce shopping platform that offers all the basic functions needed to operate an online store. The company has different types of roles to offer such as Engineering which includes front-end framework developers to architects, and Sales, Marketing, Product, etc.
4. Risk Management
Risk Management involves working with companies to assess and identify the potential risks that pose a threat to the security and financial prosperity of an organization. A career in Risk Management involves highly analytical tasks that include extensive study and research, statistics, reports and market trends.
5. Product Photography
Unlike stock photography, product photography is more direct and is many businesses hire freelancers to help in the promotion of their services and wares. The wages in this field have a great variation according to the nature of the product sold by the company and the experience as well skill of the photographer.
6. Rapid Prototyping
Rapid Prototyping generally includes visualization and creation of prototypes to test the efficiency of a part or product design before it actually arrives on the table. This technique is implemented in different industries and therefore the required skill sets, as well as wages, vary accordingly. In software development, freelancers are hired in rapid application development team whereas in the manufacturing industry, it is mostly related to 3D modeling and testing.
7. Google App Engine API
Google App Engine is the platform used by Google for developing and hosting internet applications for the company controlled data centers around the world. Now several business organizations are hiring freelancers familiar with this platform to use the capabilities of the Google App Engine to improve their sales.
8. SCORM
Shareable Content Object Reference Model is a basically a set of technical standards that define how e-learning systems should be made. It guides programmers how to write their code so that it can work well with other e-learning software too. So SCORM related jobs include Instructional Designers, Content Specialists, SCORM Programmers among many others.
9. GitLab
GitLab is an online Git repository manager with a wiki, issue tracking, CI, and CD. It is an excellent tool for software developers and helps them work on a project remotely too. So tech companies are now making it a point to hire freelancers who are well acquainted with the platform.
10. Go development
Go is an open source programming language developed by Google. It is a new language and quite powerful too, in some aspects. Since the language is designed and supported by Google, its popularity has scaled massively. Other big companies like Adobe, BBC, IBM, and Intel have also picked up the language along with smaller organizations. So if you are a freelance developer, you might want to add Go skills to your resume.
You can also visit Fossbytes Academy to find relevant online courses at discounted prices.