Short Bytes: BitPort is a service that allows you to download and stream torrents online. You can download torrents on BitPort's cloud storage and view them whenever you like. It also includes features like file manager, FTP server access, etc. Video or movie torrents can also be streamed to various devices including Android, iOS, Chromecast, Apple TV, Roku, etc.
T
he BitTorrent network is an excellent way to share files over the internet. One can go from small text files of a few kilobytes in size to gigantic software and video files consuming tens of gigs of space on the hard drive.
The people-powered nature of the BitTorrent network benefits both the downloader and uploader of the data. As multiple users are pushing small file fragments, it reduces the bandwidth burden on the shoulders of the uploader (seeder) and the person downloading a torrent can receive data from different sources. So, if one or even few of them go offline, the download isn't affected.
Why use an online torrent streaming service?
This people-powered file sharing network can't be of any use if there are no people to power the torrent network. You might have come across various torrents where the number of seeders is almost zero.
Another problem is the connection speed. Not all the seeders would have an unlimited gigabit connection plugged at their ends. So, the download speeds are inconsistent. That is where a new breed of cloud-based torrent download and streaming clients comes into action. One of the most popular online torrent downloaders is Zbigz. But there are other great alternatives worth trying.
BitPort online torrent streaming and downloader is one such platform where you can cache torrent files on their cloud servers and access them as per your will. It allows the users to stream any video file from a torrent without downloading it. This comes handy when you're on a device with limited storage, such as a Chromebook or a smartphone.
Best Features of BitPort Online Torrent Client
Uninterrupted file download:
Just like other web-based torrent download platforms, BitPort allows users to upload a torrent file from their computer or add the magnet links directly. I used this online torrent download for a while. I hooked up an Ubuntu GNOME ISO torrent for cloud caching as a test.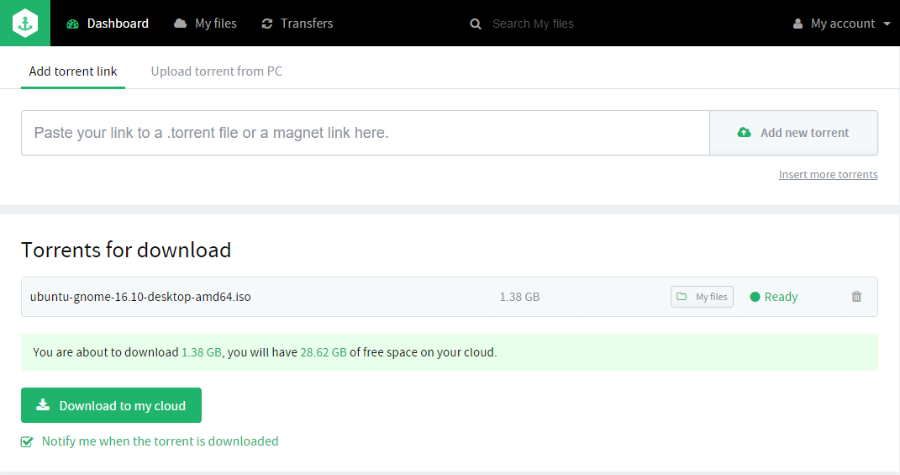 Considering there were a sufficient number of seeds, the 1.3 GB Ubuntu ISO file got downloaded in around 10 minutes. That's pretty impressive, if not excellent. I assume the caching time would be greater in the case of torrents with lesser number of seeds. I tried a video torrent with the number of seeds below 10. Still, BitPort online torrent client managed to download it to the cloud storage at lower speeds.
One advantage provided by services like BitPort is that when you download the file, you have a reliable and uninterrupted network speed. It is not the case when you download torrents regularly using desktop torrent clients like uTorrent, BitTorrent, or Vuze.
If you accidentally close the tab or the browser, the online torrent download doesn't get affected. BitPort's user interface is quite neat and clean, but I didn't like it's default green color. However, the opinion may vary from person to person.
Inbuilt File Browser
The My Files section is where you can browse all the files and folders you have cached from different torrents. When one has to keep multiple files varying in various categories like videos, music, audio books, software, a dedicated file manager is a handy feature to include.
The file browser is just not limited to browsing, you can create new folders, rename folders, and move the files and folders across them, multiple entries at a time. Just hover on the desired entry and it will show you the available options for that particular file or folder. You can also arrange the files and folders in a list or a grid fashion.
How To Stream Torrent Online Using BitPort
Once you're finished downloading video or movie torrents, you can stream them on the BitPort website itself. You can also stream the downloaded torrents on your Apple TV, Roku, Chromecast and iOS (via VLC), Android (via VLC, MX Player) devices.
In the case of video torrents, BitPort needs to convert a file into a video format it supports. It is required to stream the video on BitPort's website and it takes a while to convert the videos. You can enable the auto-convert option in the settings. Video conversion is not required when streaming through VLC or MX Player on Android or iOS.
Here's how to stream a torrent movie or video online without any waiting:
Sign into your free or paid BitPort online torrent client account by visiting their website.
Click on the add torrent option.
Paste a magnet torrent link or upload a torrent from your PC.
Depending on the number of seeders, your video/movie torrent will take some time to download.
If the downloaded file is in the supported format, you can watch it instantly.
If the format is unsupported, you can convert it with one simple click.
After the conversion is completed, you can simply stream the video just like any other online media player.
You can also turn on subtitles or upload one from your PC.
Your file is saved in your BitPort cloud, so you can access it anytime.
Download torrents via FTP Server

Digging into the Settings section explores more handy options. You can access and download all the files and folders on your BitPort account using their FTP server. Your default username and password will work as the credentials for the FTP server.
You can use the BitPort FTP server to access your downloaded torrents on your smartphone using a file browser or attach it to your PC as a network drive. Also, there is an option to create an RSS feed for the files.
Multiple servers
Almost all of these cloud-based torrent downloading services have multiple servers across the globe. BitPort allows you to choose the best server according to your location. The default option is to select the best server automatically. But you can run the inbuilt Speed Test option to know the one which is fastest at the current time. Alternatively, you can choose the server which is closer to your location.
Cons of BitPort — Every service has some
It is not possible to select a single file while downloading a torrent. Although it isn't a complete deal breaker, it would have been an advantage.
You should not prefer adding torrent via magnet link. It would take ages to fetch the details in case of some torrents. However, this is the case of torrent clients in general. Uploading a torrent file would be more convenient.
You can use the free version of BitPort. But just like Zbigz, it is restricted the cloud storage limit to 1GB and allows only 1 torrent download per day. An added advantage in the case of Zbigz's free plan is that there is a 1 GB limit on the torrent size not on the number of downloads.
Winding Up
BitPort is a great service to download torrents online if you are a regular visitor to the torrent websites. It puts no limits on the number of torrent downloads, downloading speed, or the size of the torrent. Also, the downloads happen over HTTPS connections. However, you would be confined to the storage limit of your plan.
With streaming support for various devices, FTP server access, and an above average file browser, BitPort is a good option to consider while choosing for online torrent streaming services. It's available in $5/mo, $10/mo, and $15/mo subscription plans.
Given a good internet connection at your end, it would take minutes to put a video torrent on streaming. Otherwise, torrent downloads suck, you know.
So, did you like BitPort? You should give it a try. And don't forget to drop your thoughts and feedback.